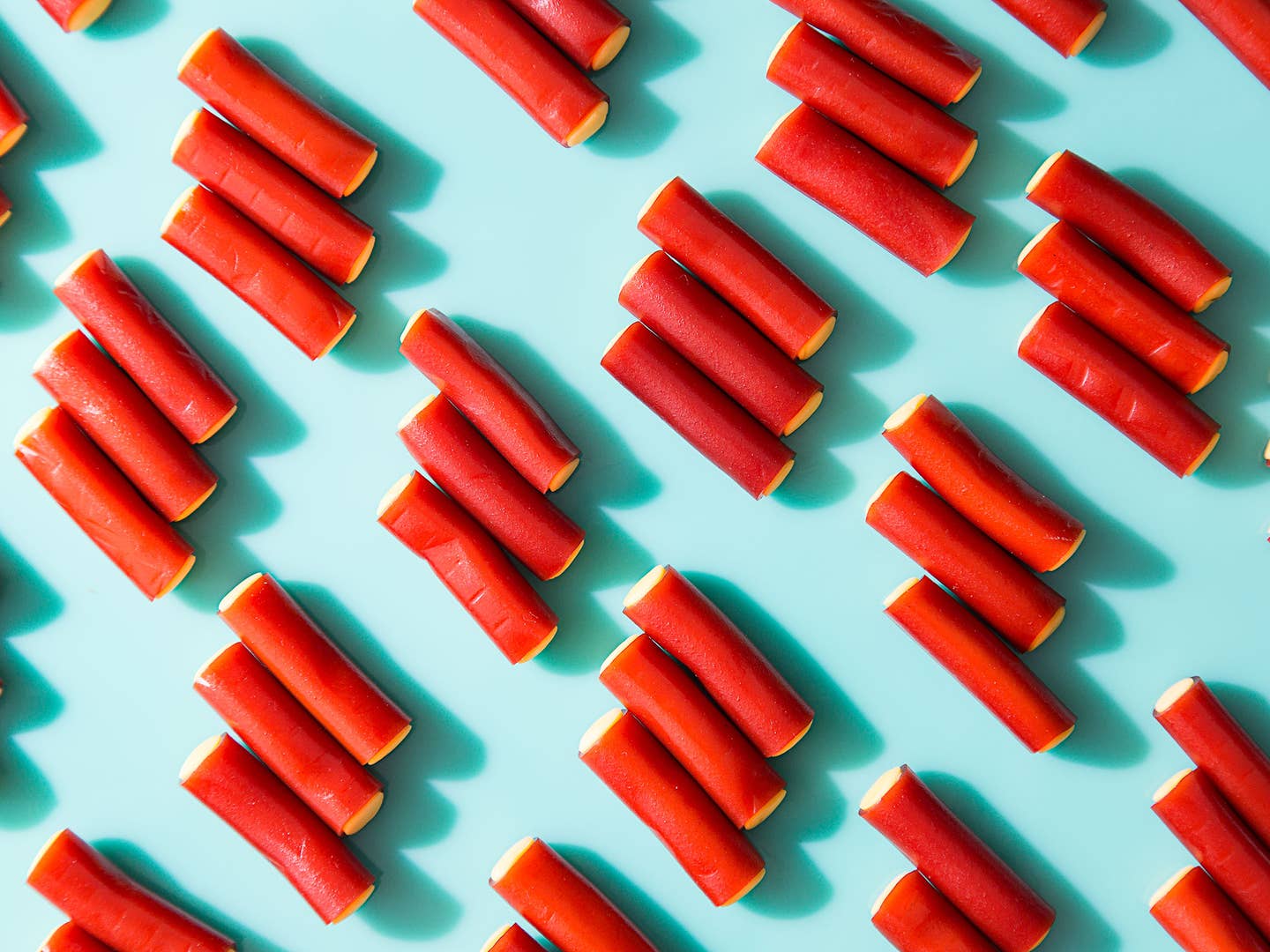 Shopping & Reviews
The Best Scandinavian Candy No One Talks About
Put down that salty licorice and pick up some rabarberbitar
If you ever duck into a grocery store in Scandinavia, you'll likely walk past tall, clear plastic containers filled with colorful glossy items that look straight out of Willy Wonka. You'll walk closer and recognize black and red licorice—the most well-known Nordic candy—but you'll also see something way, way better: rabarberbitar.
This rhubarb gummy log (it literally translates to "rhubarb log") filled with soft lemon marzipan is two kinds of wonderful. First comes the not-quite-sour, not-quite-sweet burst of not-too-naturally-flavored rhubarb. Then there's the fun of eating it: Bite into the center of the log and the lemon marzipan zooms out the ends. The flavors are great together, but even more interesting when you savor them individually: sucking out the lemon then attacking the rhubarb.
I first had my first rabarberbitar while studying abroad in Copenhagen (or as they call it "tivolistænger," or Tivoli stick.) My host mom had a mix of candy on a dish on the coffee table. I had some duds—some too-tough gummy bears that laid on puffy white backing, some salty black licorice disguised as Rorschach-inspired sugar tubes, and things that looked like pills, but again, were just licorice covered in candy coating.
Then I tasted a rabarberbitar. Soon I was riding back from Netto on my bike, white paper bag in hand. When I moved back to the States four months later (with two huge bags in my carry-on that didn't last long), I realized the only remotely close relic available was Swedish Fish. Clearly, Americans were missing out.
Rabarberbitar is just one small piece of loose candy in the Scandinavian canon tradition: Lördagsgodis, a Swedish term that translates to Saturday's candy. For Nordic children, it means going to the candy store once a week and filling a white paper page with colorful gummies (a reward for good behavior), and spending the rest of the day with a satisfied stomach.
Stefan Ernberg grew up in Sweden, celebrating the Saturday feast that was passed down from his parents and grandparents. His favorite lördagsgodis were the summer saturdays: staying up late visiting with cousins, the sun shining until 10 or 11 p.m., eating a little bit more candy than usual.
So too, Scandinavians in the U.S. can be seen walking aimlessly down candy aisles, a forlorn look on their face -- trying to find any semblance of rabarberbitar and other sweets they grew up with. And at American airport arrivals, you'll see them going to see their relatives, bags half-filled with candy.
"Every Swede living abroad has at one point thought about opening up a candy store," says Ernberg, who now lives in Los Angeles.
Ernberg and his wife came to the rescue of other Scandinavian expats in maintaining their sugar rushes. In 2009 he and his wife opened Sockerbit, first in New York and later a second in L.A., the first American company to sell imported Scandinavian lördagsgodis by the pound in his two storefronts and online.
Since then he has seen rabarberbitar and other Scandinavian candies' popularity spike. He attributes it to the subtle sweetness from natural sugar that allows for an explosion of exotic flavors, as opposed to the sugar overload of American candies that use rely on other sweeteners and cater to a more sugar-hungry palate.
More mainstream candy players are taking the hint, too. In 2015, Ikea started selling rabarberbitar in its new candy stores nationwide, alongside other Scandinavian gummies, sours, and licorices this past summer. Sockerbit, too, is eyeing expansion beyond its New York and L.A. storefronts in the near future. Consider this an apology note to my dentist.

Available for purchase in Ikea stores or at sockerbit.com, $13/pound.