Seasonal Bibb Lettuce Salad with Shaved Vegetables and Herbs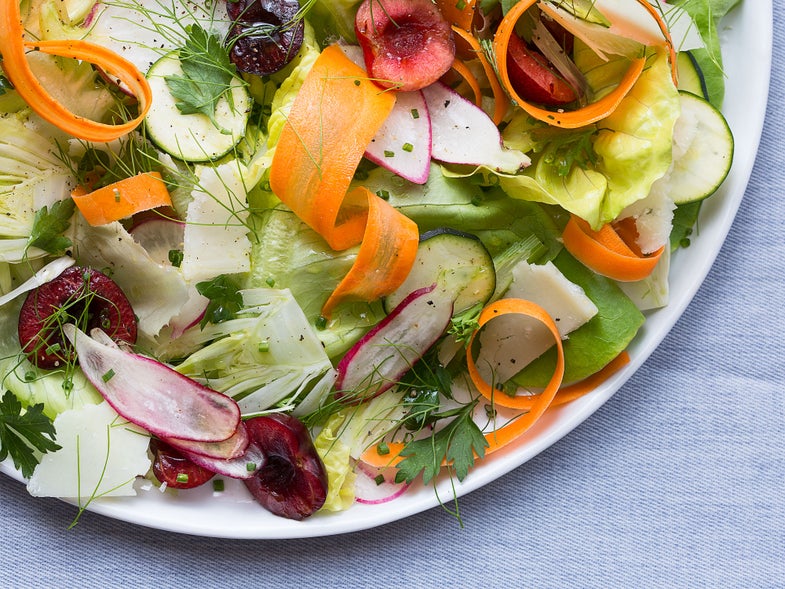 A simple side salad that goes with everything from grilled and roasted meat to fish and vegetables. Swap out the components for whatever's in season; just keep everything thinly sliced so the ingredients blend well.
Get more recipes from the Seabourn Odyssey kitchen »
Yield: serves 2
Ingredients
For the Dressing
1⁄3 cup extra-virgin olive oil
Juice of 1 lemon
Salt and freshly ground black pepper, to taste
For the Salad
Leaves from 1 small head bibb lettuce
8 to 10 fresh sweet cherries, halved and pitted
2 bulbs baby fennel, fronds removed, bulbs thinly sliced
6 radishes, thinly sliced
2 carrots, peeled and shaved into ribbons using a vegetable peeler
2 small zucchini or other summer squash, thinly sliced
Leaves from 1/2 small bunch flat-leaf parsley1 small bunch chives, finely chopped
Flaky sea salt
Freshly ground black pepper
Instructions
To make the dressing, in a small bowl, whisk the olive oil, lemon juice, and salt and pepper to taste. Set aside.
To make the salad, in a large bowl, gently toss the lettuce leaves with half the dressing, making sure they're evenly coated. Add the fennel, radishes, carrots, and zucchini and mix gently to distribute. Divide the salad between two individual plates. Top with the cherries, parsley, and chives. Drizzle the remaining dressing over both plates. Sprinkle with sea salt and freshly ground pepper.