Recipes
Shrimp, Avocado, and Crispy Potato Smorrebrod
Serves

makes 4

Cook

35 minutes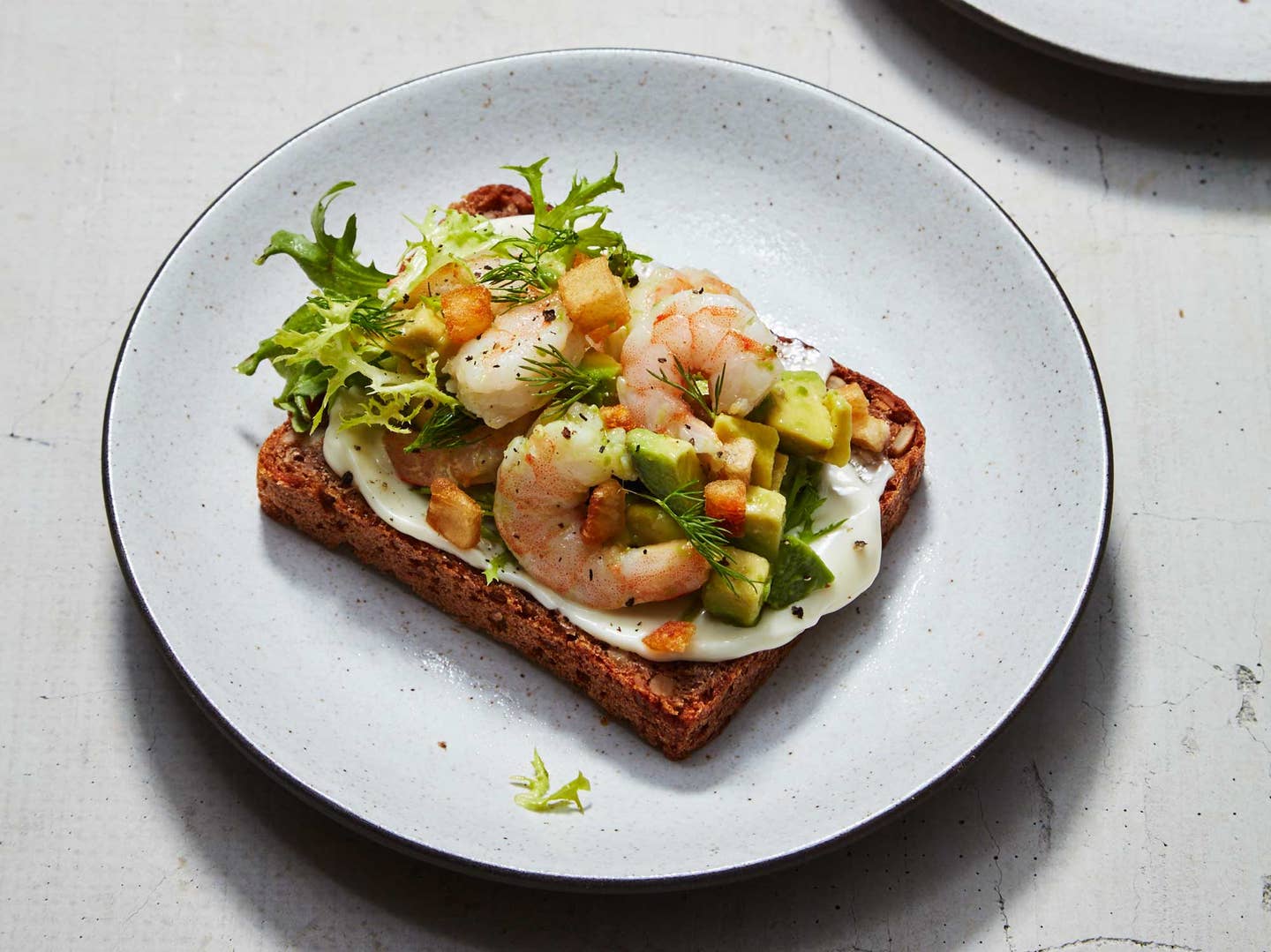 Take avocado toast to a new level with this tasty Danish open-face sandwich.
Ingredients
For the smorrebrod:
4 oz. cooked tiny shrimp (heaping 2/3 cup)
1 tbsp. fresh lemon juice
4 pieces Danish-style rye bread
Mayonnaise, for serving
For the potatoes, avocado, and frisée salad:
1 small baking potato, peeled and cut into ¼-inch cubes
Salt
3 tbsp. canola oil, for frying
½ of a firm-ripe avocado
1 tbsp. fresh lemon juice
2 tbsp. plus 1½ tsp. vegetable oil
1 tbsp. plus ½ tsp. apple cider vinegar
1 pinch sugar
1 pinch freshly ground black pepper
1⁄2 cup frisée, torn into small pieces
2 tbsp. loosely packed dill sprigs
Instructions
Step 1
In a medium bowl, combine the shrimp with the lemon juice; toss to coat, then refrigerate until ready to serve.
Step 2
In a small pot, add the potatoes and a few generous pinches of salt; add enough water to cover, then bring to a boil (this will cook the potatoes slightly). Drain and rinse with cold running water (potatoes will still be a bit crunchy). Pat dry, then spread the potatoes into a single layer to dry further.
Step 3
In a small skillet, heat the canola oil over medium heat. Add the potatoes and cook, stirring occasionally, until golden on the outside and very tender inside, 8-10 minutes. Remove using a slotted spoon and transfer to a small paper-towel-lined bowl; season with salt and set aside.
Step 4
Gently dice the avocado half into small (¼ to ½ inch) cubes. Drizzle with the lemon juice and season with a pinch of salt. Set aside.
Step 5
Make the salad dressing: In a medium bowl, whisk the vegetable oil, vinegar, sugar, salt, and black pepper. Add the frisée, avocado, dill, and half of the shrimp, and toss gently to coat in the dressing.
Step 6
To assemble: Spread each of the rye slices with 1 teaspoon mayonnaise, or more to taste. Add the other half of the shrimp, distributing evenly, then top each toast with some of the salad mixture. Top with the crispy potato pieces to taste. Season with salt and pepper and serve immediately.