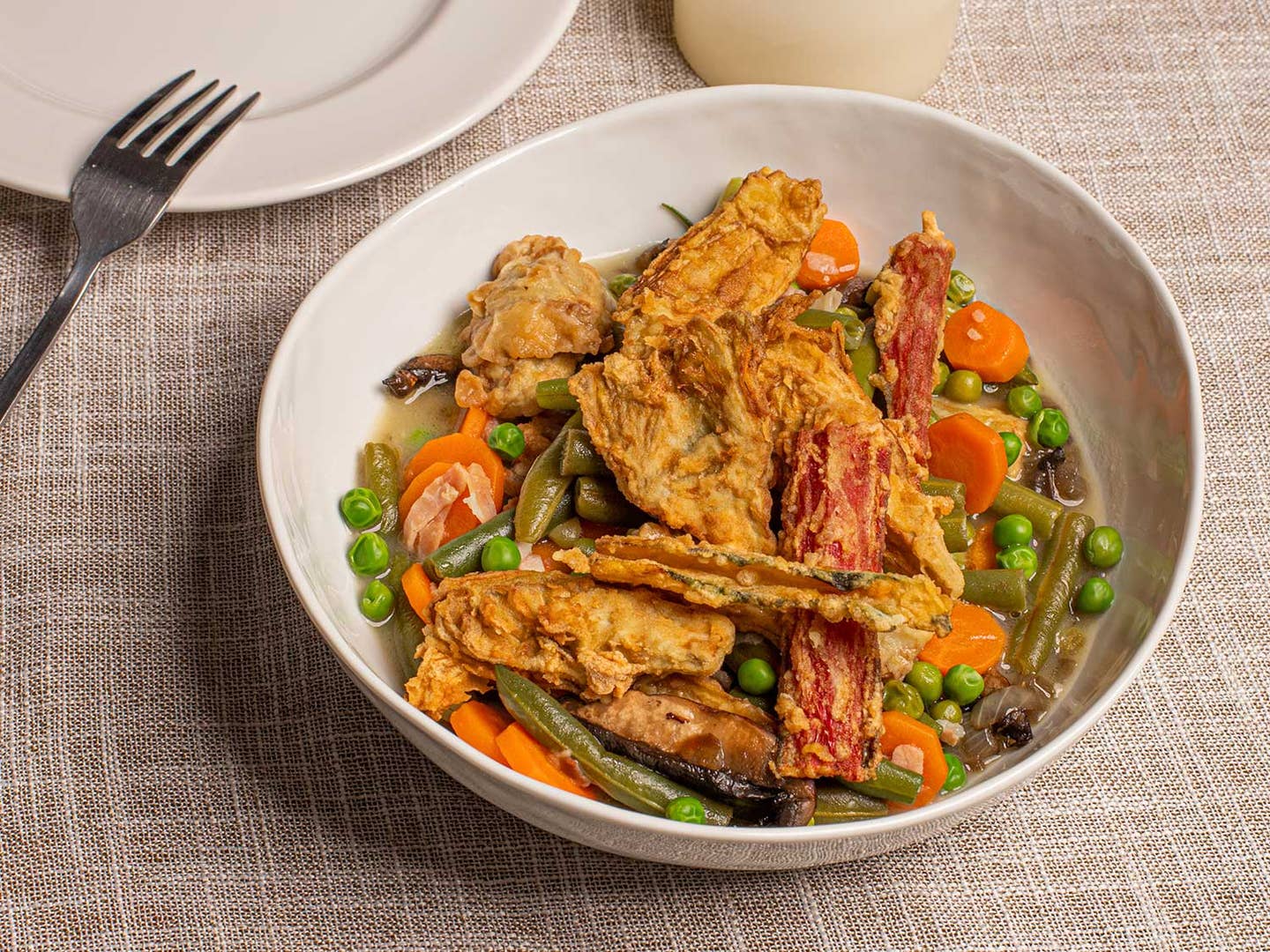 Techniques
How to Make Menestra, Spain's Most Unsung Comfort Food
With artichokes, mushrooms, chard, and wine, this old-school Spanish standby will change the way you think about cold-weather vegetables.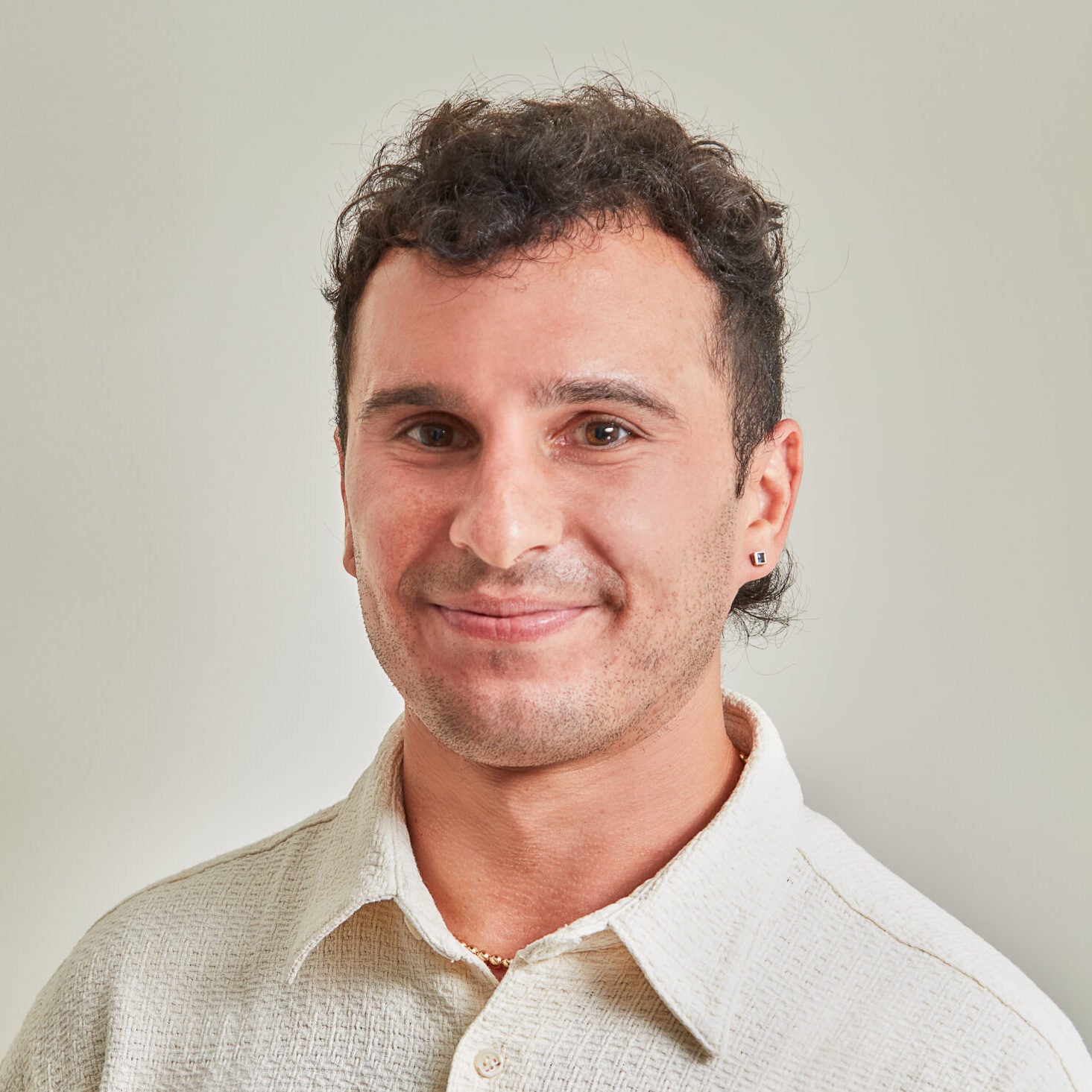 ---
The best thing I've made this winter looks a little like hospital food. Peas and carrots are involved, and there are limp green beans and ham bits suspended in a thick, whitish gravy that zoomers might call "sus." But despite its homely appearance, menestra—Spain's vegetable medley flavored with jamón, white wine, and abundant olive oil—will leave you questioning everything you thought you knew about boiled vegetables.
My first menestra experience was Proustian, but in an awful way. I was working as an English teacher at a Catholic school in Madrid, and one day, staff lunch came with a ladleful of greige, brothy vegetables so mushy you could hardly tell them apart. I took a bite and heaved: I was instantly transported to the cafeteria of my youth, surrounded by schoolmarms enforcing a no-waste policy, Ms. Trunchbull style. Snapping back to reality, I asked a colleague "What is this?", hoping to avoid it at all costs in the future. "Menestra," she said. Nunca más, I vowed.
So later that year, when I found myself staring down at a plate of menestra at Terete restaurant in Haro, La Rioja, that familiar fight-or-flight feeling came rushing back. "This is all you, cariño," I said to my partner, thrusting the plate toward him. But the more he ate, the wider his eyes grew with pleasure...and the more envious I became. "This is actually pretty amazing," he said. Begrudgingly, I tried it.
The first thing I noticed was the texture of the artichoke hearts: firm, meaty, and most certainly fresh. They'd been battered at some point but were now delightfully un-crispy and yielding, like day-after eggplant parm. So comforting. Then came the hit of garlic, its sharpness dulled by reduced white wine; more spoonfuls revealed umami-rich mushrooms and melty onions and green beans and peas cooked just past the squeaky stage. In fact, every vegetable was so flawlessly en su punto (done to perfection) that I wondered, how on earth did they get boiled vegetables to taste so sublime? I pulled the plate back toward me.
Ask any two Spanish abuelas how to make menestra, and you'll get two completely different answers. The ingredients vary widely from region to region, cook to cook, but it is always a mixture of cooked vegetables lightly bound with a sauce made from the cooking liquid. The dish is made everywhere in Spain, but it's particularly transcendent in the north along the Ebro River Delta, whose fertile soil yields some of Spain's most prized vegetables, like white asparagus, piquillo peppers, and Tudela artichokes. Riojans like to batter some of the veg—chard stems, artichokes, and cardoon—while due east, the Aragonese stick to plainly boiled produce and throw in tomatoes and longaniza sausage for heft. In and around Tudela, Spain's unofficial vegetable mecca in the Navarra region, locals are more persnickety and allow only the "big four" in the stew: fava beans, artichokes, peas, and asparagus.
Marti Buckley, author of Basque Country (Artisan, 2018), loves the versatility of menestra. "You can prepare it as a homey dish, cooking everything in the same pot and throwing in a little thickener at the end, or you can refine it, blanching each ingredient separately, drizzling good olive oil over everything, and draping each serving with expensive ham," she said. Buckley added that menestra is exciting to most American palates because it's seldom served in Spanish restaurants stateside and there's no American equivalent.
Menestra's provenance is murky because of its peasant food origins. While Spanish nobles feasted on meat, fish, and game, with centuries of records and recipes to attest, the poor made do with whatever vegetables they had on hand, boiling them and perhaps adding a bit of lamb or pork for sustenance. "Menestra" was only added to the Spanish dictionary in 1837—recent by Spanish standards—with the following definition: "a type of braise or stew made with different greens or legumes." (The term probably derives from the Italian "minestra," which means soup.)
Terete began serving the dish around a century ago, though the restaurant was founded earlier, in 1877. It's still run by the same family, now in its sixth generation. "Roast lamb and menestra—this is the story of Terete," Cristina Gutiérrez, one of the chef-owners, told me over the phone.
It's been years since that tempranillo-soaked lunch in La Rioja, but I think about Terete's menestra often—especially after the holidays, when I'm burnt out on meat. This year, with a few pointers from Gutiérrez and a pitiful amount of free time (gracias, Covid), I finally got my act together and made it. Real talk: This is a labor-intensive recipe that will have you chopping, boiling, sautéing, battering, and frying, so be sure to budget ample time—and counter space—to fully enjoy the process.
Your care and effort will shine through in the final product, which is nothing short of triumphant, especially when served with hunks of crackly hearth bread. Gutiérrez put it best: "Menestra is pure grandmother cooking—the same as ever, the kind of food you never tire of."