Recipes
Menestra de Verduras
Forget root vegetables: This unsung Spanish comfort food will change the way you think about cold-weather produce.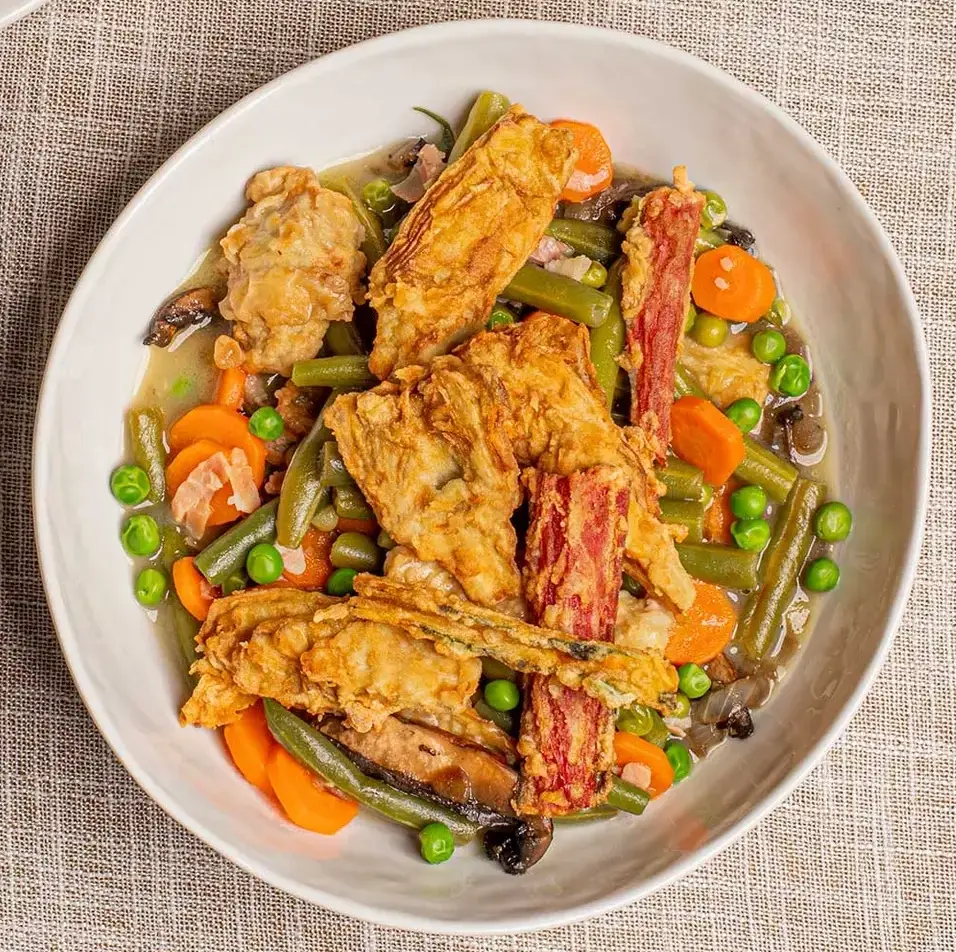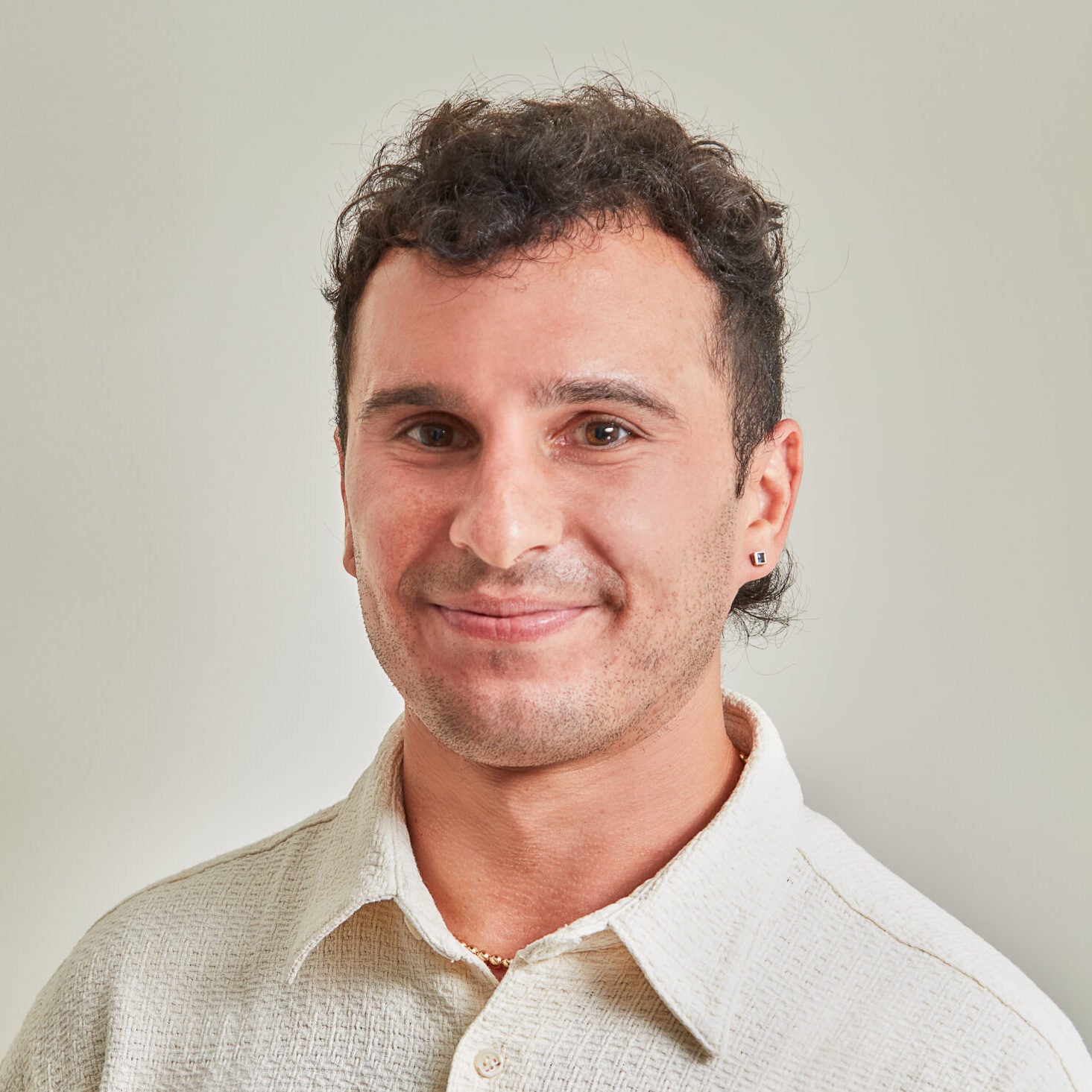 ---
Feel free to play around with vegetable types and proportions in this menestra de verduras recipe. Fava beans, asparagus, cauliflower, borage, and broccoli are tasty add-ins. Flat romano beans, sometimes called Italian green beans, are the traditional choice for this recipe, but regular green beans work just fine. Boiled cardoon, if available, is lovely in place of the chard stalks. While fresh artichokes are always preferred, thawed artichoke hearts are a respectable and time-saving substitute—just steer clear of canned or jarred versions, which are too wet and mushy for this preparation. The ham can be omitted to make a vegetarian version of the dish.
Ingredients
1 medium lemon, halved
10 fresh artichokes (about 5½ lbs.) (or substitute 10 frozen, thawed artichoke hearts)
1⁄3 cup plus 2 tsp. kosher salt, divided, plus more to taste
3 bunches chard (about 3 lbs.), washed (or substitute 2 pounds cardoons)
12 oz. green beans, cut into 1½-in. lengths (2 cups)
1 1⁄2 cups fresh or frozen peas (7½ oz.)
3 medium carrots (7 oz.), peeled and cut into ¼-in. thick coins
2 1⁄4 cups plus 2 Tbsp. extra-virgin olive oil, divided, plus more olive oil for serving
1 large yellow onion (7 oz.), minced
6 oz. portobello mushrooms, thinly sliced (3½ cups)
4 large eggs
1 cup plus 2 Tbsp. (6 oz.) all-purpose flour, divided
3 medium garlic cloves, finely chopped (1 Tbsp.)
5 oz. serrano ham or prosciutto, finely chopped (1 cup)
1 cup dry white wine
Crusty bread, for serving
Instructions
Step 1
Prepare the artichokes: Squeeze the lemon into a large bowl of cold water, and drop in the juiced halves. Clean the artichokes by pulling off the tough green outer leaves with your hands until only the tender yellow leaves remain. Use a paring knife, peel the stem, then slice off the top half of each artichoke. Use a teaspoon to scoop out and discard the fluffy white choke. Quarter each trimmed artichoke lengthwise and transfer to the lemon-water to prevent browning. If using frozen, thawed artichoke hearts, quarter them lengthwise and set aside.
Step 2
Fill a large pot with 4 quarts of water and ⅓ cup of salt; bring to a boil over high heat.
Step 3
Using a paring knife, remove the middle stem of each leaf of chard. Cut the stems into 2-inch lengths and set aside; reserve the leaves for another use.
Step 4
Line 5 large plates with several layers of paper towels and set aside. In the boiling water, blanch the following vegetables one at a time, until just barely tender (reserve the cooking liquid and use a fine mesh strainer or spider skimmer to transfer the vegetables to the prepared plates): Chard stems (10 minutes, or 12 if using cardoon); green beans (12 minutes); peas (5 minutes); and carrots (6 minutes) . Remove and set aside 3 cups of the vegetable cooking liquid. Add the artichoke hearts to the pot and cook until just tender, about 11 minutes (or, if using frozen, thawed, 5 minutes) , then drain, discarding the cooking liquid. Set the vegetables aside to cool at room temperature.
Step 5
To a large skillet over medium heat, add 2 tablespoons olive oil; when the oil is hot, add the onions and pinch of salt and cook, stirring occasionally, until soft and translucent, 7–10 minutes. Stir in the mushrooms, partially cover, and and continue cooking until the mushrooms are softened and beginning to brown, about 10 minutes. Scrape the mushroom and onion mixture into a small, heatproof bowl, and set aside. When the pan is cool enough to handle, wipe it out with a paper towel.
Step 6
Line a large baking sheet with parchment paper and set aside. In a wide, shallow dish, beat the eggs until no streaks remain. In another shallow dish, whisk together 1 cup flour and 2 teaspoons of salt. Toss the chard stalks in the egg to coat, then use your hands or a slotted spoon to transfer them to the dish of flour, tossing gently to coat, and shaking off any excess. Transfer the battered chard pieces to the prepared baking sheet as you go. Repeat this process with the artichoke hearts.
Step 7
Line a second large baking sheet with paper towels. To the large skillet, add 2 cups of oil and set over high heat. When the oil reaches 350°F on a deep fry thermometer (or it just barely begins to smoke), fry the chard and artichoke hearts in batches, stirring and turning the vegetables occasionally, until crisp and deep golden brown, 6–8 minutes per batch. Use a slotted metal spoon or a spider skimmer to transfer to the paper towel-lined baking sheet; set aside and keep warm while you make the sauce.
Step 8
Discard the frying oil; when the skillet is cool enough to handle, wipe it out with paper towels. Place the skillet medium heat, and add the remaining ¼ cup oil, the garlic, and the ham. Cook, stirring frequently, until the garlic is soft and fragrant, about 3 minutes. Turn the heat to medium-high, stir in the remaining 2 tablespoons flour, and cook, stirring continuously, until golden, about 2 minutes. Slowly pour in the wine, whisking to prevent any lumps from forming; cook until the alcohol dissipates and the wine is reduced by about half, about 5 minutes. Whisk in the reserved cooking liquid and bring to a boil. Add all of the blanched vegetables, the reserved mushroom-and-onion mixture, and about two thirds of the fried vegetables to the sauce. Stir gently to coat the vegetables, being careful not to break them apart. Lower the heat to medium, partially cover, and cook stirring once or twice, until the vegetables are heated through, about 5 minutes. Season to taste with additional salt as needed.
Step 9
Pour the menestra into a large serving bowl. Top with the remaining fried vegetables, drizzle with olive oil, and serve hot, with crusty bread on the side.