The 2019 SAVEUR Guide to Edible Gifts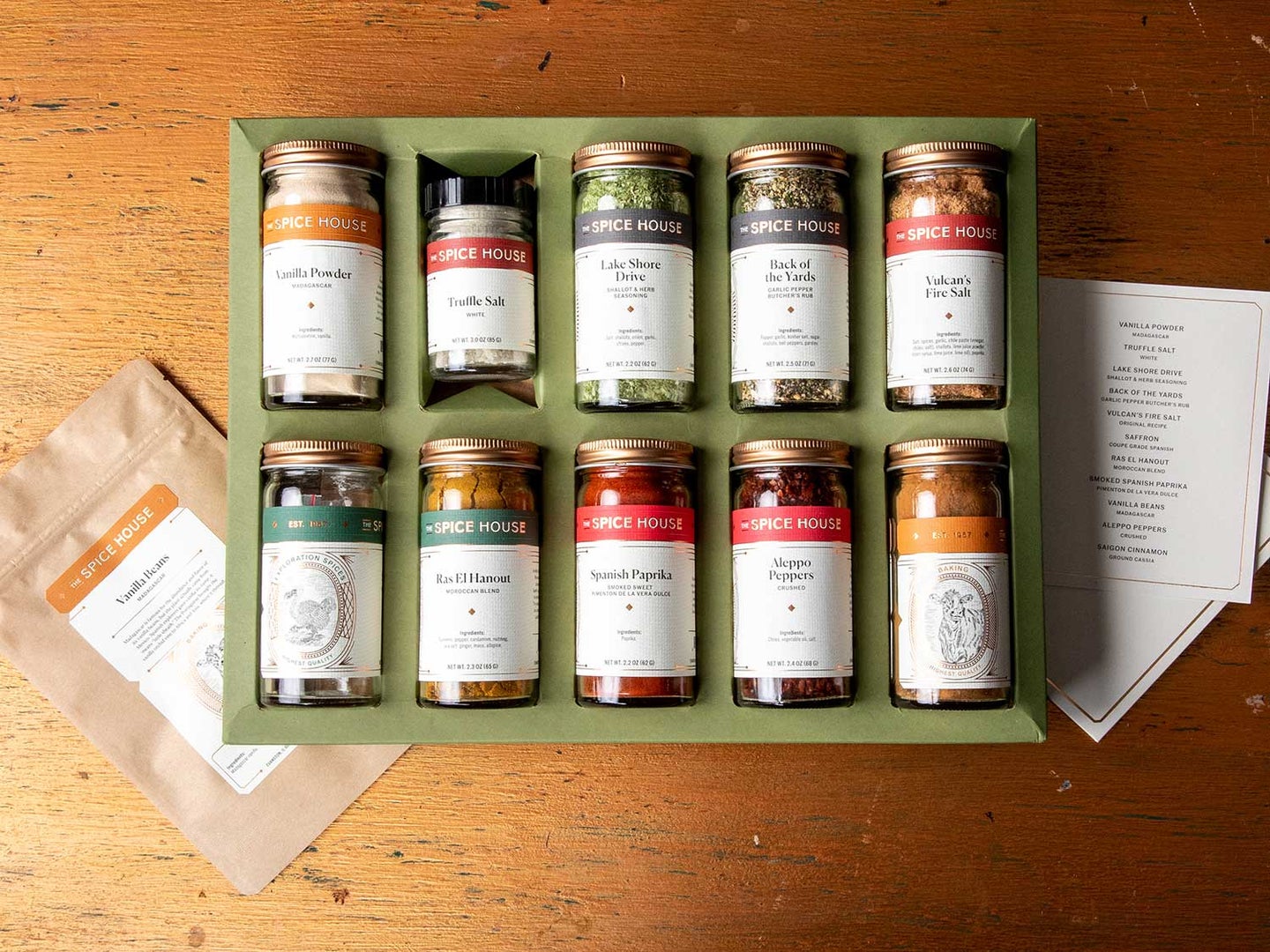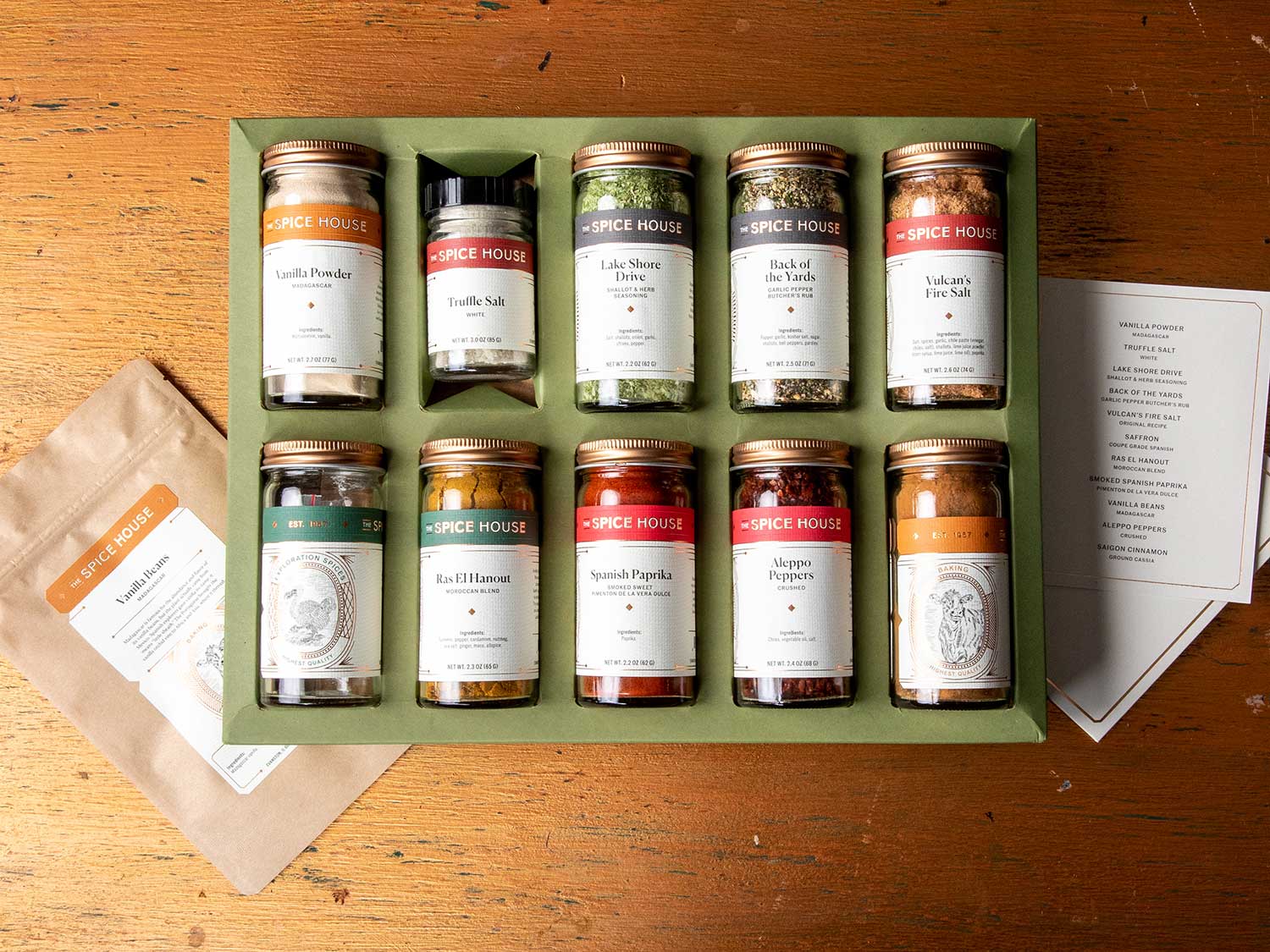 If you're the type that spends time worrying over what to buy friends and family, remember this: There's no one out there that doesn't love food. These are some of the most delectable choices for edible (and drinkable) gifts around.
Té Company Tea and Cookie Set
Whenever someone asks me where to eat in New York, there's one spot that's always on my list: Té Company. A tiny tea shop that specializes in Taiwanese oolongs and serves the most delicious snacks, it's one of those magical places you almost want to keep to yourself. If you can't make it there, their just-released gift set is the next best thing. Complete with illustrations of the owners inspired by vintage Taiwanese tea labels, the box includes two of Té's greatest hits: Oriental Beauty tea and their famous pineapple linzer cookies. –Frances Kim, digital editor
The Spice House Spice Trader Gift Set
This Chicago-based company has been selling small-batch spices for more than 60 years. While their spices have always been best-in-class, they recently upgraded their packaging to match: these beautifully designed jars are built to last. With 10 different varieties of spices (Afghan saffron! Vietnamese cinnamon!) and a bag of Madagascar vanilla beans, the Spice Trader gift box makes an excellent starter kit for anyone on your list. –F.K
Ichiran Tonkotsu Ramen Kit
The Japanese chain Ichiran made a splash in New York last year both for its tonkotsu ramen and its solo-dining cubicles, or what they call "ramen focus booths." This instant ramen kit means I can enjoy a solid bowl in the comfort of my apartment, also known as my personal ramen focus booth. –F.K.
Petrossian Compressed Caviar
French caviar and smoked fish institution Petrossian is branching out with a few new products this holiday season, including this precious little treasure. Rybaloff, a small brick of compressed, dried caviar (encased in beeswax for freshness), is an excellent host's gift or stocking stuffer for anyone in your life with Champagne tastes and a fondness for cooking. Keep these little loaves chilled, then, just before serving, peel back the wax and shave over canapés, pasta, lobster, soft-scrambled eggs, fish, or whatever else you can dream up. Similar in execution to bottarga, Rybaloff will lend caviar's complex saline richness to whatever you're serving. –Kat Craddock, test kitchen director
Ground Up Nut Butters
With festive flavors like salted eggnog and cinnamon snickerdoodle, Ground Up's nut butters make a perfect hostess gift or stocking stuffer this holiday season. The Portland-based company also gives back to the community by hiring homeless women and giving them the tools needed to get back on their feet. Definitely a purchase to feel good about. –Stefanie McNamara, Communications Director
Vermont Creamery Cultured Butter
Who wants butter for Christmas? I do. And this is some of the best butter around. Vermont Creamery is known for their elegant, French-style goat cheeses, but their cultured butter is pretty darned special, too. Use the unsalted stuff to elevate your favorite holiday baking projects, or melt thin slices of the salted version over steamed vegetables, baked apples, or (duh) toast. –K.C.
Island Creek Caviar
The cool-kid Massachusetts oyster farmers over at Island Creek recently partnered with Sterling, a California aquaculture project which pioneered sustainable, farm-raised caviar production in the 1980s; and North Carolina's Marshallberg Farm, the largest producer of Russian sturgeon and osetra caviar in North America. Sample a small tin or two of the precious eggs, or go big with a "Block Party" pack—a 250-gram party tin of Sterling white sturgeon caviar and 100 Island Creek oysters. –K.C.
Red Boat Fish Sauce Caramels
If you're into salted caramel, you'll love these sweet-and-savory umami bombs, a collaboration between The Little Flower Candy Company and the Vietnamese fish sauce brand Red Boat. –Jessie YuChen, test kitchen assistant
Cinco Jotas Ibérico Pork Shoulder
The price puts it cleanly in the category of gift that you would never buy for yourself, but bonafide Ibérico de Bellota is worth it. Eat it with a little fino sherry and feel your eyes roll to the back of your skull. –Chris Cohen, senior editor
Trade works with small-batch roasters across the country to bring fresh-roasted coffee to your door at the quantity and frequency you want (or, in my case, need). You can stick with one variety you love, or take their six-question taste quiz for something new, tailored to your palate, every time. –D.J. Costantino, associate digital editor