The 2019 SAVEUR Stocking Stuffers Gift Guide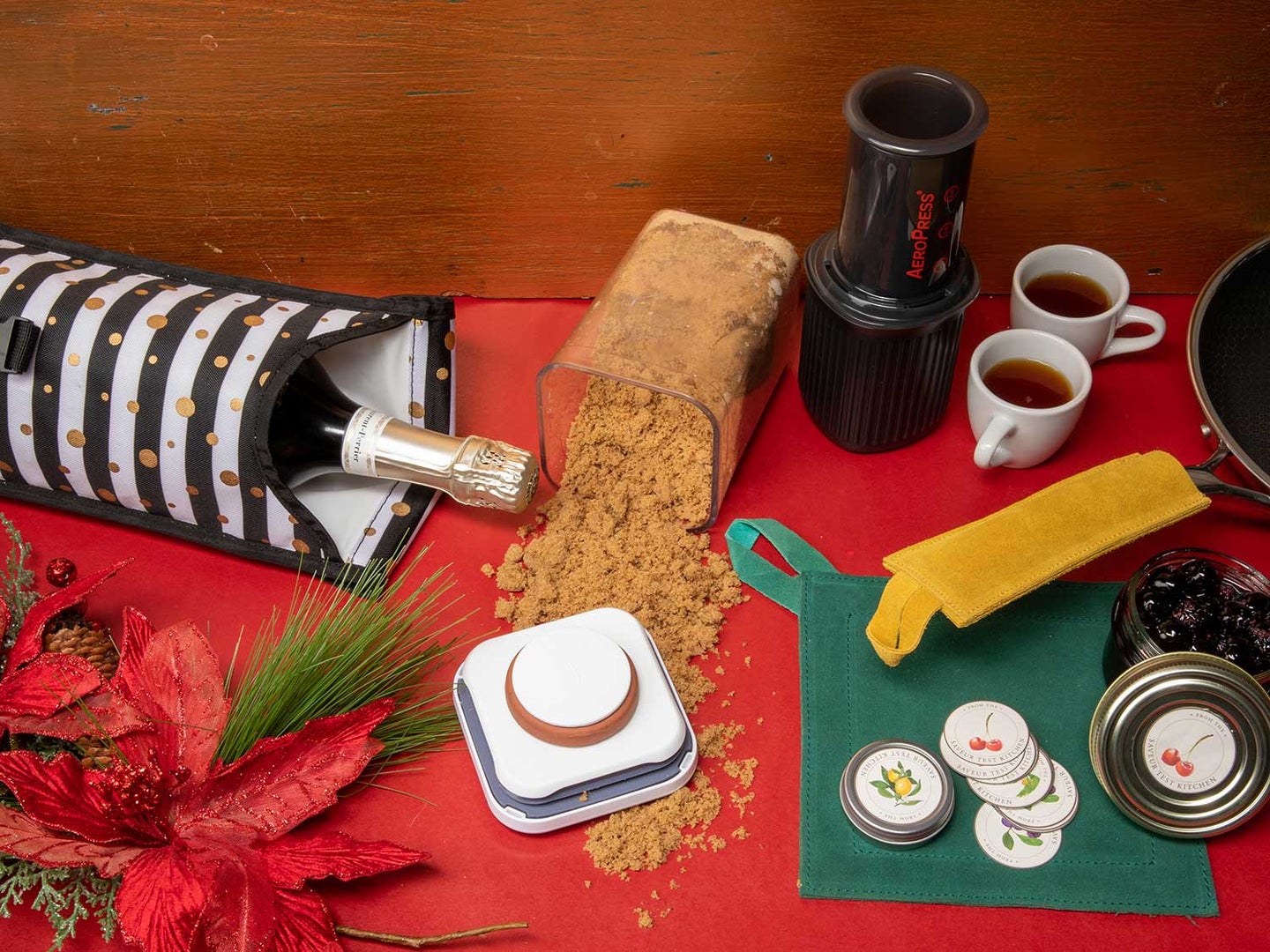 From ingenious labor-saving kitchen gadgets to tiny treats, wonderful gifts often come in small packages. These are our best stocking stuffers for 2019.
Designed with cooks and chefs in mind, this notebook is made with stone paper—which means it's resistant to stains, whether red sauce or riesling. –D.J. Costantino, associate digital editor
These lovely suede potholders provide all the protection but only a fraction of the pillowy mass of traditional, quilted mitts. They can do double duty as trivets and are, surprisingly, also machine-washable. –Kat Craddock, test kitchen director
Bringing Champagne to the party? Be sure it arrives well-chilled—and well-dressed—with this reusable, freezable wine tote. –K.C.
I swear by OXO's POP containers for keeping the SAVEUR test kitchen pantry in order. The brand recently rebooted that line of products with a collection of attachable accessories—think measuring scoops, a bench scraper, a date dial, and a mini-sifter—but the best of the bunch is this brown sugar keeper made of terracotta. Soak it in fresh water for 20 minutes before snapping it onto the container lid to prevent your brown sugar from solidifying into an unusable brick. –K.C.
My affection for the classic Aeropress is no secret, but I never much cared for how inelegant it looked on my countertop. The pieces of this recently released travel-friendly version fit tidily inside their own cup. Stash the whole thing in a cabinet or carry-on for the perfect, quick-brewed cup wherever you may be. –K.C.
This little blocks of incense immediately transport your kitchen to a mesa in New Mexico—just the thing if you've been cooking fish or making a strong stock. –Chris Cohen, senior editor
No matter who is on your list, if they cook, they could use a fresh wooden spoon—they get gross and soft quicker than anyone would like to admit! These OXO spoons are great—more substantial than you might be used to, with a smart shape for scraping out the corner of a deep pot. –C.C.
While I'm still a fan of Fly By Jing's O.G. product, Sichuan chile crisp, my latest obsession is the Chengdu-based company's sweet-and-spicy dumpling sauce. It has the heat of the chile oil but ups the ante with soy sauce, brown sugar, mushrooms, garlic, and spices. –Frances Kim, digital editor
These lovely, customized labels add a personal touch to homemade edible gifts. –K.C.