Collard Green Chowder
Hold the clams: What happens when greens meet heavy cream. And pork. And potatoes.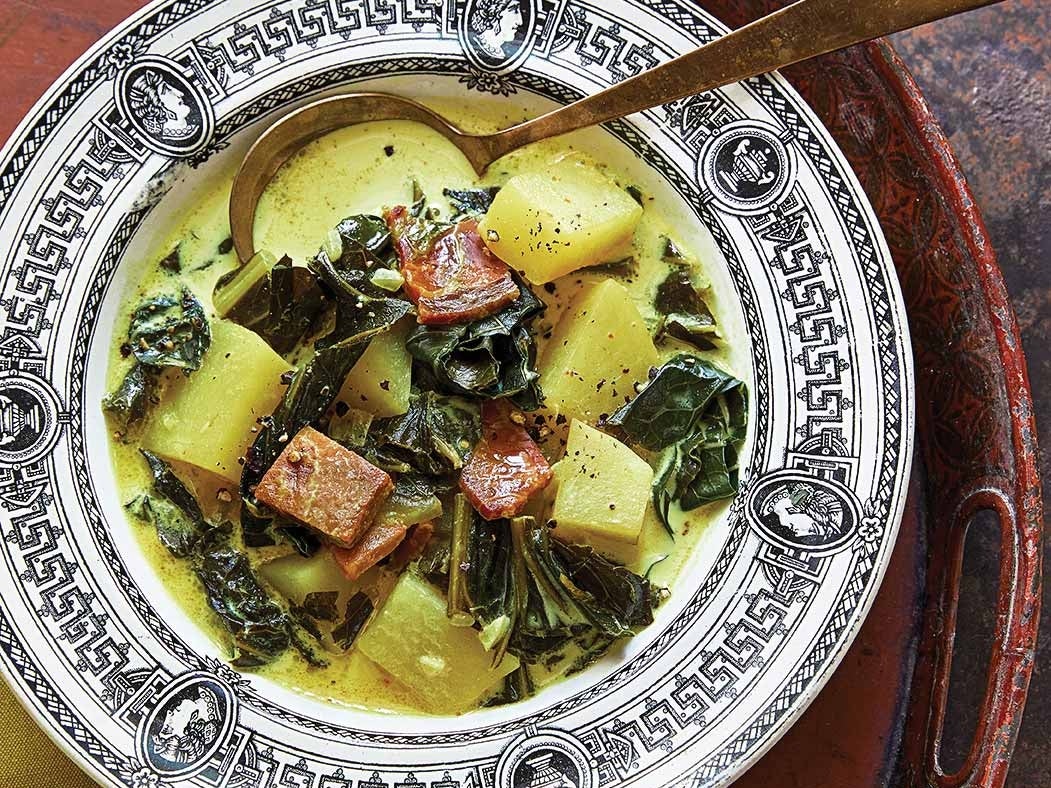 Check out all items from the Saveur 100 »
Dry-cured country ham can be found in specialty markets. But if you can't track some down locally, order it online from bentonscountryham.com, or substitute thickly sliced prosciutto.
Featured in: The 2020 Saveur 100: 21-30
Equipment
Yield: serves 8
Time: 1 hours 40 minutes
Ingredients
2½ lb. collard greens, coarsely chopped
1 Tbsp. kosher salt
8 oz. country ham, coarsely chopped (about 1½ cups)
1 large sweet onion, finely chopped (about 2 cups)
2 Tbsp. salted butter
1 tsp. ground turmeric
2 medium russet potatoes, peeled and diced (about 2½ cups)
1 cup heavy cream
1 tsp. freshly ground black pepper
Instructions
In a large stockpot over medium-high heat, combine the collard greens, salt, and 6 cups cold water. Bring to a boil, then lower the heat and simmer, stirring occasionally, until the greens are tender but not mushy, 50-60 minutes. Drain, reserving the potlikker, and set the greens and potlikker aside.
Rinse out the pot and return to medium heat. Add the ham and cook, stirring occasionally, until its fat begins to render and the edges begin to brown, 3-5 ­minutes. Add the onion and butter, and cook, stirring frequently, until the onion is translucent, 4-6 minutes. Stir in the turmeric, then add 3 cups of the reserved potlikker and the potatoes. Bring to a simmer and cook until the potatoes are tender, 4-6 minutes more. Stir in 3 cups of the reserved greens, heavy cream, and black pepper, then bring to a simmer and cook until the greens are very tender and heated through, 6-8 ­minutes. Serve hot.