Frozen Hot Chocolate with Cacao Nib Cream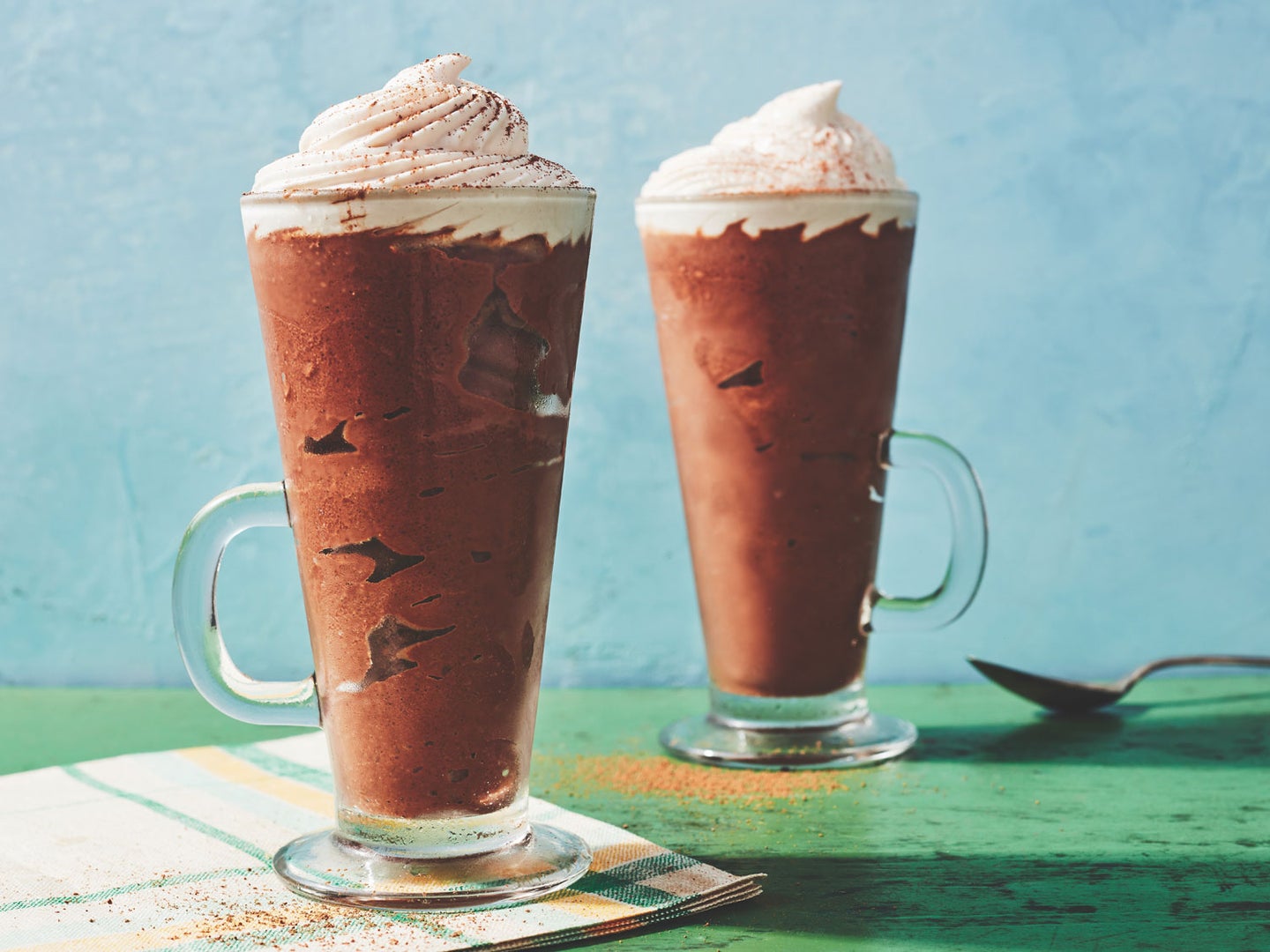 San Francisco's Dandelion Chocolate, which buys from Kokoa Kamili, uses a mix of very dark chocolates to keep this frozen dessert intense. The recipe is adapted from the Dandelion cookbook, Making Chocolate.
Featured in: The Best Chocolate In Africa
Equipment
Yield: serves 4
Time: 7 hours
Ingredients
For the cocoa nib cream
1 cup heavy cream
1 Tbsp. sugar
¼ cup cocoa nibs
For the frozen hot chocolate
1¼ cups whole milk
½ cup plus 1 tsp. sugar
½ cup light corn syrup
5¼ oz. bittersweet (60–70 percent) chocolate, coarsely chopped (2 cups)
1½ oz. unsweetened (100 percent) chocolate, coarsely chopped (2/3 cup)
Ice
Instructions
Make the cocoa nib cream: In a small pot over medium-high heat, add the cream and sugar, and bring to a boil. Turn off the heat, stir in the nibs, and set aside to steep for exactly 30 minutes. (Steeping too long will bring out excess bitterness.)
Set a fine strainer over a heatproof medium bowl, strain the cream, and discard the nibs. Chill the infused cream for at least 6 hours or up to overnight. (It must be well-chilled to whip properly.)
Meanwhile, make the chocolate syrup: In a large pot over medium heat, add the milk, sugar, corn syrup, and ⅓ cup water. Bring to a boil, whisking occasionally to dissolve the sugar. Add the chocolates, and lower the heat to medium. Cook, whisking continuously, until the chocolate is melted, then lower the heat to low, and continue cooking and whisking continuously until smooth and glossy, 2–3 minutes. Remove from the heat, and let cool to room temperature. At this point, the syrup can be refrigerated for up to 1 week.
Five minutes before serving, whip the cocoa nib cream: In the bowl of a stand mixer fitted with the whisk attachment, or using a hand mixer, add the chilled cream, and whip on medium-high speed until medium peaks form. Refrigerate while you blend the drink.
Prepare the drinks one serving at a time: In a blender, blend 1 cup of ice with 1⁄2 cup of the prepared chocolate syrup until the mixture is thick like a milkshake and no icy lumps remain, 30–45 seconds. Pour into a glass, and spoon or pipe some cocoa nib cream on top. Top with grated chocolate. Repeat for the remaining drinks, serving each immediately.