Recipes
Indonesian Sambal Tomat
Fiery fresh chiles are tempered by coconut oil, cherry tomatoes, and tamarind in Lara Lee's punchy Indonesian sauce.
Serves

makes About 1 cup

Cook

40 minutes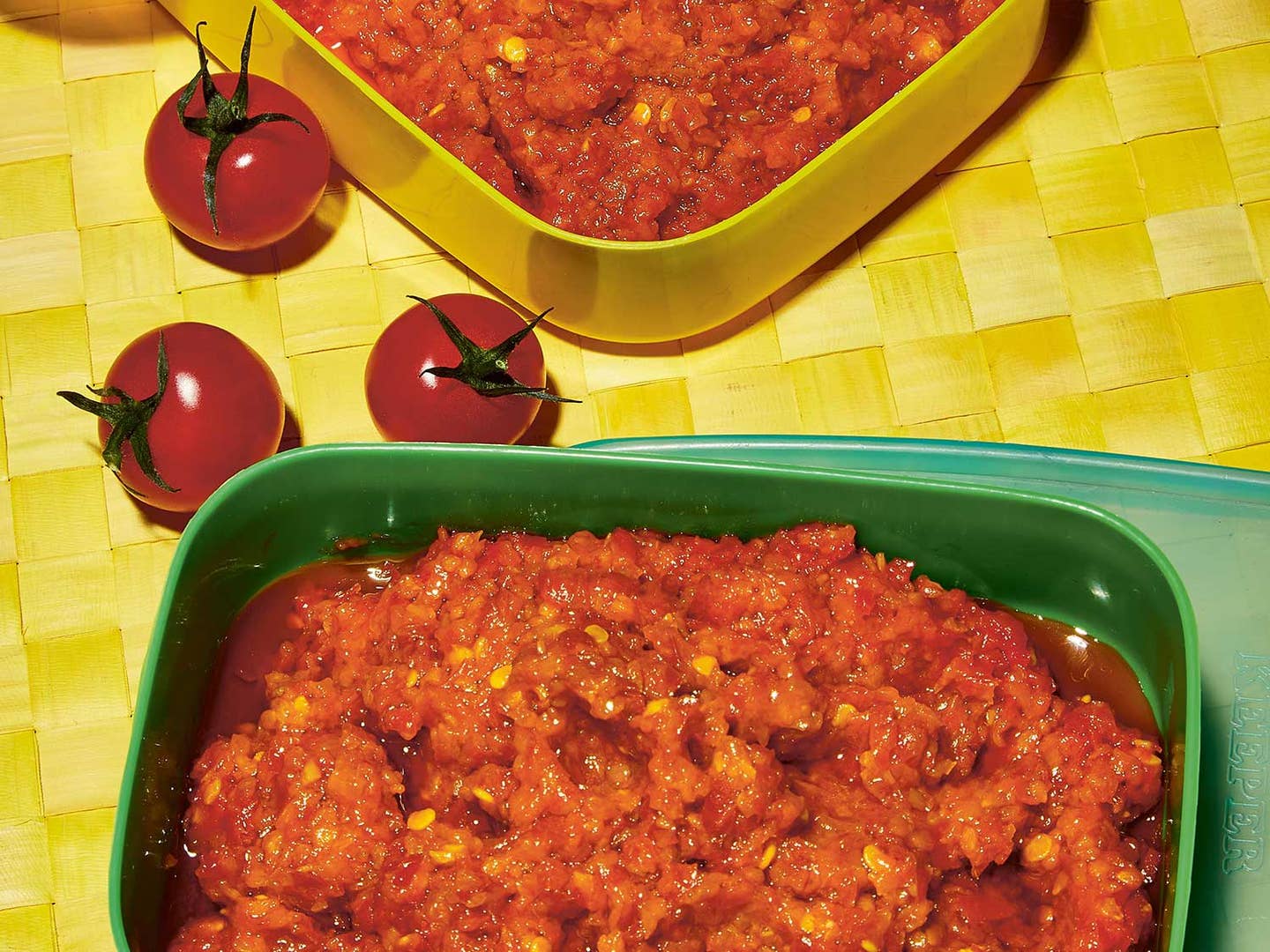 When buying chillies, choose varieties that are the length and width of your middle finger, which give a moderate heat and become milder when their pith and seeds are removed. This recipe is adapted from Australian-Indonesian chef Lara Lee's cookbook, Coconut & Sambal.
Ingredients
9 oz. medium-hot red chiles (such as Cayenne, jwala, Holland red fingers, or Fresno), stemmed, seeded, and thinly sliced (2 cups)
6 1⁄2 oz. cherry tomatoes (1¼ cups)
3 medium shallots, peeled and thinly sliced (⅓ cup)
2 garlic cloves, peeled and thinly sliced (1 Tbsp.)
1 1¾-in. piece fresh ginger, peeled and thinly sliced (2 Tbsp.)
1⁄4 cup coconut or sunflower oil, plus more as needed
1 tsp. seedless tamarind paste (or 1 tsp. lime juice mixed with 1 tsp. brown sugar)
1⁄2 tsp. palm sugar or brown sugar
Salt and black pepper, to taste
Instructions
Step 1
Place the chiles, tomatoes, shallots, garlic, and ginger in a food processor and process to a paste, maintaining some texture.
Step 2
In a large skillet over a medium-heat, add the oil; when it shimmers, transfer the reserved chile mixture to the pan and cook, stirring frequently, until it reduces, thickens, and is very fragrant, 15-18 minutes. Remove from heat, stir in the tamarind paste and palm sugar, then season to taste with salt and black pepper. Cool to room temperature and serve, or transfer to an airtight container, cover the surface with a thin layer of oil, and refrigerate for up to 1 week or freeze for up to 3 months.