Recipes
How To Make Torikotsu Ramen Soup
The Japanese chicken noodle soup of your dreams.
Serves

makes 4 Quarts

Cook

6 hours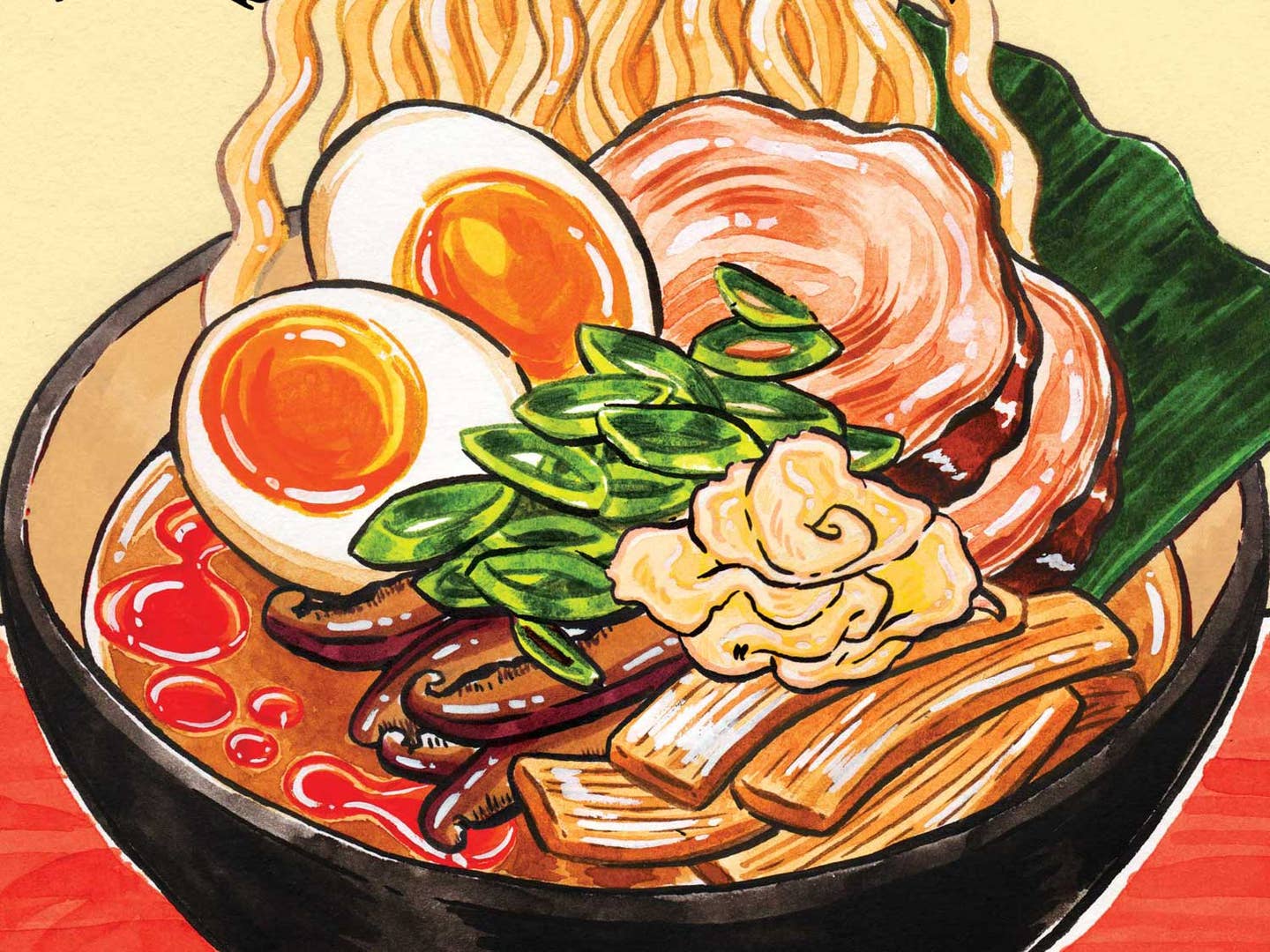 You're probably familiar with the creamy, fat-laden deliciousness that is tonkotsu, the pork bone broth so popular as a base for Japanese ramen noodle soup. But do you know it's slightly slimmer cousin, torikotsu? The chicken bone broth is also simmered for hours, but made from cooking chicken carcasses (and feet, too, if you can get your, er, hands on them) along with scallions and fresh ginger. Kombu, added to the stock to steep off the heat, provides another layer of savory depth.
Prepare the stock at least one day ahead, as you'll need time to chill it overnight. The congealed fat is removed the next day and reserved, to be mixed back in with the tare and stock to finish the broth.
The base of torikotsu, paitan, or "white soup" (tonkotsu is also in this category) is flavored with tare, a mix of seasonings that gives the ramen bowl a more nuanced flavor. In this recipe, adapted from the book Let's Make Ramen! A Comic Book Cookbook by chef Hugh Amano and illustrator Sarah Becan, we use a simple "shio" tare made up of salt, mirin, and rice wine vinegar. The simple mixture adds depth of flavor without changing the color of the milky broth.
This recipe makes enough shio tare for up to 10 servings; save leftovers in an airtight container in the fridge for up to 1 month. Measuring the ingredients by weight is recommended, as salts differ greatly in density and size.
Ingredients
For the stock
5 lb. mixed chicken backs and feet, or 2 whole chicken carcasses
8 medium scallions, trimmed and halved cross-wise
½ lb. fresh ginger, unpeeled, cut into ¼-inch slices
Two 8- by 4-inch sheets (about 1 oz.) dried kombu
For the shio tare
1 oz. (1 Tbsp. plus ¾ tsp.) fine sea salt
4 oz. (½ cup) mirin
1 oz. (2 Tbsp.) rice wine vinegar
Instructions
Step 1
To a large stockpot, add the chicken parts or carcasses, scallions, and ginger, then cover with 6 quarts cold water. Note the water level in the pot. Bring to a rapid boil over high heat, skimming off any scum that rises to the surface, and cook, maintaining a boil, for 4 hours, adding additional cold water to replenish the liquid to its original level every hour for the first 3 hours. During the final hour, allow the stock to reduce without replenishment. (The stock should reduce to about 4 quarts during this last hour.) Remove from the heat, add the kombu, and set aside at room temperature for 1 hour.
Step 2
Place a wide mesh strainer over a large, heatproof bowl and strain the stock, discarding the solids. Place a fine mesh strainer over another heatproof bowl and strain the stock again, discarding any solids. Cool completely, cover, and refrigerate at least 6 hours or overnight.
Step 3
Meanwhile, make the shio tare: To a small pot over medium heat, add the salt mirin, rice wine vinegar, and ½ cup cold water. Cook, stirring occasionally, just until the salt dissolves. Remove from the heat and set aside at room temperature to cool. Use immediately, or transfer to an airtight container and refrigerate for up to 1 month.
Step 4
The next day, use a large, slotted spoon to remove the congealed fat from the top of the stock; discard the fat or reserve it for another use. Refrigerate the stock until you're ready to use it, up to 1 week, or freeze for up to 6 months.
---
In a real ramen-ya, the final bowl comes together quickly, piping hot and laden with accompaniments. Before assembling the shio ramen, have all of your toppings—wok-fried veggies, grilled or braised meats, chopped scallions, pickled ginger, soft-cooked eggs, crispy-baked chicken skins, aromatic oils, etc—at the ready.
Bring a large pot of water to a boil over high heat.
To a second large pot over medium heat, add 1½ cups stock and 2 tablespoons shio tare per serving. Turn the heat to low and maintain a simmer.
Drop 5 ounces of fresh noodles per serving into the boiling water and cook for 2 minutes.
Ladle 12 ounces of the hot broth into each bowl. Strain the noodles well and divide them between the bowls.
Place any hot garnishes atop the noodles; add eggs, then add smaller toppings. Drizzle aromatic oils—chile oil, sesame oil, etc.—over the noodles, then nestle in any crispy ingredients, such as nori or crisped chicken skins. Sprinkle with shichimi togarashi (a blend of chiles, sesame seeds, and spices), or other seasonings, if desired.