Recipes
Pow! Boom! Zap! Let's Make Ramen!
In the vibrant comic book cookbook Let's Make Ramen!, a chef and an illustrator team up to show the home cook how it's done.
Serves

makes 4 Quarts

Cook

6 hours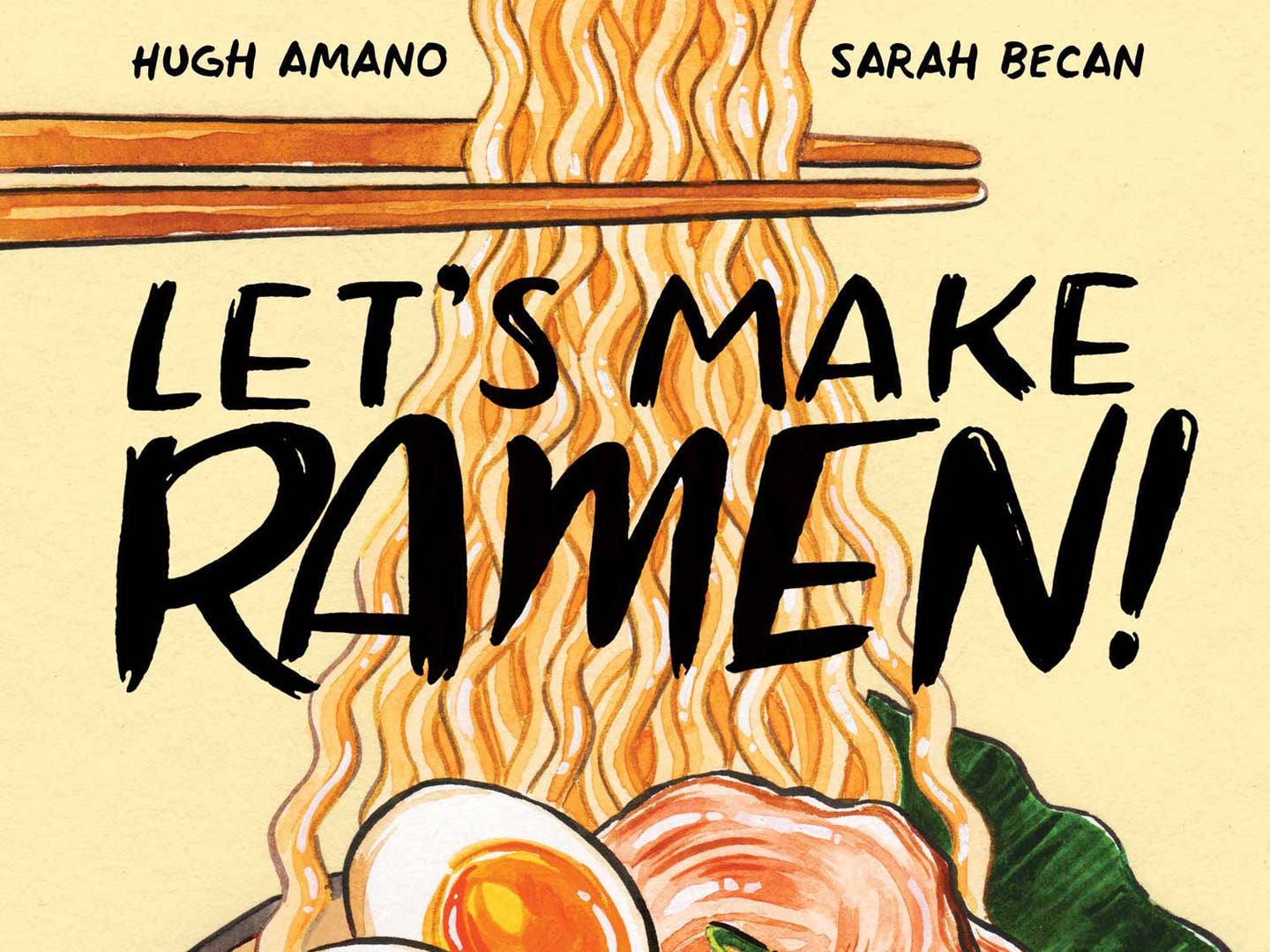 Remember when ramen meant a brick of noodles with a side of flavor packet? No longer, thanks to trailblazers such as Ippudo, Ivan Ramen, Momofuko, and others that began introducing Americans to the real thing nearly two decades ago. Toothsome noodles in flavorful broths, with toppings such as chashu, the braised and pan-seared slices of pork, and ajitsuke tomago, or seasoned eggs, set off a ramen craze in this country that has yet to wane. Even so, ramen still isn't a dish many attempt at home.
That's where chef Hugh Amano and illustrator Sarah Becan come in. The duo behind this month's selection for the Saveur Cookbook Club, Let's Make Ramen! A Comic Book Cookbook, set out to teach home cooks how to make the components of the authentic Japanese ramen bowl. With the two (in comic character form) as our chef-and-novice guides, their graphic cookbook illustrates step-by-step instructions and spells out the entire process visually, from broths to noodles to toppings. We recently checked in with Amano and Becan by phone, from their respective homes in Chicago, to learn more.
Saveur: Okay, first things first: What have the two of you been quarantine cooking?
Sarah Becan: I'm still doing illustration for restaurants who are advertising their curbside service, so I've actually been pretty busy with work—which means it's been a lot of black beans in the slow cooker. We did add a leg of duck confit recently. I found it in the freezer and in the pot it went! I've also made the internet-famous "no-knead bread"—like everyone else, I think.
Hugh Amano: As an OCD-leaning chef, I think of maximizing everything I buy, focusing as much as I can on fresh ingredient-heavy menus. That said, you gotta listen to the inner fat kid as well, so I've been deep-frying a lot lately, too. I've made donuts, fries for steak frites, potato chips, deep fried Brussels sprouts, and of course, fried chicken. My physical heart groans, but my spiritual heart soars! I'm also turning out a loaf of bread every three or four days. I have a sourdough starter that Abe [Conlon] gave me about twenty years ago and I've kept it going.
Saveur: Abe Conlon and his Macanese restaurant, Fat Rice, in Chicago, are what brought the two of you together, correct?
HA: Yes. Abe and I used to do underground restaurants all around Chicago. I helped him open Fat Rice in 2012, and a few years later, we did a cookbook about the food of Macau as interpreted by the restaurant. In it, there are a lot of wok recipes, but when you cook in a wok, everything comes together really fast. It's hard to follow the recipe if you're reading text. It's like 'You have 15 seconds! Don't burn it!' A visual is so much better. So we hired Sarah to illustrate those recipes.
SB: My background is studio art, and I've always been into comics. In 2010, I started writing a daily autobiographical food column called "I Think You're Sauceome", filled with random food moments from my day: what I'd eaten, restaurants I'd visited, recipes I liked. At the same time, I was doing a comic strip called sauceome.com about my trips out to dinner. We ate at Fat Rice, I drew a comic and sent it to the restaurant, and they ended up hiring me to do posters, t-shirts, hot sauce labels. It kind of exploded into a lot of different projects, including the recipe illustrations.
Saveur: What led you from Adventures of Fat Rice, which contains only a few illustrations, to Let's Make Ramen!, which is 100 percent a comic book cookbook?
SB: Doing a comic book cookbook about ramen was the publisher's idea, actually. I'd done work for Yusho, the [now shuttered] Japanese street-food restaurant in Chicago. I had family in Japan, and I'd always been a huge ramen fan. At first, we thought we'd work with a restaurant chef, but we didn't want it to be a restaurant cookbook. So we went to Hugh.
HA: My dad is Japanese, so I spent a lot of time eating ramen in Japan as a kid. Abe and I had also served ramen at several of our pop-up dinners. Initially, I thought, "I know so many guys who are stronger authorities on this subject." But the idea made sense. Our job as chefs is to make you think you can't make it at home, but that's always been my thing: How do you cook these foods at home? I've taught in several settings, and I used to write a blog, Food On the Dole, that really focused on this. In the same way, the goal of Let's Make Ramen! is to teach anyone—Joe Sixpack—to make ramen from start to finish.
Saveur: What is the most difficult part about preparing ramen at home?
HA: The noodles. Rolling them out is a tremendous feat of strength. Homemade pasta, which a lot of people have had experience with, is a much wetter dough. Ramen noodle dough requires a lot of patience. You roll, roll, let it rest for 5 to 10 minutes, then you roll, roll, then rest your arms. Actually, having a pasta machine is a great way to go. But even then, there will be challenges. The dough tears and looks bad, and you'll think something's wrong. You just have to keep with it and the dough will eventually come together.
SB: There is no shame, of course, in buying [premade] Sun Noodles. We recommend that brand in the book. They're sold in the freezer section of some grocery stores.
HA: Yes, when you find them, just buy the place out and keep them in your freezer! Though homemade noodles are absolutely worth the effort once you get the hang of it.
Saveur: Which recipes should people make first? Are some easier than others? Any favorites?
HA: I really love tonkotsu. It's essentially "cream of pork" soup, so what's not to love? The process requires pork bones, including trotters—but if you can't find those, any pork bones with lots of cartilage will do. Also, the whole thing can be sped up by making the broth in a pressure cooker. The chicken bone broth, or torikotsu, is made with chicken carcasses and is really straightforward. The easiest, though, is the dashi broth, made with kombu, dried shiitake, and dried fish. Once you've got dashi and torikotsu, those can be combined, with the addition of some seasoning, to make shio broth, another ramen base. As far as toppings go, the eggs are the most accessible. Chashu, the sliced pork, is the crowning piece of the ramen bowl and worth the time. If you use chicken thighs for your torikotsu broth, then you've got the makings of the crispy chicken skins, which means it's a two-for-one. A lot of the components are interchangeable and not much goes to waste.
SB: I really love the marinated mushrooms, one of the easier toppings to make. I'm guilty of eating those mushrooms on their own, before they ever make it to the ramen. You soak them to make the dashi from the soaking liquid, and then the mushrooms can be marinated for the topping. The abura soba ["oil noodles"], a dish kind of like carbonara, is decadent without being too much trouble—a good one for this current moment. When summer comes around and there is an abundance of tomatoes, I like the hot and cold summer tomato mazeman ["mixed noodles"].
Saveur: What advice would you give to people before they get started?
HA: As with anything, read the entire recipe first. Ramen has many components, and the idea is that you are building these things separately, then putting them together at the last moment—just like they do in a real ramen-ya in Japan. Have a plan of attack. Understand the project. Be willing to make mistakes, as long as you learn. Once all of the components are ready, it's just bop-bop-bop! It comes together instantly.
SB: Ramen is modular. Do a little prep work, make the broths in bulk and freeze them—same with the toppings. That way, you've got everything on hand and the hard work is done. You can just put your ramen bowls together as you want them.
HA: It's an awesome family project. Lots of people have told us they make ramen with their kids.
Saveur: Which brings me to something that I thought of when I first picked up the book: Did you have kids in mind when you were making this comic book cookbook?
SB: We weren't excluding children, but we also weren't thinking that this was a book more for kids than for adults. The comics I read are very much not for children. I've always used this medium to address any kind of topic. I was thinking of it being for visual learners, and that's one thing that has been interesting. We've gotten comments from people with different learning styles who say they have an easier time with this than with a traditional cookbook.
HA: I am not at all a comic book person. Sorry, Sarah! I'm not trying to be controversial. For me, it was more about it being the perfect medium to really teach the subject.
Saveur: So who is your intended audience?
HA: We have a few guest stars who make an appearance in the book. Guys like Mike Satinover, Reddit's ramen guru, and Ivan Orkin, who has two eponymous restaurants in New York, get the mike for about thirty seconds to weigh in on ramen. Anyway, Ivan has a term he uses: "ramen nerds", which refers to the people who cook nothing but ramen, constantly experiment with their recipes, and obsess over things like adjusting noodle hydration by 1%. We love those guys, but this book is not for them. It's for everyone else.
SB: I was thinking of people like myself: Amateur enthusiasts who love ramen but have no training. We wanted to demystify the ramen bowl for the rest of us.
Ingredients
For the stock
5 lb. mixed chicken backs and feet, or 2 whole chicken carcasses
8 medium scallions, trimmed and halved cross-wise
½ lb. fresh ginger, unpeeled, cut into ¼-inch slices
Two 8- by 4-inch sheets (about 1 oz.) dried kombu
For the shio tare
1 oz. (1 Tbsp. plus ¾ tsp.) fine sea salt
4 oz. (½ cup) mirin
1 oz. (2 Tbsp.) rice wine vinegar
Instructions
Step 1
To a large stockpot, add the chicken parts or carcasses, scallions, and ginger, then cover with 6 quarts cold water. Note the water level in the pot. Bring to a rapid boil over high heat, skimming off any scum that rises to the surface, and cook, maintaining a boil, for 4 hours, adding additional cold water to replenish the liquid to its original level every hour for the first 3 hours. During the final hour, allow the stock to reduce without replenishment. (The stock should reduce to about 4 quarts during this last hour.) Remove from the heat, add the kombu, and set aside at room temperature for 1 hour.
Step 2
Place a wide mesh strainer over a large, heatproof bowl and strain the stock, discarding the solids. Place a fine mesh strainer over another heatproof bowl and strain the stock again, discarding any solids. Cool completely, cover, and refrigerate at least 6 hours or overnight.
Step 3
Meanwhile, make the shio tare: To a small pot over medium heat, add the salt mirin, rice wine vinegar, and ½ cup cold water. Cook, stirring occasionally, just until the salt dissolves. Remove from the heat and set aside at room temperature to cool. Use immediately, or transfer to an airtight container and refrigerate for up to 1 month.
Step 4
The next day, use a large, slotted spoon to remove the congealed fat from the top of the stock; discard the fat or reserve it for another use. Refrigerate the stock until you're ready to use it, up to 1 week, or freeze for up to 6 months.