Recipes
Stuffed Leeks with Blue Cheese, Raisins, and Almonds
Serves

serves 8

Cook

50 minutes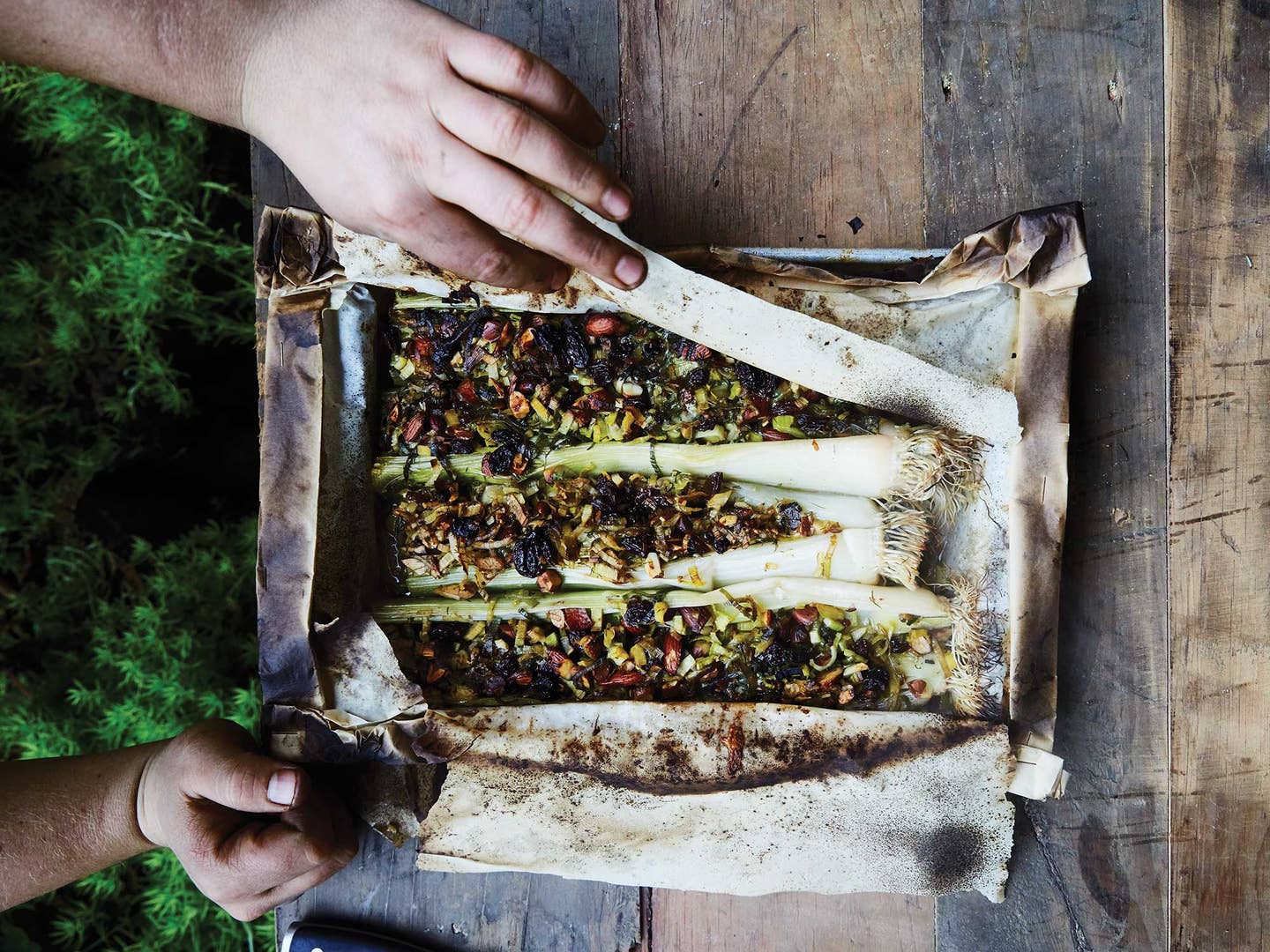 The bold flavors of blue cheese, anchovies, and Worcestershire sauce—plus a little kiss from the flame—make otherwise mild-flavored leeks just the thing for a cold night by the fire. Roasting them under sealed parchment paper allows the leeks to steam, tenderizing them before they char.
Ingredients
4 large leeks, rinsed (3 1/4 lb.)
1 tbsp. plus 1 tsp. kosher salt
1⁄2 cup olive oil
1⁄2 stick unsalted butter, melted
1⁄3 cup raisins, chopped
1⁄4 cup crumbled blue cheese
1⁄4 cup dill, chopped
2 tbsp. red wine vinegar
1⁄2 tbsp. hot sauce
1 1⁄2 tsp. Worcestershire sauce
1 tsp. freshly ground black pepper
24 almonds, coarsely chopped
2 anchovy fillets, chopped (optional)
Instructions
Step 1
Prepare a woodburning or indoor oven to 425°. Line a large rimmed baking sheet or cake pan with a 15x34-inch piece of parchment paper (half the sheet will be hanging off), or use two 13x17-inch pieces.
Step 2
Cut the dark green parts off of the leeks, then finely chop them until you have 1 cup; reserve. Starting 1⁄4 inch from the roots of the leeks, cut the leeks lengthwise down the center, leaving the bottommost layer intact. Run the leeks under cold running water, gently separating the leaves to release any dirt, then pat dry.
Step 3
Transfer the leeks to the prepared baking sheet. Sprinkle 1⁄4 tsp. salt over each leek.
Step 4
In a medium bowl, mix the oil, butter, raisins, cheese, dill, vinegar, hot sauce, Worcestershire sauce, pepper, almonds, anchovies (if using), remaining salt, and reserved chopped leek greens. Spoon a scant 1⁄2 cup of the mixture down the center of each leek.
Step 5
Fold the hanging edge of the parchment paper over the leeks, or place a second piece of parchment on top, to cover. Tuck the edges under and fold, creating a sealed pouch.
Step 6
Roast for 30 minutes. Then remove and discard the top layer of parchment paper. If cooking with wood fire, shift the pan closer to the heat source. For an indoor oven, preheat to broil.
Step 7
Roast or broil the leeks until the leeks and filling are slightly charred in places, 2–3 minutes. Carefully cut each in half crosswise using kitchen shears or a sharp knive, and serve.