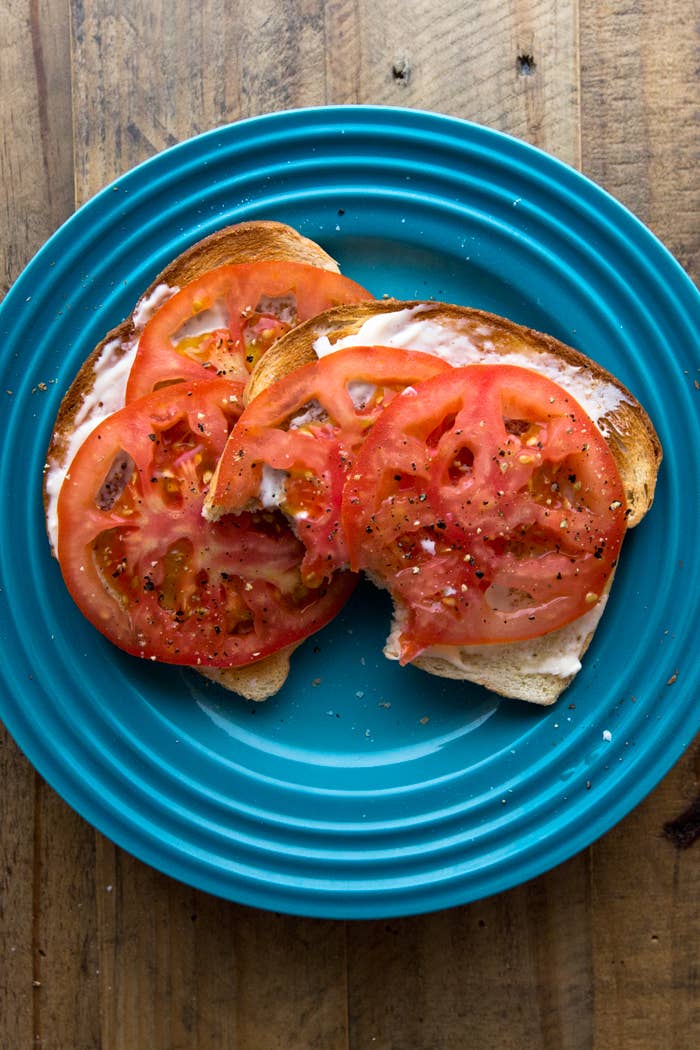 Recipes
The Best Thing to Do With a Tomato? Put it in Some White Bread
Why the lowly tomato sandwich is the purest taste of summer
August is here, and it's my favorite month. Not because I'm excited to see summer go, but because August is for garden tomatoes, the kind that pop like balloons when you cut into them.
My tomato craving is very specific. When I find the most beautiful tomato at the farmer's market, I don't waste it in a salad or pasta sauce pasta. I want it between two slices of plain white supermarket bread, untoasted, with nothing more than a single slice of cheese and a swipe of butter. I've stuck to the same formula since childhood for one simple reason: there's no better way to get more out of a tomato.
Sure, I could add some thick cuts of meat to my sandwich, or fancier condiments, or other vegetables, but I'm not sweating it. When it comes to the tomato sandwich, simplest is best—anything else just detracts from the tomato in all its glory. It's something I learned early on from my mom's side of the family in West Virginia, where they ate these sandwiches at least once a day during the season.
There's something about that squishy white bread and bit of unsalted butter that makes the tomato even more tomatoey. It's the blandness, I think, something so devoid of flavor that it highlights just how much the tomato has to offer. Add anything else and you lose the effect, but for those gorgeous garden tomatoes, this lowly sandwich is the tomato's highest form. Once I find the biggest, ripest, most garden-y garden tomato in New York, I'll be savoring sandwich after sandwich until all that's left is a puddle of juice.