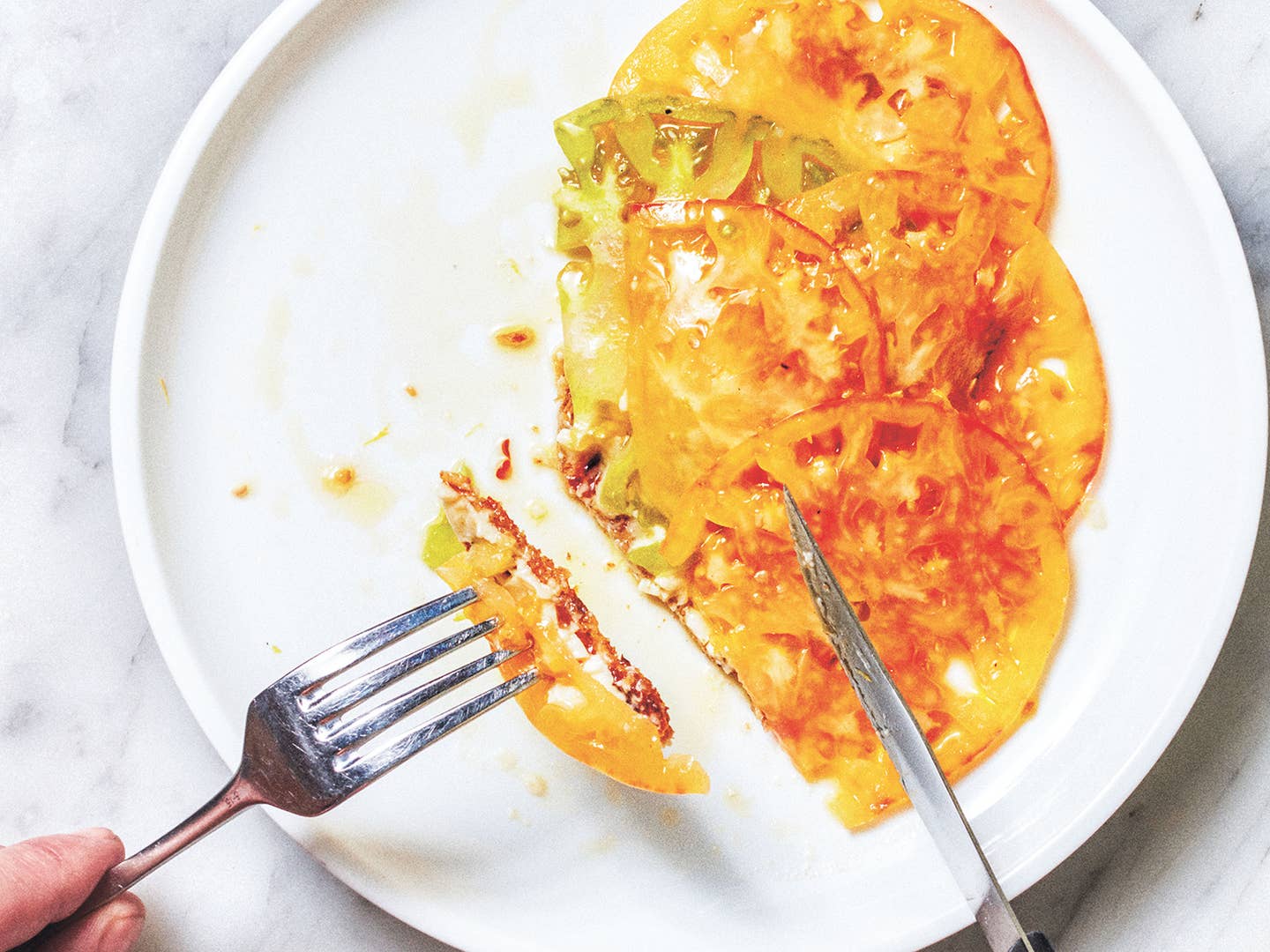 Recipes
The Best Tomato Sandwich Isn't a Sandwich at All
Ignacio Mattos' open-faced original.
There is not much improving on a tomato sandwich. No matter what your local fancy-casual restaurant may be trying to tell you with their house-made aioli and brioche toast, the best tomato sandwich is usually the one made with regular old mayonnaise and soft, not-crusty bread. My personal preference is beefsteak tomatoes, firm and fire-engine red all over, but heirlooms of course work well too. The thing should be salted and peppered and soft. (Want crunch? Make a BLT.)
But I found a worthy contender while testing recipes for the Estela cookbook. The Manhattan restaurant, helmed by chef Ignacio Mattos, serves a tomato toast for brunch in the summer that is slimmer and funkier than the standard mayo-smeared sandwich. It's just a little extravagant, but extremely easy to make at home, and doesn't allow any one ingredient to yell louder than the tomatoes that shine up at you from the plate.
At the restaurant, the toast-harvesting process is particularly cheffy: they take one of those dense, rectangular breads that are chock-full of seeds and grains, and cut thin slices the long way, so that your piece of toast is as long as the loaf they cut it from. Then they griddle it in a tiny drizzle of olive oil until its edges are crispy and it has veered into toast territory. On goes a smear of Fromager d'Affinois cheese, a cousin of Brie, which is applied evenly and to the edges like they're icing a cake. The whole thing is topped with slices of technicolor heirloom tomatoes cut thin enough to resemble stained glass and gilded with a bit of olive oil and crunchy salt. The slices drape lazily over the edge of the toast, hiding everything below it such that an uninformed viewer with mediocre eyesight may see the composed dish as a pile of sliced tomatoes.
It is, as you can imagine, a thing of beauty, but it's also stupidly delicious. The little bits of toothsome seeds in the bread stabilize the almost-gooey cheese, which itself is a buffer for weepingly juicy tomatoes. (A benefit of the edge-to-edge coverage is that the toasts can sit for a second without turning soggy, and therefore are a perfect thing to make for company.) The cheese adds funk but doesn't steal the show: you're still at a tomato party, just one with a few carefully chosen bells and whistles. At the restaurant it presents itself as a fork-and-knife endeavor, but it's just as delicious eaten by hand, either as a fancy snack or in multiples, as lunch.
This is, of course, a far cheffier way to eat tomatoes on bread than buying a loaf of white bread and making use of the Costco-sized jar of Hellman's in your fridge. But it's much more accessible to the home cook than it first appears. Fromager d'Affinois might not be stocked at your neighborhood grocer, but is available at many better cheese shops and online. (Of course, you can and should swap in Brie if that makes more sense for you; you'll still find yourself wondering when else you can swap out mayonnaise for a bloomy-rind cheese.) It tastes just as good if you slice the toast into, uh, normal slices instead of wrangling foot-long planks, some of which will inevitably be too thin or too thick. Past those two bits, all you need are some very good late-summer tomatoes, a bit of good olive oil, and a pinch of flaky salt. It'll take you 15 minutes to make. It'll be even quicker when you inevitably decide to make a few more. As always, it is a good idea to buy more cheese than you think you need.