Francois Payard on The Perfect Fruit Tart
The master pâtissier shares his favorite choice for an easy summer dessert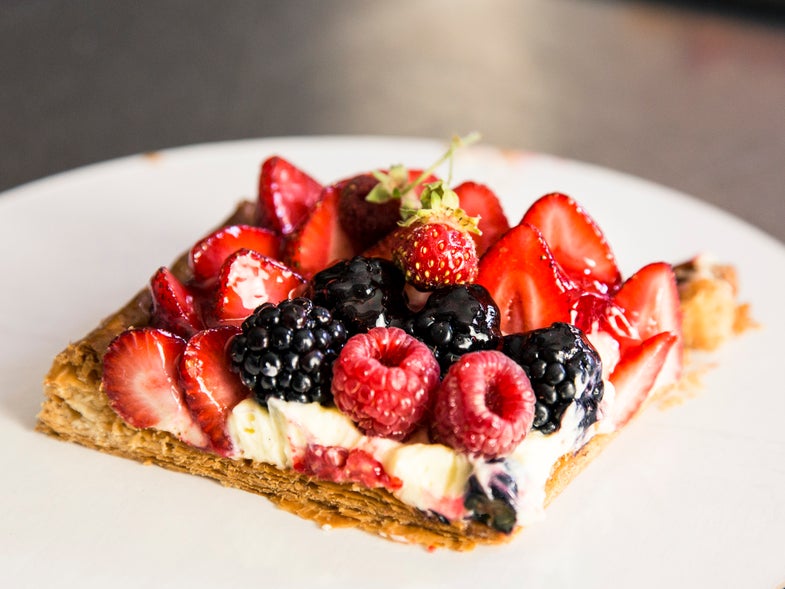 When you imagine Francois Payard's go-to summer dessert, a tart built on store-bought puff pastry may not be the first thing that springs to mind. But a fruit-topped puff pastry tart is a favorite of the legendary pastry chef, precisely for its simplicity: "You don't need a ring [or any other special equipment], you can purchase the dough already made, and it takes 5 minutes to put together," he says.
And truly, at the height of berry season, it's hard to think of a dessert more satisfying. If you're feeling ambitious, you can make your own puff pastry for the base, but Payard likes store-bought just fine. He cuts it into a large rectangle and stacks strips of puff pastry along the sides to create a raised border. He then dusts the baked crust with powdered sugar and sets it back into the oven, melting the sugar to form a glossy bronze barrier which protects the tart's delicate layers. After cooling the crust completely, he floods the center with pastry cream or whipped cream and arranges an assortment of fruit across the surface.
To finish the tart, Payard brushes the berries with a light glaze, adding sheen and protecting any sliced fruit from wilting or drying out too quickly. Outside of berry season, sliced poached pears, rum-glazed bananas, or supremed grapefruit or orange slices make exceptional substitutes.