A Blueberry Barbecue Sauce to Put in Your Cocktails
Yes, chef Vivian Howard's signature blueberry barbecue sauce is amazing on chicken and in summer drinks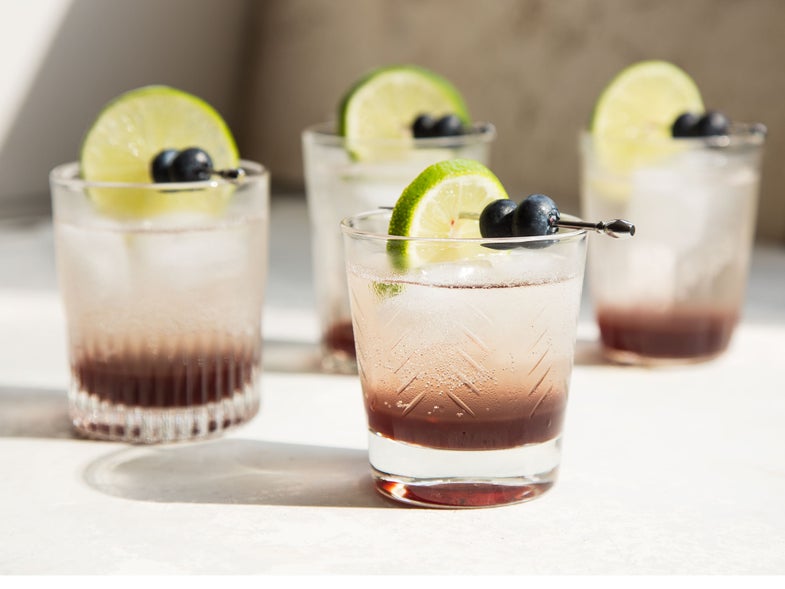 When North Carolina chef Vivian Howard wrote a piece for our summer issue about making the most of a neglected batch of blueberries, she didn't tell us that the resulting barbecue sauce was one of the most compelling ingredients we'd encounter this year. (She also didn't tell us that a little company called Williams-Sonoma was in such adamant agreement, they bottled it so the rest of America could get their hands on the stuff.)
While testing Howard's blueberry barbecue chicken for the issue, the brambly aroma that wafted from our test kitchen intoxicated the always-hungry editorial staff. The phenomenon was in full effect last night when Howard stopped through our office to cook for a SAVEUR Supper, and upon reading through her touchstone recipe, we saw that the sauce—apple cider vinegar-based, like most North Carolina barbecue—was not unlike a tangy, vinegary shrub. As jam is to toast, shrubs are to cocktails: the essence of summer preserved so it can be taken off a shelf, long after the season has passed, drunk with nostalgia in the depths of winter or with anticipation at the tail end of spring. Naturally, we deemed the barbecue sauce destined for a tart, refreshing cocktail, before making our way to bottles from wine radical Charles Smith.
As Howard and her staff prepared dinner yesterday, staffers craned their necks around the kitchen's corners, watching as the cooks produced pie crusts layered high with cheese and spangled with slices of crimson tomatoes and deep green basil leaves. Mounds of zucchini, rows of glittering oysters, chunks of fuchsia watermelon, and bricks of sweet onion bread marched out across the kitchen pass as we waited, somewhat impatiently.
And then the blueberry chicken appeared. Fragrant with roasted berry fruit and tangy with the characteristic vinegar, it was cocktail hour's centerpiece. And the punch we made to accompany it was, in many ways, a reflection of Howard's ethos—layering flavors, harnessing the season's beauty, and feeding a crowd.
Prior to dinner, Howard's team brought in a few bottles of her signature sauce, and, in doing so, cut the work of making punch in half (also inspiring us to roast some chicken this weekend as a vehicle for the leftover bottles). When we shared what we thought was a clever plan for lacing a punch bowl with the sauce, Howard's husband Ben Knight replied, "Oh yeah, we do that all the time." Indeed, right there on the bottle, the label reads: "Great with: chicken and pork shoulder and vinaigrettes and duck and smoke and cocktails."
Get the recipe for the Carolina Blues Blueberry Cocktail »
Get the recipe for Vivian Howard's Tomato Pie »