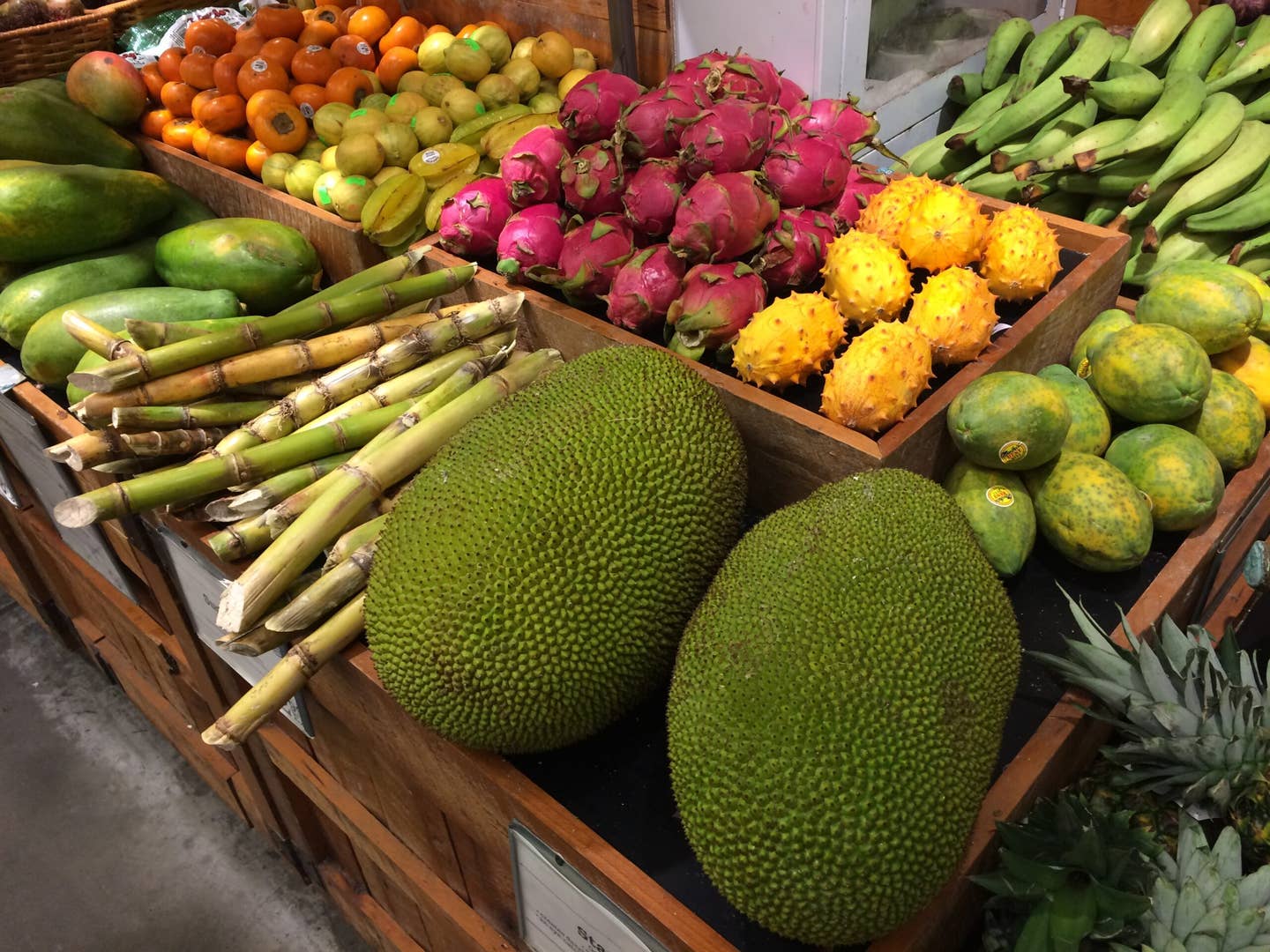 Techniques
What We Learned This Week: August 10-14, 2015
How to tie a roast and crimp empanadas, and why you should smoke cheese
Many do not realize that we do all of the shopping for recipe testing ourselves each morning. This past week I was showing the ropes to one of our new recipe testers. When we met at the market, she was shocked at some of the unique fruit that she had never seen before. This was the perfect opportunity for a small exotic fruit lesson. The jumbo watermelon-sized fruit with a jagged surface is jackfruit, a common fruit in Vietnam that has sweet yellow flesh. The fuchsia-colored fruit is dragon fruit, native to Central America, with white-speckled flesh and a flavor similar to kiwi. Finally, the yellow spiky guys are kiwano melons, native to Africa, that have flavor similar to cucumber mixed with banana. If you catch any of these fruits at your local market, be sure to give them a try.
Amanda Cohen, chef of NYC's Dirt Candy, stopped by to share with us some recipes from her popular vegetarian restaurant. One in particular was a smoked feta spread that topped a tomato cake (recipe coming soon to Saveur.com). By using a stovetop smoker lined with tin foil and whatever type of wood chips you like, you can have smoked feta in 20 minutes. Cohen blends her feta with cream to make a smooth spread, but you can also crumble it on salads, eggs, or crusty bread. Try it with feta, goat cheese, or any other firm cheese.
We had to run down to Chinatown this week to find a bunch of morning glory (or water spinach), an Asian vegetable with tender shoots and thin, long leaves. This was a new discovery for many of the editors who had never seen it before. Typically sautéed or stir-fried, morning glory is often cooked with ginger and garlic. While a Filipino recipe for the vegetable is coming soon, if you happen to run into some in the meantime, buy a bunch and try it in one of our favorite Chinese side dishes: Water Spinach with Garlic and Fermented Tofu.
This week we had a recipe that required us to roll and tie a butterflied pork belly. While we have a great video on making slipknots for a roast, I taught the kitchen a different technique I learned at culinary school that lets you tie the entire roast with one long string. As the video shows, make the first slipknot at one end of a rolled roast, but with a string about three times the length of the roast. Now instead of making a second slipknot, take the long end of the string and wrap it around itself to make a loop. Slide this loop over the opposite end of the roast and bring to about 2" from the first knot. Pull tight and repeat this process down the entire roast. When you get to the end of the roast, make another slipknot and trim any excess string. Your roast is now ready: Just remember to remove the butcher twine before eating!
Food editor Ben Mims had a segment on PIX 11 news recently and gave some great cooking tips for summer vegetables. One tip was near and dear to the test kitchen: Take extra vegetable scraps and make a frittata. Cook down any combination of extra veggies you have and follow the method for our favorite frittata recipe. This has become an office tradition at the end of the week, making for an easy, summery breakfast or snack.
While testing an empanada recipe coming out in our October issue, deputy editor Yaran Noti swung by the test kitchen and wanted to try to crimp one himself. Here's what I taught him: Once your empanada is filled and folded over, lightly press the edges to seal. Hold the empanada with one hand, while using the other to crimp, forming the "rope" around the edge. Pinch one corner edge between your thumb and index finger and fold edge over onto itself. This should create a new triangle-like point that you can pull and fold over, each about 1/4" apart. Continue this process until the empanada is completely crimped and ready to be baked or fried. While you wait for the video and the recipe, practice your crimping skills with our Empanadas De Carne Y Queso.