Recipes
Potato, Spinach, and Red Pepper Frittata
Kitchen economics 101: Eggs are the perfect vehicle for leftover veggies.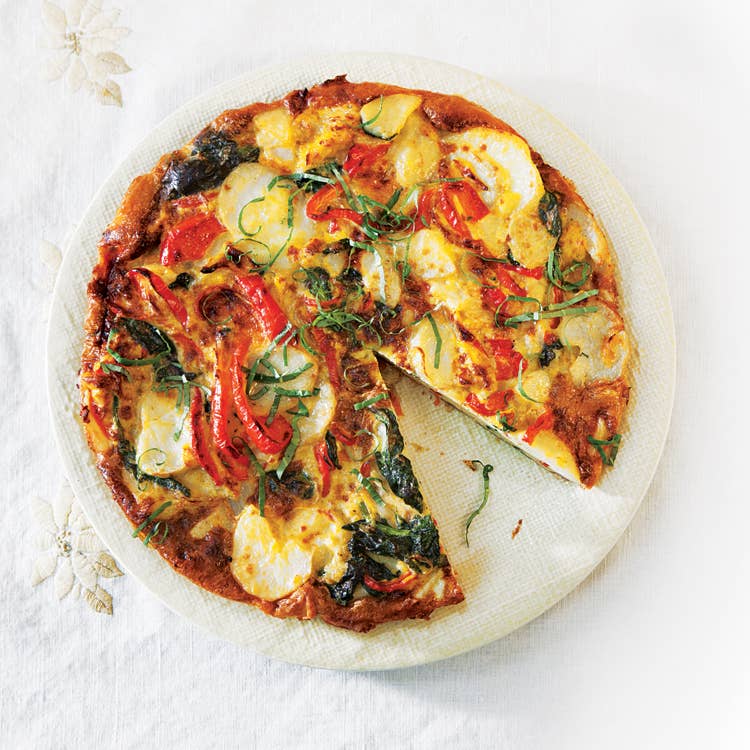 This basil-laced frittata, adapted from a recipe by English food writer and critic Tamasin Day-Lewis, makes a satisfying breakfast or lunch. For more ways to start your morning, check out all of our breakfast recipes.
Ingredients
1 lb. medium Yukon Gold potatoes
1⁄4 cup extra-virgin olive oil
1 small yellow onion, thinly sliced
1 small red bell pepper, seeded and thinly sliced
1 garlic clove, finely chopped
2 cups baby spinach
3 tbsp. unsalted butter, cut into cubes
Kosher salt and freshly ground black pepper
2 tbsp. thinly sliced basil, divided
8 large eggs, beaten
Instructions
Step 1
To a medium pot, add water to a depth of 1 inch. Position a steamer basket in the pot, place the potatoes inside, and bring to a boil over medium-high heat. Cover the pot and steam, adding more boiling water as needed, until the potatoes are tender when pierced with a fork, about 1 hour. Remove from heat and set aside.
Step 2
When cool enough to handle, peel and thinly slice the potatoes, and set them aside.
Step 3
Position a rack in the top third of the oven and preheat the broiler. To a large cast-iron skillet, add the oil, onion, bell pepper, and garlic, and cook over medium-high heat, stirring occasionally, until soft and beginning to brown, about 8 minutes. Stir in the spinach and cook until wilted, about 1 minute. Add the reserved potatoes, butter, salt and pepper to taste, 1 tablespoon of the basil, and the eggs, and stir to combine. Turn the heat to medium and cook until set at the edges and golden on the bottom, 8–10 minutes.
Step 4
Transfer the skillet to the oven, and broil until the frittata is set and golden on top, about 3 minutes.
Step 5
To serve, scatter the remaining basil over the top, cut the frittata into wedges, and serve straight from the skillet.