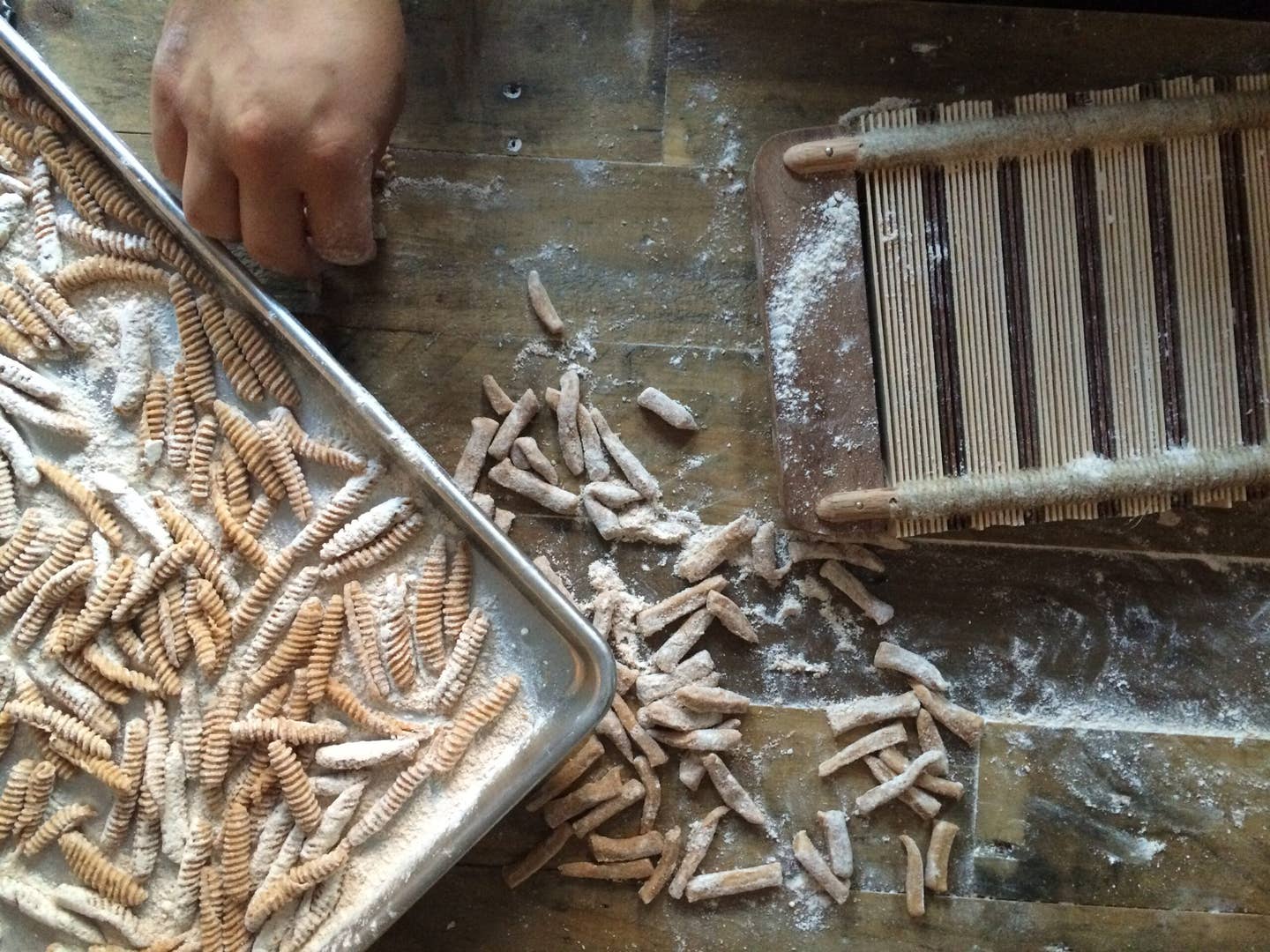 Techniques
What We Learned This Week: August 17-21, 2015
An intro to fermentation, a lesson on fancy cheese, and our new favorite condiment
Every Friday, SAVEUR's test kitchen assistant Jake Cohen shares lessons and tricks that he's learned in the kitchen that week. Let's review:
Breakfast culture at the SAVEUR office is an interesting one. While some of our staff members go the traditional route with avocado toast (which they will later Instagram), I'm a little more unconventional, eating everything from leftover turkey (we are working this time of year on Thanksgiving menus) to whatever we are testing that morning. This week, I was in luck, as we had plans to test a fried rice omelette first thing Monday morning. The recipe come from Teshima's, a restaurant in the Big Island town of Kealakekua, Hawaii, and it's deliciously simple: a thin omelette wraps savory fried rice. As we cooked kielbasa to fold into the fried rice, every editor inched into the kitchen to find out what was being made. It was truly a unique and filling dish, with a delicate smokiness and subtle richness, making fried rice omelettes a new breakfast favorite for us.
With summer in full force, it's the perfect time to start making jam to preserve summer's bounty so you can savor it throughout the winter. While it may be a little daunting, canning items is actually an extremely easy technique. First, bring a large pot of water to a boil. Submerge canning jars with their lids and ring bands in boiling water for 10 minutes to sterilize them to prevent any unwanted bacterial growth in the jar, which could lead to the lid breaking open. Using tongs, transfer jars, lids, and ring bands to a clean dish towel. Fill jars and close. Again, bring a large pot of water to a gentle boil. Carefully submerge filled jars, ensuring that they're covered by at least 1" of water. Let jars sit for 15 minutes, then transfer them to a dish towel to cool (use tongs fitted with rubber bands for easy removal). As the jars cool, you will hear lids pop. To test the seal, press down on center of lid, and then release your finger. If the lid remains depressed, it's properly sealed. Try your hand at preserving with our collection of our favorite compotes, jams, and more.
We were lucky to have chef and cookbok author Pierre Thiam, an authority on Senegalese cuisine, come into the test kitchen this week to demo how to make Shito, a spicy and smoky African paste made of chiles and a variety of dried fish. While many were skeptical of Shito at first, the paste transformed to a dark, caramelized spread with quite a kick after cooking in oil for two hours. As with most chile pastes, a little goes a long way. Flavorwise, this one blows away any chile paste we've had before. Complex with a distinct richness from the dried fish, it adds so much more than spice to any dish. Stay tuned for the recipe coming in our November issue, and in the meantime get familiar with the cuisine of Senegal.
Chef Bruce Kalman was in the office for a Saveur Supper this week, and he did not disappoint. In addition to everything from smoked suckling pig to an incredible arrangement of pickles, he prepared a beautiful array of fresh pastas. One of our favorites was a hand rolled cavatelli, which he later prepared with rabbit sausage. Chef Kalman even gave a little demo to our digital team, who was eager to expand their knowledge of carbs: Roll pasta dough into 1/3" thick ropes and cut into 2" segments. Using a butter knife, roll the pasta against a gnocchi board (a wooden plank with parallel groves to imprint gnocchi before cooking) in an upward motion to make each cavatelli. Once the pasta is made, the only question left is what type of sauce?
This week we fermented cherry tomatoes for a recipe we were testing from the lovely, talented cookbook author and chef Olia Hercules (who earlier in the year introduced us to the best "flatbread" we've ever eaten). Sweet and effervescent, fermented cherry tomatoes are one of my new favorite preserves. When fermenting, it is crucial that you monitor the product every day to make sure you avoid any growth of mold. With fermentation, you want to make sure to follow the recipe exactly because the amount of salt used is to control the rate of fermentation. Once the item has fermented to your liking, typically somewhere between 5 and 7 days, transfer it to the refrigerator to stop the fermentation process. A fermented item should taste sour with slight effervescence, but not rancid. While you will have to wait for our December issue to get the recipe for Hercules' fermented tomatoes, check out some of our other favorite fermented items.
We're no stranger to tastings, and early this week, we got to try Grana Padano, a close relative to Parmigiano Reggiano, when Lou Di Palo of Di Palo Selects came bearing pounds. Both Parmigiana Reggiano and Grana Padano are considered grana cheese, which is a type of hard, mature cheese that's protected by designation of origin and from a specific region of Italy. We learned what makes these cheeses, so granular and crumbly in texture is the size of the curd used to form it before aging. Grana is the Italian word for grain, referring to the 1/4" size of the curd pieces before making it into cheese. Unlike softer cheeses where the curds are cut larger, grana cheeses are best grated or chunked with a blunt triangular knife. We've been eating the leftovers all week, grating it on everything from pizza to mashed potatoes. No better way to start and end your week than with a little fancy cheese.