Whole Wheat Olive Oil Crackers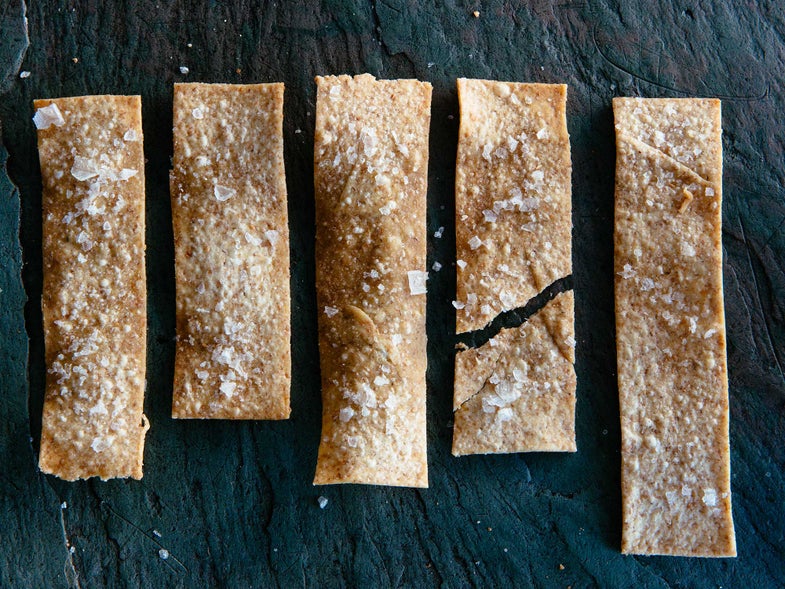 Adapted from Anya Fernald's Home Cooked, this recipe for delicate, whole wheat-flecked crackers makes enough to feed a party, or last all week in your pantry. "The key to [their] crispiness is to roll out the dough extremely thin," the author writes. If the dough springs back at all while rolling, let it rest at room temperature for 5 minutes, then try again.
Get seasonal recipes, methods and techniques sent right to your inbox—sign up here to receive Saveur newsletters. And don't forget to follow us on Instagram at @SaveurMag.
Equipment
Featured In: These Olive Oil Crackers Are So Easy You'll Never Need to Buy Them Again
Whole Wheat Olive Oil Crackers
This recipe for delicate, whole wheat-flecked crackers makes enough to feed a party, or last all week in your pantry.
Ingredients
1 cup coarsely ground whole wheat flour
1 cup all-purpose flour
1 tbsp. extra-virgin olive oil, plus more for brushing
1 tsp. Kosher salt
Flaky sea salt, for sprinkling
Instructions
In the bowl of a stand mixer fitted with the dough hook, or in a large bowl, combine the flours, ½ cup water, the olive oil, and kosher salt. Mix on medium speed or by hand until just combined, adding ½ to 1 teaspoon more water as needed to bring the dough together (dough should feel stiff and relatively dry). Beat on medium speed or knead by hand until mostly smooth and elastic, about 15 minutes. (If dough is sticky, add in more flour by the teaspoonful.) Cover the bowl with plastic wrap and let stand at room temperature for 1 hour. (Dough can also be refrigerated for up to 3 days)
Preheat the oven to 350°F, and line 2 baking sheets with parchment paper. Transfer the dough to a lightly floured work surface and cut into 4 equal pieces. Using a floured rolling pin and working with one piece of dough at a time, roll out the pieces as thin as possible without tearing. Using a sharp knife, pizza cutter, or cookie or biscuit cutters, cut the dough into 3-by-1-inch rectangles, 2-inch squares, or another shape you like. Transfer to one of the prepared baking sheets and brush each cracker generously on both sides with oil. Sprinkle the top side generously with sea salt. Repeat with the remaining dough pieces.
Bake, rotating the pans halfway through baking, until crackers are golden brown and lightly blistered, 10-12 minutes. Remove the crackers and let cool completely. Store in an airtight container or paper bag (but not a plastic bag) for up to 1 week. If crackers lose their crispiness after storing, transfer to a baking sheet and reheat in a 300°F oven for 5 minutes.