Walnut Recipes
The earthy, tannic nut that goes in everything from Waldorf salad to carrot cake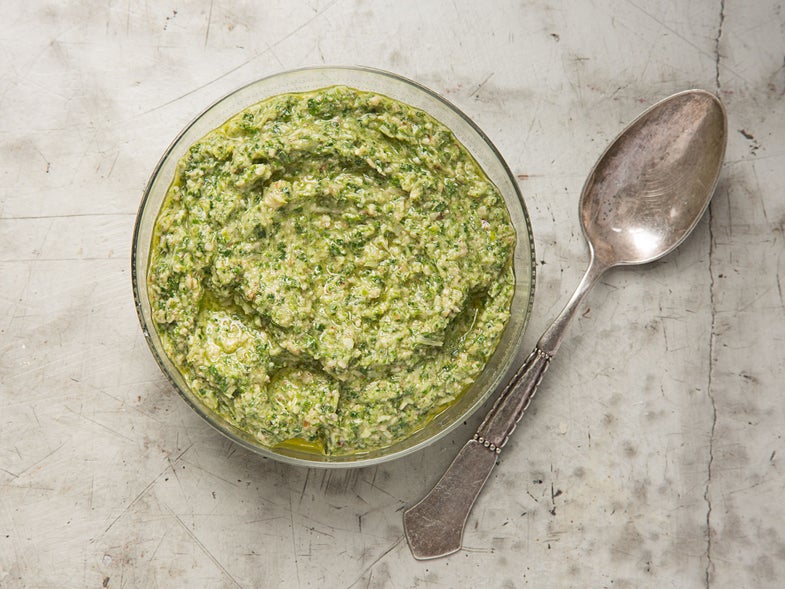 Rich, tannic, and mildly earthy, walnuts add a soft crunch to all sorts of sweet and savory dishes. From herbaceous pestos and fresh salads to gooey cinnamon rolls and fluffy cakes, these are our best walnut recipes.
Start at the basic level—sauces and spreads. Though pesto is traditionally made with pine nuts, try replacing them with walnuts for an unconventional yet delicious variation. For a light, refreshing burger spread, try our walnut pesto with pea shoots and mint. Or make badrizhani nigvsit, a Georgian dish of fried eggplant served with a pesto-like sauce of walnuts, parsley, basil, cilantro, and fenugreek. A creamy walnut pesto tops our Neapolitan pizza with golden pan-fried zucchini and smoked mozzarella.
With their earthy flavor, walnuts can also lend richness to winter salads. Use whole walnuts to add crunch to an arugula, radicchio, and fennel salad with shaved parmesan, and an escarole salad with duck confit and comté. Or, chop them up and use them as a garnish, like we do on Waldorf-style Brussels sprouts with guanciale.
And just walnuts give richness and crunch to savory foods, they do the same for desserts. Putting them in chewy chocolate brownies is a classic, and our adaptation of an old recipe from actress Katharine Hepburn does just that; you can also layer them atop brownies in our recipe inspired by rocky road ice cream. If you're looking to stray away from brownies, fold walnuts into carrot cake with cream cheese frosting, or make walnut spice cake—a treat dedicated entirely to the nut.
In the gallery above, find all of these dishes and more in our collection of walnut recipes. Sweet or savory, chopped or whole, walnuts deserve a place on your plate.