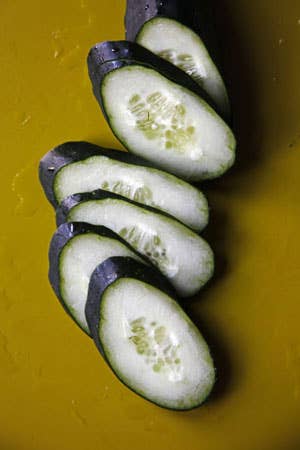 Mild and crunchy but far from bland, the cucumber is one of the most refreshing vegetables we know of. On a hot summer day, what could be better than a salad of cold sliced cucumbers with a light lemony dressing, or a chilled pureed soup made with cucumbers, yogurt, lemon, and mint? Pickled, cucumbers have become what we think of as "pickles," and thank goodness for pickles. Pickling cucumbers, usually around four inches long and dark green with bumpy skin, are also good fresh and have a satisfying crunch to them. Common American cucumbers are usually six to nine inches long with a dark, smooth thick skin and lots of seeds (which we prefer to remove along with the skin). The European greenhouse variety, also referred to as "hothouse," "English," or "seedless," are up to 15 inches long, seedless, and thin skinned, so they require no seeding or peeling and have a more delicate flavor. The Armenian cucumber is actually a species of melon, though it behaves very much like a cucumber. Popular in Indian and Middle Eastern cuisine, the Armenian cucumber is long and twisted with pale yellowish-green creased skin. Its flavor has a hint of citrus and is subtly sweeter than the common cucumber's. Most cucumbers are available year-round from Mexico and Florida, but local domestic varieties are grown from May through August, depending on climate, while the Armenian variety is available only from July through August.
Featured Cucumber Recipes
Squeeze cucumbers to make sure they are solid throughout; avoid any soft ones.
Look for bright green skin without blemishes or yellowing.
To store, wrap in plastic and refrigerate for up to a week.
Common cucumbers are available year-round in all grocery stores, and in your local farmers' market during the summer. If you have trouble finding Armenian cucumbers, check Melissa's Produce.