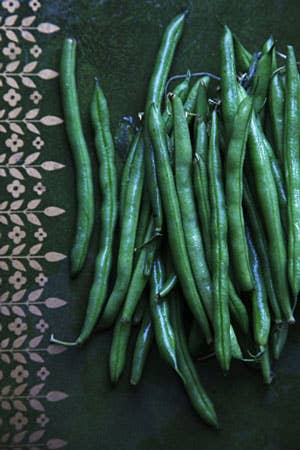 Slightly astringent yet sweet in flavor, tender fresh green beans are extremely versatile in the kitchen. From Asian-inspired stir-fries to Mediterranean herb-infused side dishes, green beans can fit in wherever you want them to. Snip the stem end off the beans; boil them in water, chill, and marinate them to be used in a salad, or throw them into the frying pan with some bacon fat and fry until crispy.
Although you'll find green beans year-round in grocery stores, we prefer the flavor of fresh green beans, which are available through late summer in most of the country. Besides, who doesn't love to sit on the porch on a hot summer evening, snapping the tops off those slightly waxy yet fuzzy, skinny, fresh green beans?
Featured Green Bean Recipes
Green beans will keep in the refrigerator for up to a week; store them in a paper bag or wrapped in a paper towel inside a plastic bag.
Some green beans may have "strings" running down one side, which should be pulled off like a zipper before using.
Green beans should snap easily; if they're too limp to snap they are too old to eat.
Green beans are available at farmers' markets all over the country throughout the summer and at supermarkets year-round.