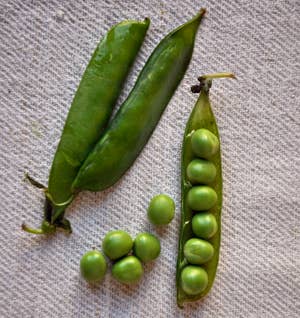 Green peas are available fresh and frozen year-round in most supermarkets, but there's nothing like the delicate flavor and texture of peas picked early in the spring. Young green peas are so surpassingly sweet and tender that we can't help eating them raw, by the handful. And they seem all the more precious for being available only fleetingly, for a two-month season that begins as early as January in California and in May in the Northeast.
You can serve young peas raw or cooked in all kinds of dishes, but simply sweating them in a little water and then topping them with butter may be the best method of showcasing their pure, fresh flavor.
Featured Young Green Pea Recipes
When buying young peas, look for shiny, bright green pods that feel heavy for their size.
You can refrigerate them for up to two days, but the sooner you use them, the better they'll taste.
The pods are not edible; release the peas inside by snapping off the stem and pulling the "string" down the pod's thicker side to split the pod open.
In most parts of the country, young green peas are available at farmers' markets and in grocery stores for about two months of the year, beginning in early spring.