One Ingredient, Many Ways: Blood Orange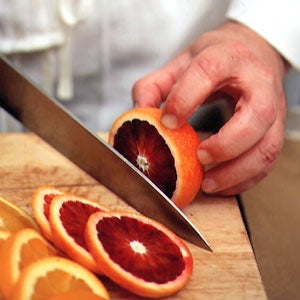 A friend once said to me, "If you ever want to confirm the existence of miracles, just look at a sliced red onion." I immediately fell for the idea that, when paid the proper attention, a fruit or vegetable could be so extraordinary — so arresting in its beauty — that it evokes a sense of the sacred. After that, I started noticing "miracle produce" everywhere, from Romanesco cauliflower with its fractal-shaped florets, to the thin fuchsia rings of a chioggia beet, and, most recently, blood oranges. Outside, a blood orange looks like any other thick-skinned navel, with just the slightest blush indicating that something special might be hiding inside. But slice it open, and the shock of glistening, sunset-stained flesh feels nothing short of miraculous.
Like most citrus fruits, blood oranges thrive throughout the Mediterranean, and are also grown stateside in Florida, California and Texas. Along with navels and Valencias, blood oranges are a variety of sweet orange_ (Citrus sinensis)_ — a species that made its way to Europe from its native China during the 15th century. The blood orange itself was first cultivated in Sicily, and continues to be produced in Italy today. They thrive during the cooler months, offering a welcome burst of freshness and color amidst the chilly doldrums of winter. Despite their European popularity, blood oranges are still catching on in American markets, which turns eating one — segmented for a salad, sliced thin and topping a cocktail, or peeled in hand — into an act of discovery.
The fruit's hue, which can range from a faint pink salmon to a rich, almost purple merlot, sets it apart from other oranges. So do its particularly juicy segments and musky sweet flavor. Let blood oranges shine in recipes that showcase their uniqueness — like blood orange salsa, Sicilian fennel salad with oranges, arugula and black olives, and blood orange sorbet. Or elevate a familiar dish by substituting blood oranges for regular navels in recipes like orange fennel osso buco, roasted cranberry sauce, or orange scented olive oil cake. However you slice it, the blood orange is sure to become the highlight of your winter fruit bowl.
SWEET
Orange Scented Olive Oil Cake
Rich olive oil and sweet orange pair perfectly in this richly perfumed cake.
Roasted Cranberry Sauce
Update your traditionally cranberry sauce with orange juice and zest, cardamom, and jalapeño.
Pumpkin Walnut Cake with Candied Oranges
This rich pumpkin cake gets an extra hit of sweetness from chopped candied oranges.
Orange Cake Portokalopita
Slices of syrupy cooked orange top this simple semolina cake.
Roasted Orange Tart
In this visually stunning dessert, a simple tart crust gets filled with tons of sliced caramelized oranges.
David Lebovitz: Blood Orange Sorbet
Blood orange's bright pink juice lends a gorgeous sunset hue to this sorbet.
SAVORY
Blood Orange Salsa
Blood oranges make a beautifully rosy base for this winter-friendly salsa. Scoop it up with chips, or serve it on top of baked white fish or chicken.
Sicilian Fennel Salad with Oranges, Arugula and Black Olives
This Sicilian dish pairs sweet oranges and fennel with peppery greens and briny olives in a distinctly Mediterranean salad.
Blood Orange Fennel Osso Buco
Osso Buco's rich, meaty flavors are offset by sections of sweet blood orange.
Peas with Orange and Mint
Dress up frozen peas with shallots, mint and a twist of orange juice and zest.
Duck A l'Orange
This classic dish marries smoky duck meat with sweet, fresh orange.
Bon Appetit: Goat Cheese Crostini with Blood Orange and Black Pepper Marmalade
Top crisp crostini with creamy goat cheese and a dollop of peppery-sweet marmalade.
DRINK
Dubonnet a l'Orange Cocktail
Seltzer and orange juice paired with a quinine-rich aperitif makes for one refreshing cocktail.
Fruit Punch
This sweet take on lemon-orange fruit punch dates back to before the Civil War.
Food52: Kentucky Hot Toddy
Dress up a classic hot toddy with bright pink blood orange juice.
101 Cookbooks: Blood Orange Gin Sparkler
This effervescent cocktail pairs blood orange juice with rosemary sprigs.
Leah Koenig is a freelance writer and author of The Hadassah Everyday Cookbook: Daily Meals for the Contemporary Jewish Kitchen.