Recipes
Sicilian Fennel Salad with Oranges, Arugula, and Black Olives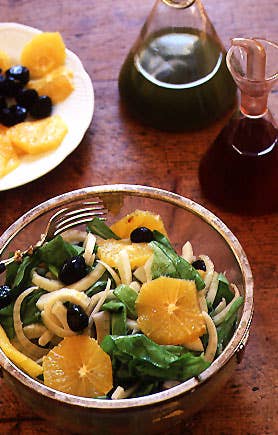 In Sicily, this salad is traditionally prepared with wild chicory, a slightly peppery, tender-leafed green. Substitute with arugula if you can't find wild chicory.
Ingredients
3 blood or navel oranges
1⁄4 cup extra-virgin olive oil
1 tbsp. red wine vinegar
Salt
Freshly ground black pepper
2 bunches trimmed arugula
2 cored, halved, trimmed medium fennel bulbs
1⁄4 cup oil-cured black olives
Instructions
Step 1
Trim off and discard peel and all of the white pith from oranges, then slice crosswise into thin rounds and set aside. Mix together extra-virgin olive oil and red wine vinegar in a large salad bowl, then season to taste with salt and freshly ground black pepper. Tear arugula into large pieces and arrange in the salad bowl. Slice fennel bulbs into long strips. Toss salad just before serving, adjust seasonings, then arrange orange slices and black olives on top.