Grow Bottles Herb Gardens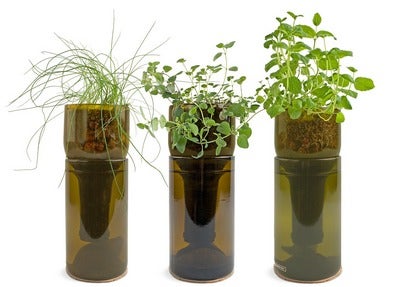 If it seems that these Grow Bottle hydroponic herb gardens uncannily resemble wine bottles sliced in half and turned in on themselves, well, that's because they are. Turns out all you need is a clean cut and some clay pebbles to turn a reclaimed wine bottle into a sleek, beautiful hydroponic herb garden, one that (thanks to the smart Replant kits, separately-sold packages of fresh seeds and wicks) can be used over and over again.
_Grow Bottles (available in basil, chive, mint, parsley, and oregano), $35 each at Potting Shed Creations_.