Recipes
Angioletti Fritti con Rucola e Pomodori (Fried Dough with Arugula and Grape Tomatoes)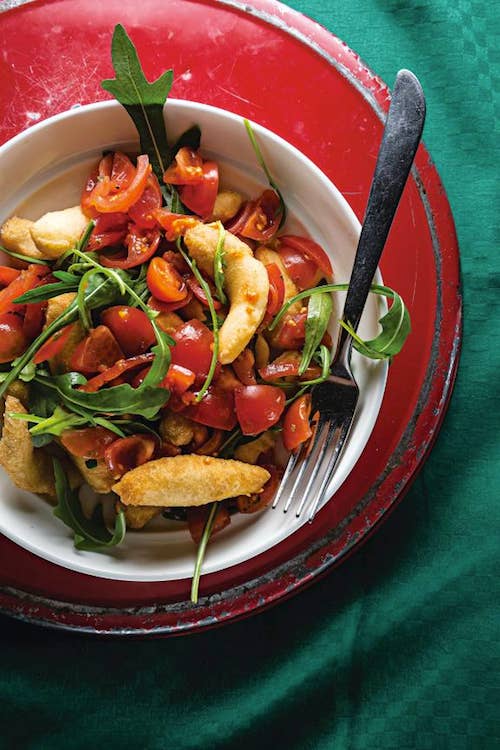 A simple salad adds fresh contrast to fried strips of pizza dough. This recipe first appeared in our May 2013 issue with Keith Pandolfi's article The Gold of Naples.
Ingredients
1⁄3 cup olive oil
1⁄2 tsp. dried oregano
4 cloves garlic, thinly sliced
1 pint cherry tomatoes, halved
Kosher salt and freshly ground black pepper, to taste
Canola oil, for frying
1 ball Naples-style pizza dough
Fine semolina, for dusting
4 1⁄2 cups baby arugula
Instructions
Step 1
Mix oil, oregano, garlic, tomatoes, salt, and pepper in a bowl and set aside.
Step 2
Pour enough canola oil into a 6-qt. saucepan to reach a depth of 2". Heat until a deep-fry thermometer reads 350°. Dust dough with semolina, and roll dough into a 4" x 9" rectangle about 1⁄3" thick. Cut dough into 1⁄2" x 2" strips. Fry strips, until puffed and golden, 3-4 minutes. Drain; toss with tomatoes and their juices, arugula, salt, and pepper. Divide into bowls and serve.