Ma Yi Shang Shu ("Ants Climbing a Tree")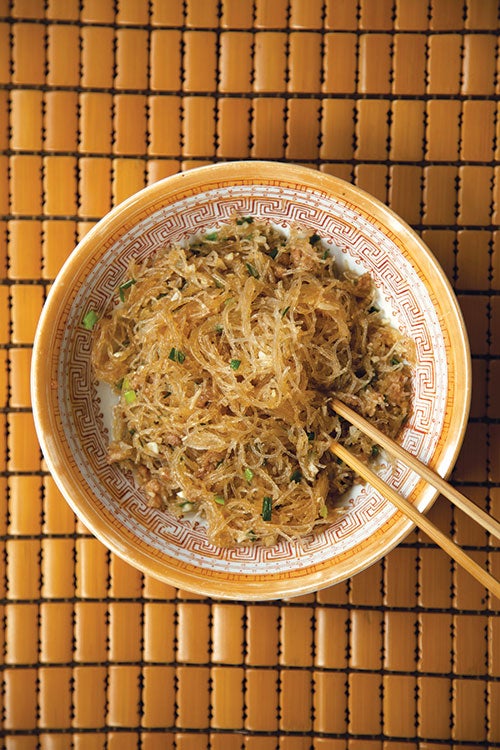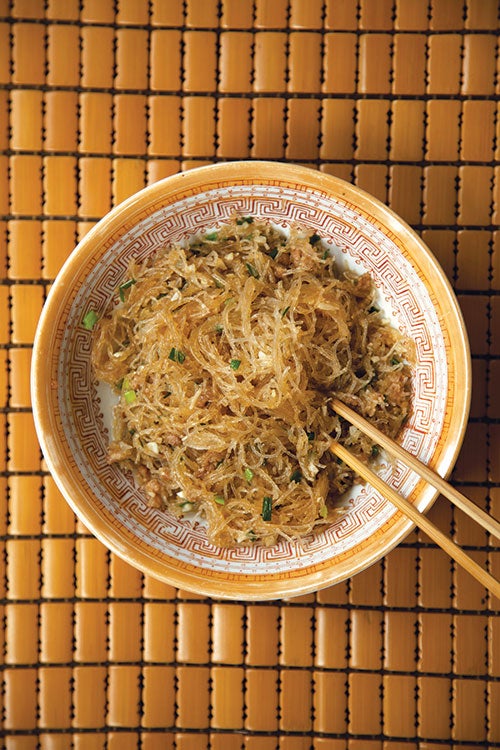 The name for this Sichuanese dish means "ants climbing a tree" because of the way the ground pork clings to the strands of glass noodles. See Matt Gross's article Flavors of Sichuan for information on hard-to-find ingredients.
Yield: serves 4
Ingredients
1⁄4 lb. Chinese dried bean thread noodles
2 tsp. sesame oil
3 tbsp. canola oil
4 oz. ground pork
4 cloves garlic, minced
1 (3″) piece ginger, peeled and minced
3 tbsp. douban jiang (Chinese red chile bean paste)
2 tbsp. light soy sauce
3 tsp. Chinese rice wine
1 1⁄2 cups chicken stock
2 tbsp. dark soy sauce
3 suan miao (Chinese chives, blossoms discarded) or scallions, thinly sliced
Instructions
Place noodles and 4 cups boiling water in a bowl; let sit until soft, about 4 minutes. Drain and toss noodles with sesame oil; set aside.
Heat canola oil in a 14″ flat-bottomed wok over medium-high heat. Add pork; cook, breaking up meat, until browned, 5–7 minutes. Add garlic and ginger; cook, stirring, until fragrant, about 1 minute. Add paste, light soy, wine, and stock; bring to a boil. Add noodles; cook, stirring occasionally, until liquid is reduced by half, 8–10 minutes more, and stir in dark soy and chives.