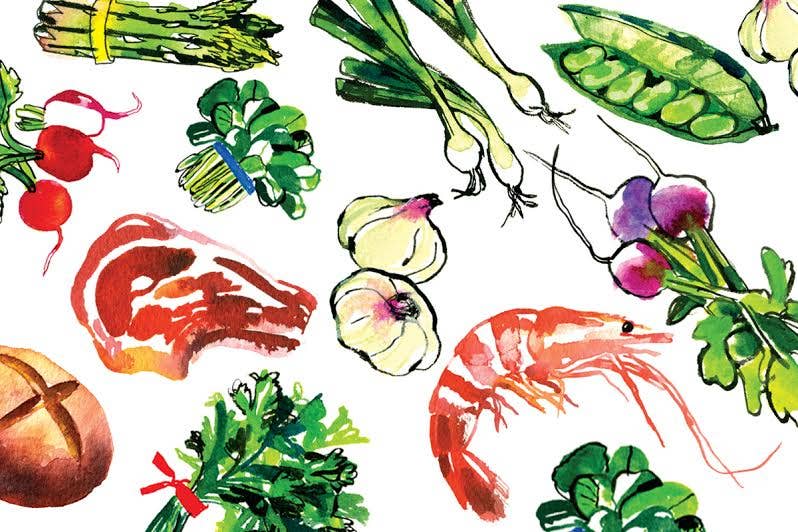 Recipes
Country-Style Liverwurst Soup
This hearty soup is a signature dish of Hotel Aying.
4 cups rich beef stock
1 egg, lightly beaten
Salt
3 tbsp. butter
4 slices Westphalian-style pumpernickel, sliced into 1/4"-thick strips
2 slices thick-cut bacon, cut crosswise into 1/4"-thick pieces
1 small yellow onion, peeled and chopped
5 oz. kasseler (coarse country-style liverwurst)
1/2 bunch chives, chopped
1. Bring stock to a simmer in a small pot over medium heat. Gradually add egg, stirring constantly with a fork, until ribbons form. Season to taste with salt. Keep warm over lowest heat.
2. Melt butter in a large skillet over medium heat. Add bread and cook until edges are crisp, 8-10 minutes. Transfer to a bowl.
3. Add bacon to same skillet and cook over medium heat until just beginning to brown, about 2 minutes. Add onions and cook until soft, about 2 minutes more. Transfer bacon and onions to another bowl and set aside.
4. Return same skillet to medium-high heat. Add liverwurst and cook, stirring often, until it begins to fry, 3-4 minutes.
5. Divide stock with eggs between warm soup bowls. Put one-quarter of the bread into center of each bowl, then spoon some of the bacon and onions, over bread. Garnish each with chives.