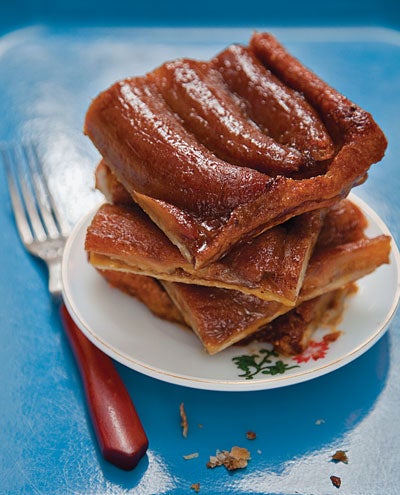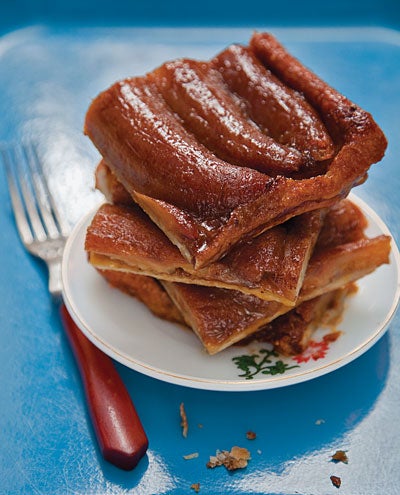 Try using tart, apple-like Manzano bananas (see 5 Banana Varieties) for this delicious take on the classic French dessert, which is traditionally made with apples. Standard Cavendish bananas work well too. The recipe is based on one in Jamie's Food Revolution by Jamie Oliver (Hyperion, 2009).
Yield: serves 6
Ingredients
3⁄4 cup superfine sugar
4 tbsp. unsalted butter
1 tbsp. orange zest
1⁄4 tsp. ground cinnamon
4-5 firm-ripe Manzano or standard (Cavendish) bananas, halved lengthwise
1 (14-oz.) package frozen puff pastry, preferably Dufour brand, thawed
Vanilla ice cream, for serving (optional)
Instructions
Arrange an oven rack in the top third of oven and heat oven to 400°. Cook sugar and butter in an 8″ skillet over medium heat, swirling skillet often, until mixture is deep golden brown, 8–10 minutes. Remove from heat and stir in orange zest and cinnamon; pour caramel mixture into a 7 1⁄2″ x 12″ baking dish and spread to cover the bottom. Lay bananas cut side up over the caramel, cutting pieces as needed to fit in the baking dish.
Unfold puff pastry sheet over bananas, trimming edges of pastry to fit the dish, and tuck in the edges. Prick pastry sheet all over with a fork. Bake until pastry is puffed and golden brown and caramel is bubbling around the edges of the dish, about 30 minutes. Transfer baking dish to a rack and let cool for 2 minutes.
To serve, place a serving platter or baking sheet upside down over the baking dish and carefully invert tart onto platter or sheet. Cut tart into large squares and serve with scoops of vanilla ice cream, if you like.