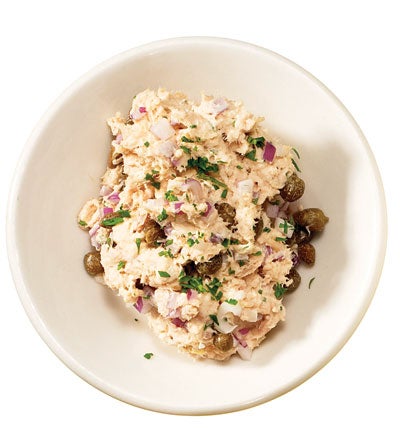 This recipe, calling for fresh, steamed tuna in place of canned, comes from Bromberg Bros. Blue Ribbon Cookbook by Bruce Bromberg, Eric Bromberg, and Melissa Clark (Clarkson Potter, 2010). This recipe first appeared in our April 2011 special Sandwich Issue with the article Salad Days.
Yield: makes about 6 cups
Ingredients
4 (6-oz.) tuna filets
1 1⁄3 cups mayonnaise
1⁄4 cup finely chopped red onion
1⁄4 cup finely chopped parsley
2 tbsp. capers in brine, drained and rinsed
Juice of 1 lemon
Kosher salt and freshly ground black pepper, to taste
Instructions
Bring 1″ of water to a boil in a large pot; place tuna filets in a steamer basket, and place in pot. Cover pot and cook tuna until cooked through but slightly pink in the center, 10-12 minutes. Remove from pot and let cool.
Flake tuna into bite-size pieces and transfer to a large bowl, along with mayonnaise, onion, parsley, capers, lemon juice, salt, and pepper. Toss to combine, and chill before serving.