Recipes
Ojo De Bife Con Chimichurri (Whole Boneless Rib Eye with Chimichurri)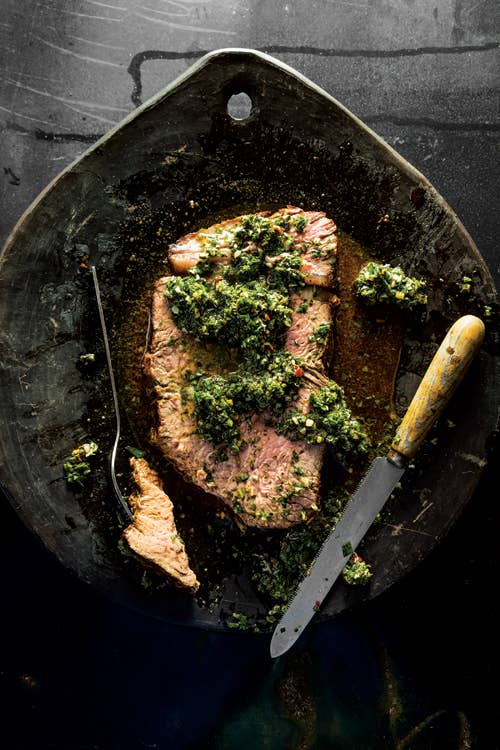 A saltwater brine prevents fresh herbs from discoloring in the zesty chimichurri that dresses this succulent rib eye, adapted from a recipe in Francis Mallmann's Seven Fires (Artisan, 2009). This recipe first appeared in our June/July 2013 issue with Shane Mitchell's article Art of the Parilla.
Ingredients
1 tbsp. kosher salt, plus more to taste
1 cup finely chopped parsley
3⁄4 cup finely chopped oregano
1 1⁄2 tsp. crushed red chile flakes
1⁄3 cup olive oil
1⁄4 cup red wine vinegar
8 cloves garlic, finely chopped
Freshly ground black pepper, to taste
2 lb. boneless rib eye
Instructions
Step 1
Bring 1 tbsp. salt and 1 cup water to a boil in a 1-qt. saucepan; let cool. Whisk parsley, oregano, chile flakes, oil, vinegar, garlic, and pepper in a bowl. Stir in salt water mixture; let chimichurri sit at least 30 minutes.
Step 2
Heat a charcoal grill or set a gas grill to high; bank coals or turn burner off on one side (see "Grilling 101"). Pat rib eye dry with paper towels and season generously with salt and pepper. Grill on hottest part of grill, turning as needed, until browned on all sides, 15-20 minutes. Move rib eye to cooler side of grill; continue to grill until cooked to desired doneness, 25-30 minutes more for medium rare, or until an instant-read thermometer inserted into the thickest part of the steak reads 125°. If the outside starts to burn before the steak is fully cooked, move to the cooler side of the grill until done. Rest meat 20 minutes before slicing; serve with chimichurri.