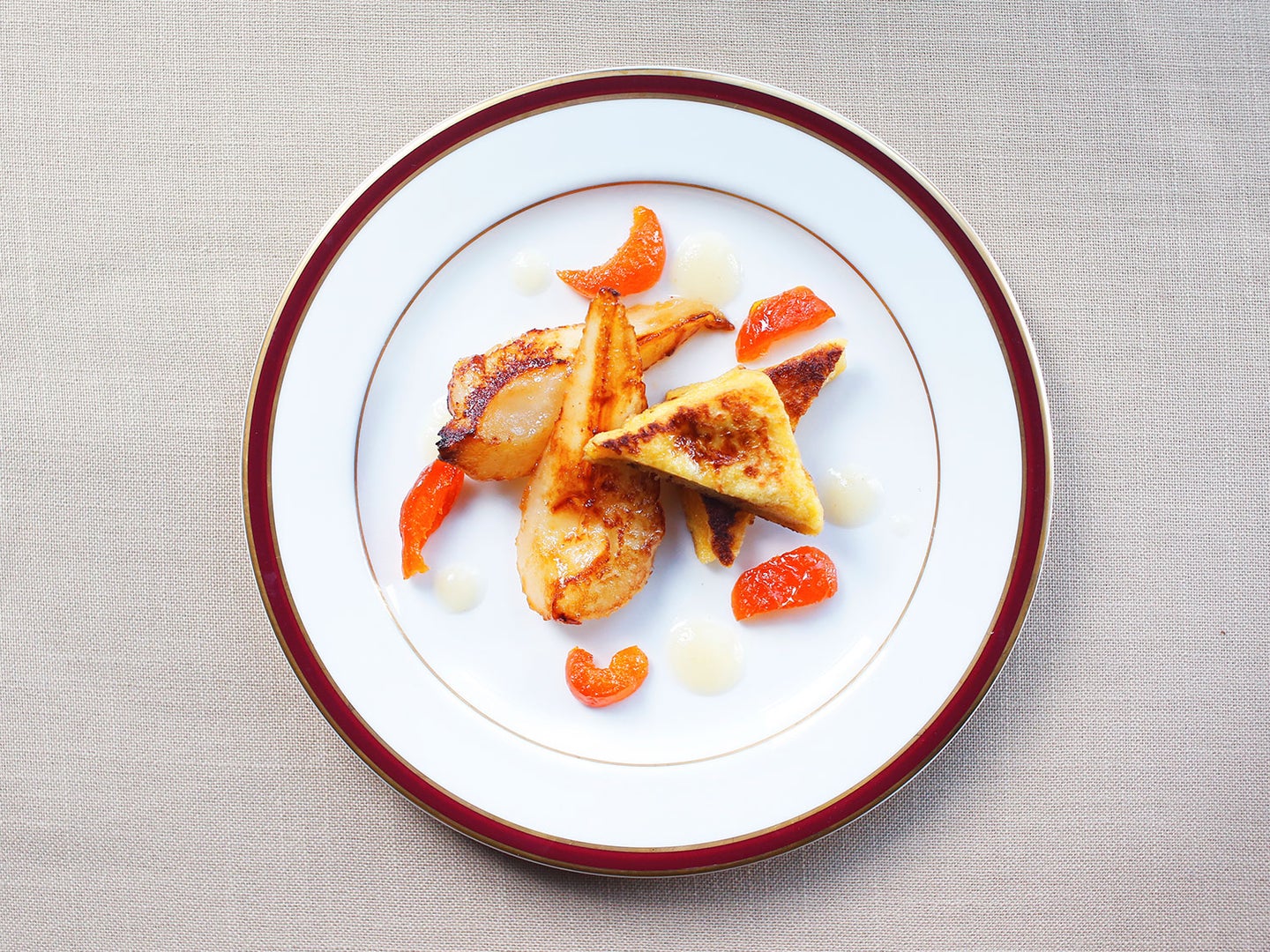 In this elegant "French toast," brioche is soaked in a custard infused with orange blossom water, then cooked until golden and served with caramelized pears and apricots and a simple pear sauce. It makes a lovely dessert as is but can also be amped up with a scoop of Lavender Honey Ice Cream.
Brioche Perdu
The infusion of orange blossom water adds a uniquely Provençal note to this dessert.
1 hour
Ingredients
3 Tbsp. (6 oz.) unsalted butter, divided
8 dried apricots, soaked in hot water for 10 minutes to soften, then drained
4 medium ripe pears (1¾ lb.), peeled, cored, and quartered, divided
2 Tbsp. fresh lemon juice, divided, plus 1 Tbsp. finely grated lemon zest
1⁄4 cup plus 3 Tbsp. sugar, divided
2 large eggs
1⁄2 cup milk
1 Tbsp. orange blossom water
1⁄2 tsp. kosher salt
4 slices brioche, cut 1½-in. thick, trimmed into squares or rounds
Instructions
In a large skillet set over medium heat, melt 1 tablespoon butter. Add the apricots, 8 pear pieces, 1 tablespoon lemon juice, and 1 tablespoon sugar. Cook until the fruit is tender and golden at the edges, 15 minutes. Carefully transfer the fruit to a large plate and set aside.
In a medium pot, add the lemon zest, remaining 8 pear pieces, 1 tablespoon lemon juice, ¼ cup sugar, and ½ cup cold water. Bring to a boil over medium-high, then regulate the heat to maintain a strong simmer. Cook until the pears are very tender, 12–14 minutes. Use a slotted spoon to transfer the pears and ¼ cup of the cooking liquid to a blender. Purée until smooth, thinning with 1 to 2 tablespoons of additional cooking liquid as needed to achieve a sauce-like consistency. Set the sauce aside and keep warm while you make the brioche perdu.
In a large bowl, whisk together the eggs, milk, remaining 2 tablespoons sugar, orange blossom water, and salt until completely combined. Dip the brioche slices into the egg mixture and turn to coat.
In a large skillet set over medium heat, melt the remaining 2 tablespoons butter. When the foam begins to subside, carefully transfer the brioche slices from the egg mixture to the skillet, working in batches. Cook until evenly golden and crisp at the edges, about 4–6 minutes per side. Transfer the hot brioche slices onto 6 individual dessert plates. Divide the caramelized pears and apricots between the plates, then drizzle with pear sauce. Serve warm, with ice cream (if using).