Recipes
Corkscrew Pasta with Sicilian Tomato Pesto (Busiate alla Siciliana)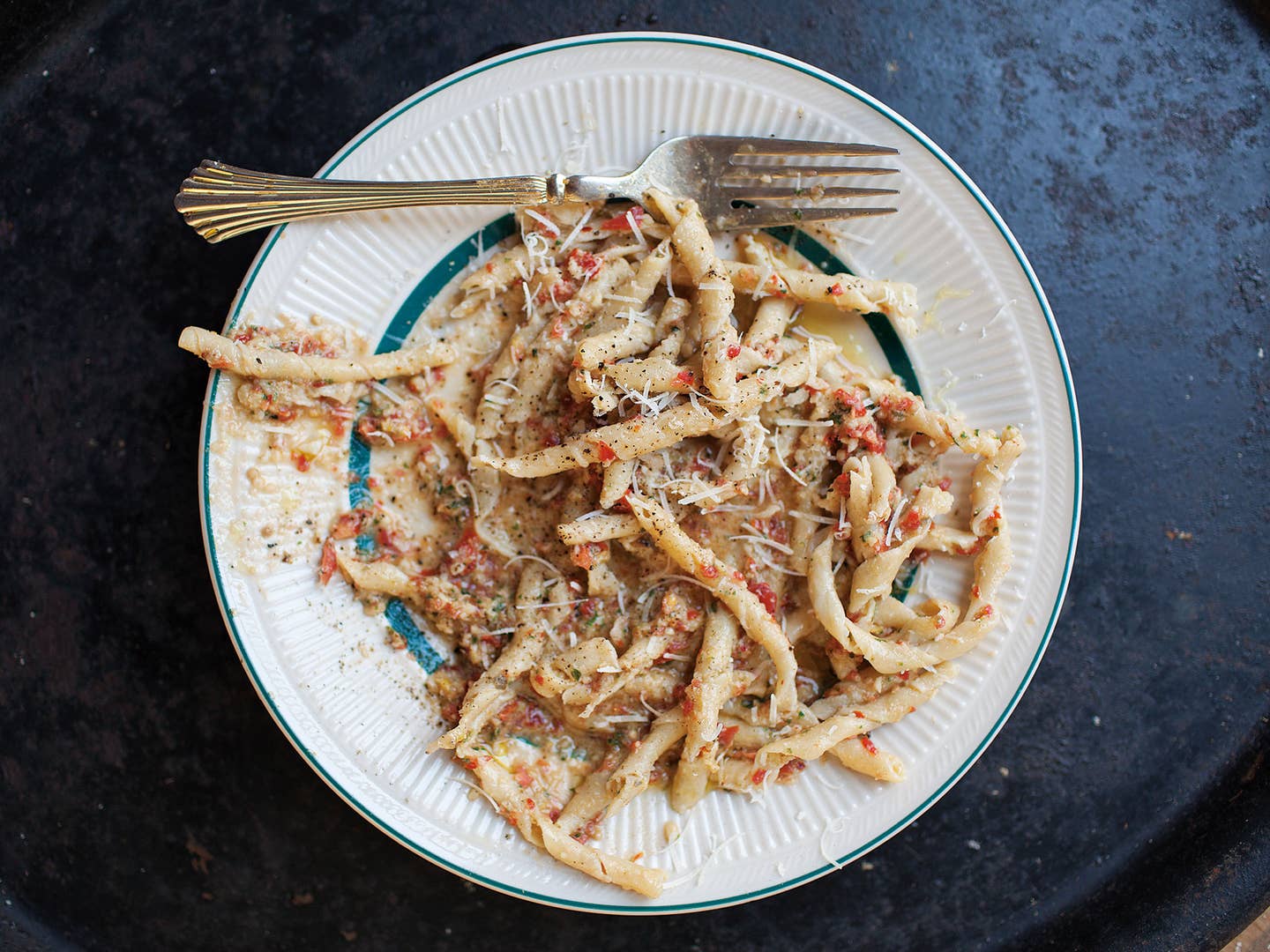 This flavorful pesto from Sicily is traditionally served with homemade busiate, a spiral-shaped pasta; you can substitute dried fusilli in a pinch. It first appeared in SAVEUR Issue #140 along with Laura Schenone's story Glorious Pesto.
Ingredients
1 pint cherry tomatoes
3⁄4 cup sliced almonds, toasted
1⁄2 cup packed basil
1⁄2 cup finely grated parmesan, plus more for serving
6 tbsp. extra-virgin olive oil
2 tbsp. golden raisins
2 tbsp. capers, drained
1⁄4 tsp. crushed red chile flakes
3 anchovy filets in oil, drained
2 cloves garlic, chopped
1 pepperoncini, stemmed, seeded, and roughly chopped
Kosher salt and freshly ground black pepper, to taste
3 cups flour
3 eggs, plus 1 egg yolk
Instructions
Step 1
Make the pesto: Place tomatoes in a food processor and process until finely chopped; pour tomatoes into a fine strainer and drain off excess juices. Process tomatoes along with almonds, basil, parmesan, 5 tbsp. oil, raisins, capers, chile flakes, anchovies, garlic, and pepperoncini in a food processor until finely ground. Season with salt and pepper, and refrigerate until needed.
Step 2
Make the pasta: In a large bowl, whisk together flour and 1 tsp. salt; form a well in the center. Pour remaining oil, eggs and yolk, and 2 tbsp. water in well, and using a fork, slowly stir until flour is incorporated and dough forms. Transfer to a floured work surface and knead until smooth, about 8 minutes. Wrap dough in plastic wrap and let rest for 1 hour.
Step 3
Divide dough into 6 equal pieces; working with 1 piece at a time, roll into a 1⁄8″-thick rope and cut rope into 2″ lengths. Place one end of each length on the end of a wooden skewer or pencil and roll on work surface until length wraps around skewer and forms a corkscrew.
Step 4
Bring a large pot of salted water to a boil over high heat; working in batches, add pasta and cook, stirring, until al dente, about 8 minutes. Drain, reserving 1⁄4 cup cooking water, and transfer pasta to a large bowl along with pesto; toss to combine, adding a couple spoonfuls of cooking water, if needed, to create a smooth sauce. Transfer to a large serving platter or bowls and serve with more parmesan cheese.