Recipes
Calf's Liver with Parsley, Garlic, and Fried Potatoes (Foie de Veau en Persillade avec Pommes de Terre)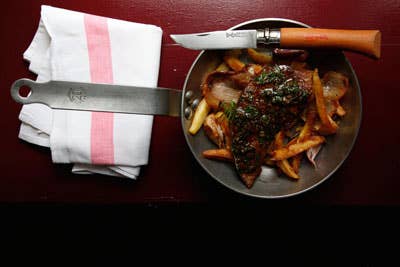 Seared liver, potatoes, and bacon are natural partners in this dish from Aux Lyonnais.
Ingredients
1 russet potato, peeled, cut into 1/8'"-thick batons, and soaked in water
2 tbsp. grapeseed oil
6 tbsp. unsalted butter
2 cloves garlic (1 smashed and 1 minced)
Kosher salt and freshly ground black pepper, to taste
4 slices bacon, roughly chopped
2 lb. veal or beef liver, trimmed
1⁄2 cup flour
1⁄4 cup clarified butter
1 tbsp. fresh lemon juice
1⁄2 cup minced flat-leaf parsley
Fleur de sel, to taste
Instructions
Step 1
Drain potatoes and pat dry with paper towels. Heat oil in a 12" skillet over medium-high heat. Add potatoes and cook, turning occasionally, until light brown. Add 2 tbsp. unsalted butter and smashed garlic and season with salt and pepper. Cook, spooning butter over potatoes, until golden brown and tender, about 5 minutes more. Transfer potatoes to a plate; set aside. Wipe out skillet.
Step 2
Return skillet to medium heat. Add bacon and cook, stirring occasionally, until browned and crisp, about 12 minutes. Using a slotted spoon, transfer bacon to paper towels and wipe out skillet.
Step 3
Using a sharp knife, slice liver horizontally into 4 thin slices. Season liver with salt and pepper. Put flour on a plate and dredge liver in flour; transfer to a rack set inside a baking sheet. Heat 2 tbsp. clarified butter in reserved skillet over medium-high heat. Add 2 slices liver and cook until browned, about 2 minutes. Flip liver, add 2 tbsp. unsalted butter, and cook to desired temperature, about 1 minute more for medium rare. Transfer liver to paper towels and repeat with remaining clarified butter, liver, and unsalted butter. add lemon juice to pan, along with parsley and remaining garlic. Stir to combine. To serve divide potatoes between 4 serving plates. Top potatoes with liver and garnish with bacon. Spoon pan sauce over liver and sprinkle with fleur de sel.
Pairing note: The richness of liver calls for rich Bordeaux, like Chateau la Cardonne Haut Medoc 2005 ($25), a medium bodied, smooth, balanced wine with black fruit and anise on the nose and hints of cocoa on the finish. —M.P