Korean Noodles with Beef and Vegetables (Chap Chae)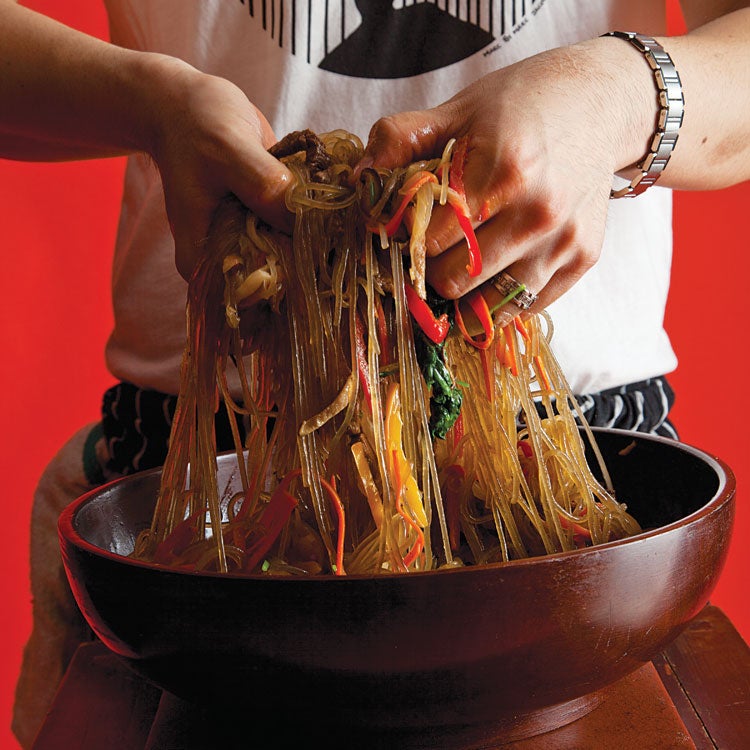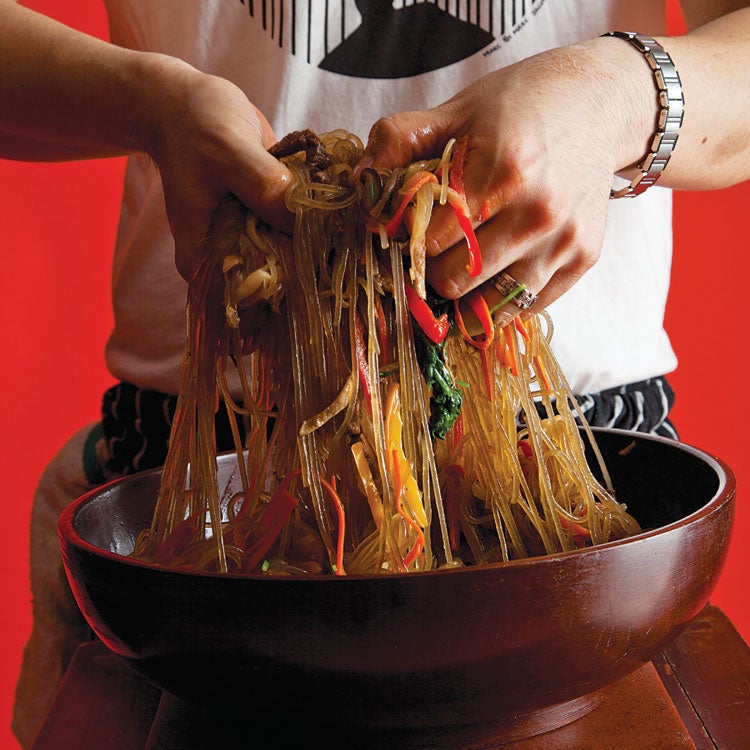 When I was growing up in Korea, my grandmother would make chap chae for family reunions. Whenever she started stir-frying the shredded beef and vegetables together in a big wok, I would wander into her kitchen, wondering when the party was going to begin. The finished dish is festive and delicious. I love the combination of slippery sweet potato noodles turned golden from the cooking juices and soy sauce, crunchy vegetables, and tender, juicy beef. For my own family, chap chae is still a sign of celebration: Whenever I make it, my son walks in, asking when the party is starting. –Kyung Up Lim, executive chef of Michael's in New York City
See all 150 classic recipes featured in our 150th issue »
Korean Noodles with Beef and Vegetables (Chap Chae)
This combination of sweet potato noodles and soy sauce, crunchy vegetables, and tender, juicy beef is a popular party dish.
Ingredients
3 tbsp. canola oil
2 cups julienned carrots
Kosher salt and freshly ground white pepper, to taste
2 cups thinly sliced onions
1 cup julienned red bell pepper
1 cup julienned button mushrooms
1 cup julienned filet mignon
1 clove garlic, minced
1⁄2 cup soy sauce
1⁄2 cup sugar
16 oz. dried Korean sweet potato noodles (called dangmyeon), soaked in boiling hot water until al dente
2 tbsp. toasted sesame oil
2 tbsp. thinly sliced scallions
1 tbsp. toasted sesame seeds
Instructions
Heat 1 tbsp. oil in a 12″ skillet over medium-high heat; add carrots. Season with salt and pepper; cook, stirring, until half-tender, about 3 minutes. Transfer to a large bowl; repeat with 1 tbsp. oil, onions, peppers, and mushrooms. Wipe skillet clean; heat remaining oil. Add steak and garlic; cook until browned, about 4 minutes. Add soy sauce and sugar; cook until sugar dissolves. Pour over vegetables in bowl, add noodles and sesame oil, and toss. Garnish with scallions and sesame seeds.