Charleston Shrimp Breakfast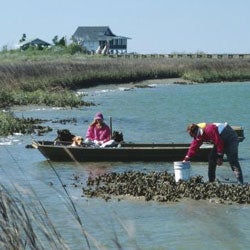 Seining for small sweet creek shrimp is a favorite Lowcountry pastime, and happily results in this meal from Ben Moise's The South Carolina Wildlife Cookbook (South Carolina Wild Life, 1981). Serve it with crisp bacon and a pot of steaming coffee.
Charleston Shrimp Breakfast
This hearty Lowcountry breakfast is a delicious, satisfying way to start the day.
Ingredients
2 lb. small creek shrimp
1 small onion, finely chopped
1⁄4 tsp. ground black pepper
3 tbsp. bacon fat
3 tbsp. flour
Hominy
Instructions
Boil shrimp in 3 cups of water for 5 minutes. Cool shrimp, reserving liquid.
Cook onions and pepper in bacon fat. Add flour and stir until mixture begins to turn brown.
Pour in the shrimp liquid, and cook 2–3 minutes, stirring vigorously. Add shrimp, lower heat, simmer 4 minutes, and serve over hominy.