Chebeague Island Inn's Fluffernutter Sandwich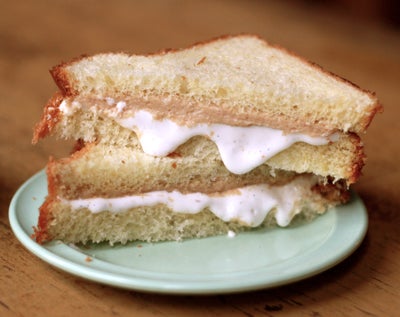 When kids show up at the restaurant at Maine's Chebeague Island Inn, chef Justin Rowe serves them this artisanal fluffernutter sandwich — made with fresh peanut butter and house-made fluff — with a side of chips. SAVEUR deputy editor Betsy Andrews's son declared it "immaculate," and said "I'm going to have to go back to the kitchen and hug the chef!"
Yield: serves 8
Ingredients
FOR THE FLUFF:
1 sheet gelatin
1 cup extremely cold water, divided
12 oz. granulated sugar
1 cup light corn syrup
¼ tsp. kosher salt
1 tsp. vanilla extract
1 vanilla bean, lightly scraped
FOR THE PEANUT BUTTER:
2 cups (8 oz.) shelled, unroasted peanuts
1½ tsp. kosher salt
2 tsp. sugar
3 tbsp. vegetable oil
16 slices white sandwich bread, sliced
Instructions
Make the fluff: Place the gelatin and ½ cup of the water into the bowl of a stand mixer fitted with the whisk attachment. While the gelatin is dissolving, combine the remaining ½ cup water, granulated sugar, corn syrup, and salt in a small saucepan over medium heat. Once the mixture registers 240° on a candy thermometer, immediately remove from heat. Turn the mixer on at low speed and, while running, slowly pour the sugar syrup down the side of the bowl into the gelatin mixture. Once all the sugar syrup has been added, increase mixer speed to high and whip until the mixture is very thick and lukewarm, about 12-15 minutes. In the final minute of mixing, add vanilla extract and vanilla bean. Pour mixture into an airtight container and allow to cool completely.
Make the peanut butter: Preheat an oven to 450°. Spread peanuts on a baking sheet and roast lightly for 3-5 minutes, or until just colored. Combine peanuts, salt, and sugar in the bowl of a food processor and process on high speed until peanuts are broken down. With the processor running, add the oil in a slow, steady stream until it's fully incorporated. To thin peanut butter further, add water a few tablespoons at a time until the desired consistency is reached.
Make the sandwiches: Spread 8 slices of bread with peanut butter, and the other 8 with fluff. Close the sandwiches, slice on the diagonal, and serve with potato chips.
Notes: Both the fluff and the peanut butter will keep for up to a week in the refrigerator. Bring them to room temperature before serving.