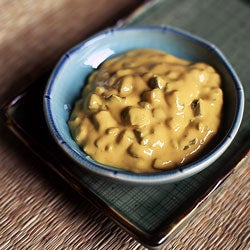 This piquant condiment is served alongside the Calcutta Chicken Curry at Trader Vic's.
Yield: makes 1/2 Cup
Ingredients
2 medium whole dill pickles
6 tbsp. dijon mustard
2 tbsp. prepared yellow mustard
Salt and freshly ground white pepper
Fresh lemon juice
Instructions
Finely dice pickles and transfer to a small bowl. Add mustards and stir until well combined. Season to taste with salt, pepper, and a few drops of lemon juice. Sauce will keep in a well-sealed container in the refrigerator for up to 2 weeks.