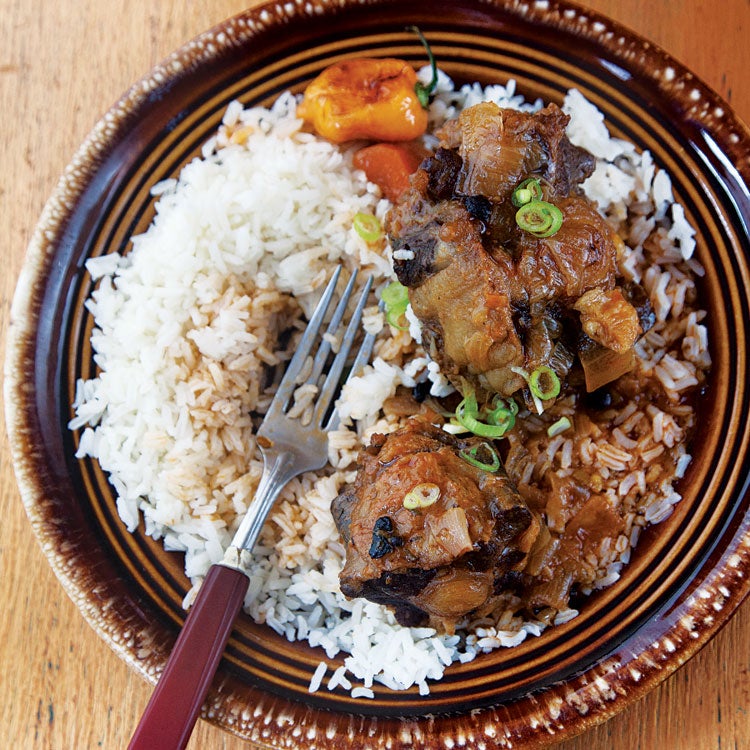 You know it's a real traditional meal in the English-speaking Caribbean when you are presented with a dish of fragrant oxtail stew. The slow-cooked dish is always dense with flavor and "more-ish," meaning a second helping is the norm. Typically, it's seasoned with browning, a sauce prepared using a burned-sugar technique that imparts a hint of caramelized flavor. I suspect (as do others) that, during the plantation era, tails were leftovers after slaughter and given to the enslaved. Today though, for anyone from the Caribbean, oxtail stew means family, friends, and home. —Jessica B. Harris, author of High on the Hog (Bloomsbury, 2011)
Caribbean Oxtail Stew
This slow-cooked dish is seasoned with browning, a sauce prepared using a burned-sugar technique that imparts a hint of caramelized flavor.
Ingredients
3 tbsp. canola oil
2 lb. oxtails, cut into 2″ pieces
Kosher salt and freshly ground black pepper, to taste
3 tbsp. tomato paste
1 tbsp. minced ginger
6 cloves garlic, minced
2 large yellow onions, chopped
1 small carrot, chopped
1 rib celery, chopped
2 tbsp. flour
4 cups beef stock
1 tbsp. whole allspice berries
4 sprigs thyme
2 habanero chiles
2 tbsp. light brown sugar
1 tbsp. Worcestershire sauce
4 scallions, roughly chopped
Cooked rice, for serving
Instructions
Heat oil in an 8-qt. Dutch oven over medium-high heat; season oxtails with salt and pepper. Add to pot; cook, turning once, until golden brown, about 5 minutes. Transfer to a plate; set aside. Add tomato paste, ginger, garlic, onions, carrot, and celery; cook until soft, about 4 minutes. Add flour; cook until smooth, about 2 minutes. Return oxtails to pot with stock, allspice, thyme, and chiles; boil. Reduce heat to medium-low; cook, covered, until oxtails are tender, about 1 1⁄2 hours.
Add sugar and Worcestershire to pot and cook until liquid is reduced, about 5 minutes. Garnish with scallions and serve with rice.
See all 150 classic recipes featured in our 150th issue »