Creamy Indian Chicken Curry (Murgh Korma)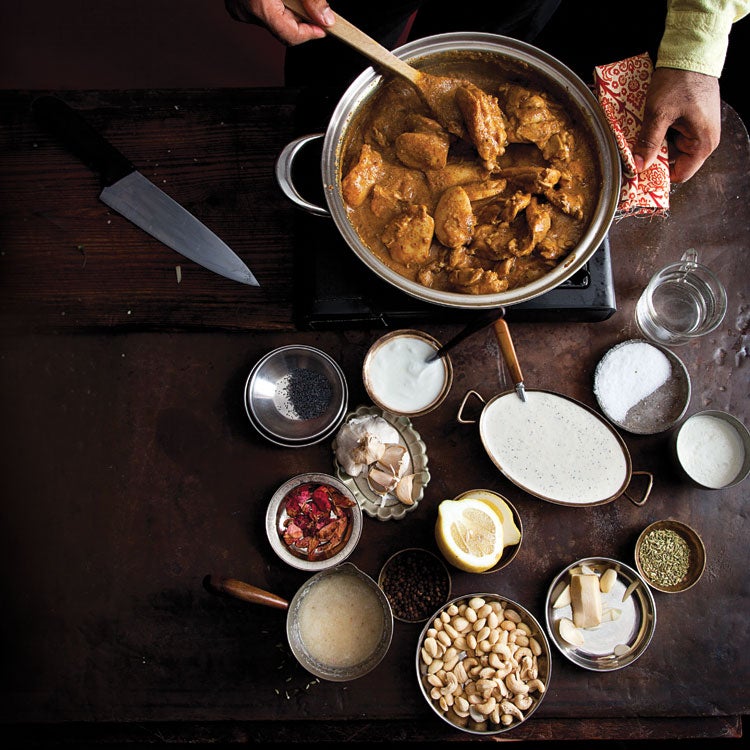 Chicken korma is a beloved Indian recipe that came from the Moghuls (the Muslim rulers of much of India from the 16th to 19th centuries). The meat is lightly browned, then simmered in yogurt and pureed almonds and cashew nuts, which give the dish its creaminess, but what makes it really special are the fragrant spices: I use whole spices and grind them together so their flavors become one in the sauce. —Hemant Mathur, chef and co-owner of Tulsi in New York City
Creamy Indian Chicken Curry (Murgh Korma)
Chicken korma is a beloved Indian recipe that came from the Moghuls (the Muslim rulers of much of India from the 16th to 19th centuries).
Ingredients
2 lb. boneless, skinless chicken thighs and breasts, cut into 2″ chunks
1 tbsp. plus 1 tsp. minced ginger, plus one 2″ piece, peeled and sliced
1 tbsp. minced garlic, plus 3 cloves, thinly sliced
1 tbsp. fresh lemon juice
Kosher salt, to taste
1⁄4 cup blanched almonds
1⁄4 cup raw cashews
1 tbsp. poppy seeds
3⁄4 cup canola oil
1 tbsp. black peppercorns
2 tsp. fennel seeds
12 dried rose petals (optional)
3 pods green cardamom
2 whole cloves
1 bay leaf
1⁄2 stick cinnamon
3 large yellow onions, thinly sliced
3 green serrano chiles, stemmed and minced
1 tsp. ground turmeric
1⁄2 tsp. paprika
1 cup plain yogurt
6 tbsp. heavy cream
Cooked rice, for serving
Instructions
Toss chicken, 1 tbsp. minced ginger, minced garlic, juice, and salt in a bowl; chill 1 hour. Purée almonds, cashews, poppy seeds, and 1⁄3 cup water in a blender; set nut paste aside. Heat 1⁄2 cup oil in a 6-qt. saucepan over medium-high heat. Add peppercorns, fennel, rose petals, cardamom, cloves, bay leaf, and cinnamon; cook until toasted, about 2 minutes. Add sliced ginger, remaining garlic, and onions; cook until deeply caramelized, about 45 minutes. Purée mixture with 1⁄3 cup water; set onion paste aside. Add remaining 1⁄4 cup oil to pot over high heat. Add onion paste, remaining ginger, and chiles; cook until oil separates, about 6 minutes, Add turmeric, paprika, and salt; cook for 1 minute. Add chicken; cook until lightly browned, about 8 minutes. Add 1 cup water; boil. Reduce heat to medium-low; cook, covered, for 15 minutes. Add nut paste and yogurt; cook until emulsified, about 3 minutes. Stir in 4 tbsp. cream; drizzle with remaining cream to garnish. Serve with rice.