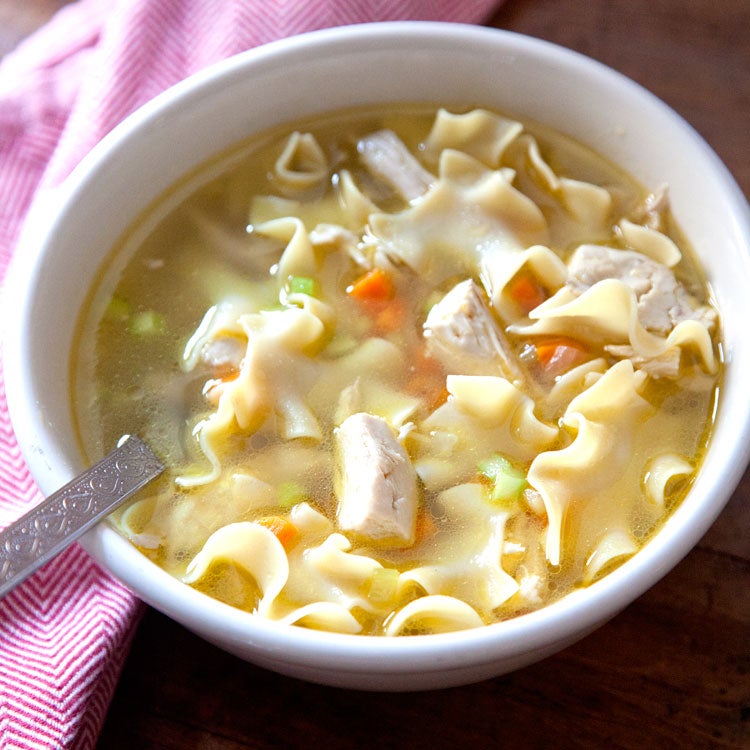 Warming, filling chicken noodle soup just may be the ultimate panacea. Cooking the noodles in the broth enriches both the noodles' flavor and the soup itself, which thickens slightly from the released starches.
Chicken Noodle Soup
This chicken noodle soup recipe may be the ultimate fix for when you're sick or simply wish to warm up on a cold day.
Ingredients
12 whole black peppercorns
2 ribs celery, roughly chopped, plus 2, finely chopped
2 carrots, roughly chopped, plus 2, finely chopped
4 sprigs thyme, plus 1 tbsp. thyme leaves
4 sprigs parsley
1 (3 to 4 lb.) whole chicken
1 large yellow onion, roughly chopped
2 tbsp. unsalted butter
8 oz. wide, flat egg noodles
2 bay leaves
Kosher salt, to taste
Finely chopped parsley, to garnish
Instructions
Bring peppercorns, roughly chopped celery and carrots, thyme sprigs, parsley, bay leaves, onion, chicken, and 10 cups water to a boil in a 6-qt. saucepan over high heat; reduce heat to medium-low, and cook, partially covered and stirring occasionally, until chicken is cooked through, about 45 minutes. Using tongs, transfer chicken to a cutting board, remove and discard skin and bones, and shred meat into bite-size pieces; set aside. Pour cooking liquid through a fine strainer into a bowl and set aside.
Heat butter in a 6-qt. saucepan over medium heat. Add remaining finely chopped celery and carrots, and cook, until soft, 6 to 8 minutes. Return chicken and cooking liquid to pan along with noodles, season with salt, and bring to a boil; reduce heat to medium-low and cook, stirring until noodles are al dente, about 8 minutes. Remove from heat and stir in thyme leaves; divide among soup bowls and sprinkle with parsley before serving.