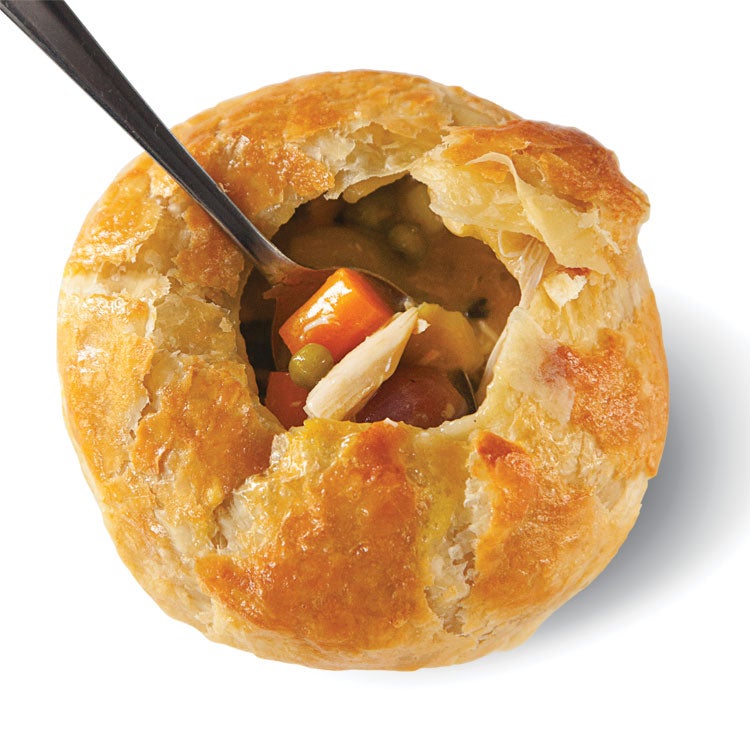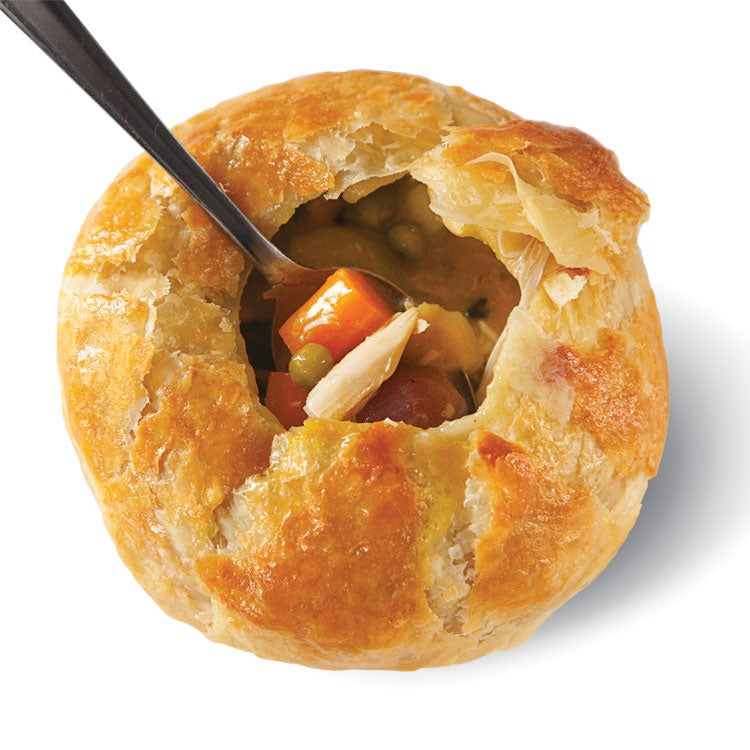 I love chicken pot pie, especially in the winter when it gets cold, which happens even here in Los Angeles. At the Governor's Ball after the 2010 Oscars, we served our pot pies with shaved black truffles, and our celebrity guests loved it because it's just like home cooking, only more luxurious. It was amazing watching how happy people were when they cut into the puff pastry and that wonderfully aromatic steam poured out. Whether you can afford to make it with the truffles, or just use great-quality chicken and seasonal vegetables, it's comforting and delicious. That's what makes it a classic. —Wolfgang Puck, chef-owner of Spago Beverly Hills
Chicken Pot Pie
At the 2010 Governor's Ball, Wolfgang Puck served chicken pot pie with shaved black truffles, adding luxury to the homespun classic—here is his recipe.
Ingredients
4 qt. chicken stock
3 sprigs thyme
2 medium yellow onions, chopped
2 ribs celery, chopped
1 medium carrot, chopped
1 whole (3–4-lb.) chicken
1 bay leaf
8 tbsp. unsalted butter
1⁄2 cup flour
1 cup crème fraîche
1⁄4 cup finely chopped black truffles, plus 18 thin slices
2 tbsp. black truffle oil
2 tbsp. fresh lemon juice
Kosher salt and freshly ground white pepper, to taste
2 cups cooked pearl onions
2 cups cooked baby carrots, cut into 1/2″ pieces
2 cups frozen, thawed peas
2 sheets puff pastry
2 eggs, beaten, for egg wash
Instructions
Bring stock, thyme, yellow onions, celery, carrot, chicken, and bay leaf to a boil in an 8-qt. saucepan. Reduce heat to medium-low; cook for 2 hours. Remove chicken; cool. Discard skin and bones; finely chop meat and place in a bowl. Pour cooking liquid through a fine strainer into a bowl; reserve 4 cups. Reserve remaining stock for another use; set chicken aside.
Heat butter in a 4-qt. saucepan over medium-high heat. Add flour; cook until smooth, about 2 minutes. Add 4 cups reserved stock; boil. Reduce heat to medium-low; cook until thickened, about 5 minutes. Add crème fraîche, chopped truffles and oil, juice, and salt and pepper; pour over chicken. Add pearl onions, carrots, and peas; toss to combine.
Heat oven to 350°. Divide chicken mixture among six 6″-wide x 1 1⁄2"-tall, 14-oz. ramekins or soup vessels; place 3 slices truffle over filling in each ramekin. Using a rolling pin, roll puff pastry until 1⁄8" thick; cut into six 8″ squares or circles. Using a pastry brush, brush rim of each ramekin with egg wash; cover with a pastry square or circle and press lightly to adhere. Brush pastry with egg wash; place on a baking sheet. Bake, brushing pastry with more egg wash halfway through cooking, until golden brown and filling is warmed through, about 35 minutes. Let cool 10 minutes before serving.