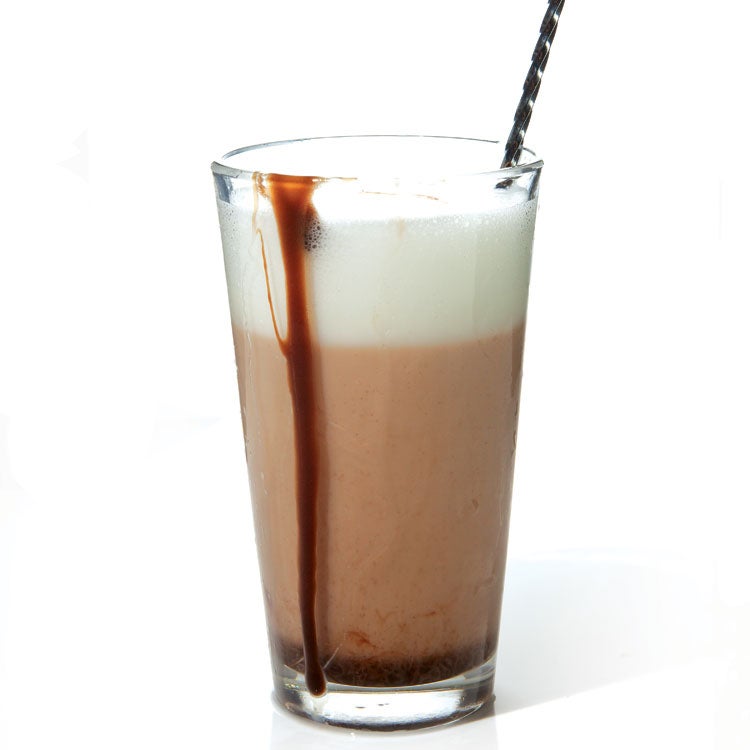 I must've said it to hundreds of kids: "Don't worry, there's no egg in a chocolate egg cream." I was a soda jerk at an ice cream parlor on Long Island. Fathers would take their kids into the shop and let them spin the stool-tops for a few minutes. Then they'd sit with them and order. The kids often made disgusted faces when they heard "egg cream," so I'd give them my spiel. They'd watch me studiously—making sure I didn't slip a poached egg or something into the glass—then drop a straw through the foamy top, take a sip, and smile. —Greg Ferro
Chocolate Egg Cream
For hundreds of Brooklyn kids, the first time they drink an iconic chocolate egg cream, it's a relief to discover there's no actual egg.
Ingredients
½ cups cold milk
1¼ cups cold seltzer
2 tbsp. chocolate syrup, such as Fox's U-Bet or Hershey's
Instructions
Pour milk into a 16-oz. drinking glass and then slowly pour over seltzer, using a long-handled spoon to constantly stir until foamy. Add syrup, and stir from the bottom until just blended, leaving the foamy head at the top white.