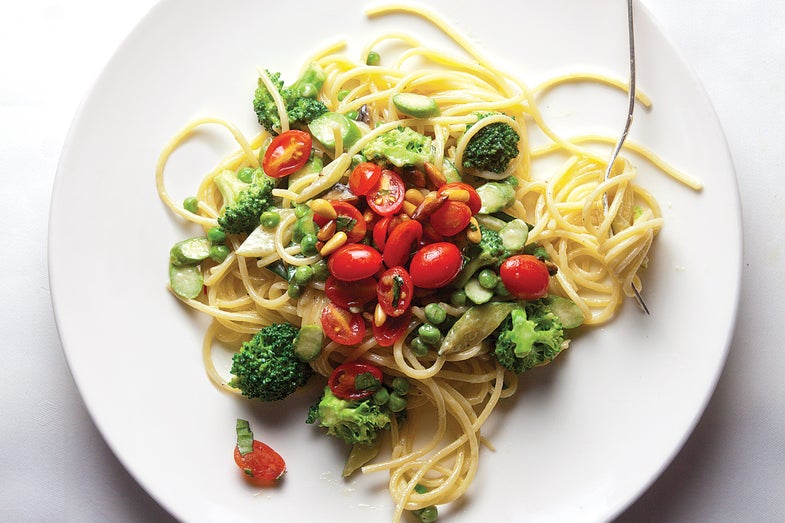 I believe it started in 1975, when I visited Prince Edward Island with a number of colleagues, including Craig Claiborne of the New York Times. To eat we had only lobster and wild boar. After a week of this, everyone said, "Can we have some pasta?" I set out to make two dishes, one with vegetables, one Alfredo style. But in the end I mixed it all together, vegetables with spaghetti and cream. After Claiborne wrote about it in the Times, everybody started to come to Le Cirque and ask for spaghetti alla primavera. But my French chef said, "You want to do spaghetti? I don't want spaghetti in my kitchen!" I didn't want a crisis. So I decided to prepare it in the dining room, on a cart, tableside. It looked nice, and it tasted nice. We've never put it on the menu, but people still ask for it. —Sirio Maccioni, co-owner of Le Cirque restaurant in New York City
What You Will Need
Spaghetti Alla Primavera
The owner of Le Cirque set out to make two pasta dishes for his friends while on vacation, one with vegetables, one Alfredo style. But in the end he mixed the vegetables with spaghetti and cream together, and Spaghetti Alla Primavera soon became a regularly-requested item at the restaurant.
Ingredients
6 tbsp. olive oil
3 cloves garlic, minced
6 oz. button mushrooms, quartered
1 cup asparagus tips, blanched
1 cup small broccoli florets, blanched
1⁄2 cup frozen peas, blanched
1 small zucchini, quartered lengthwise, cut to 1″ lengths, blanched
1 lb. spaghetti, cooked al dente
1 cup heavy cream
2⁄3 cup grated Parmesan
2 tbsp. unsalted butter
Kosher salt and pepper, to taste
1 cup grape tomatoes, halved
2 tbsp. thinly shredded basil
1⁄2 cup lightly toasted pine nuts
Instructions
Heat 5 tbsp. oil in a 12″ skillet over medium heat. Add 2⁄3 of the garlic; cook until golden, about 2 minutes. Add mushrooms; cook until golden, about 3 minutes. Add asparagus, broccoli, peas, and zucchini; cook 3 minutes. Add pasta, cream, Parmesan, and butter, season with salt and pepper, and toss to combine; transfer to a platter.
Bring remaining oil and garlic, tomatoes, and basil to a simmer over medium heat; pour over pasta; garnish with nuts.