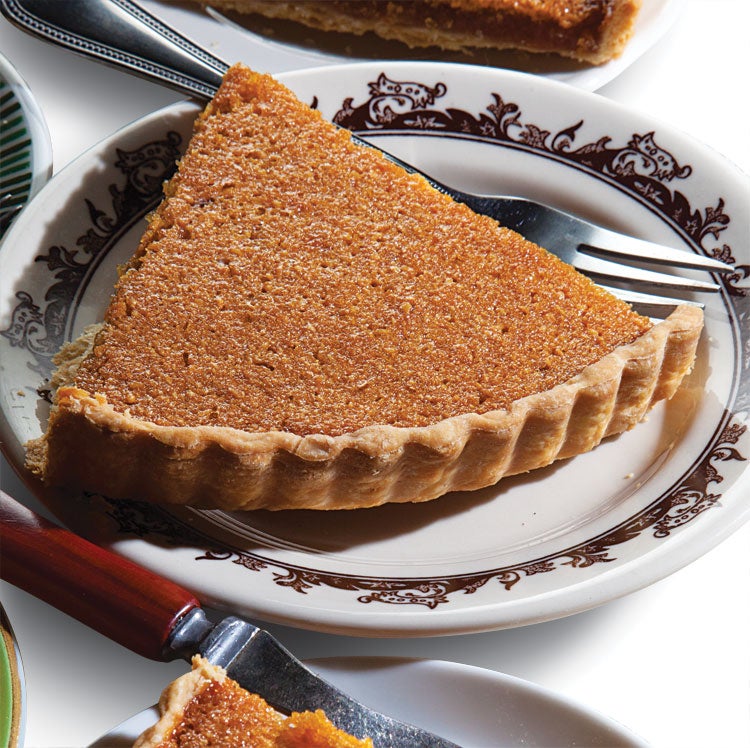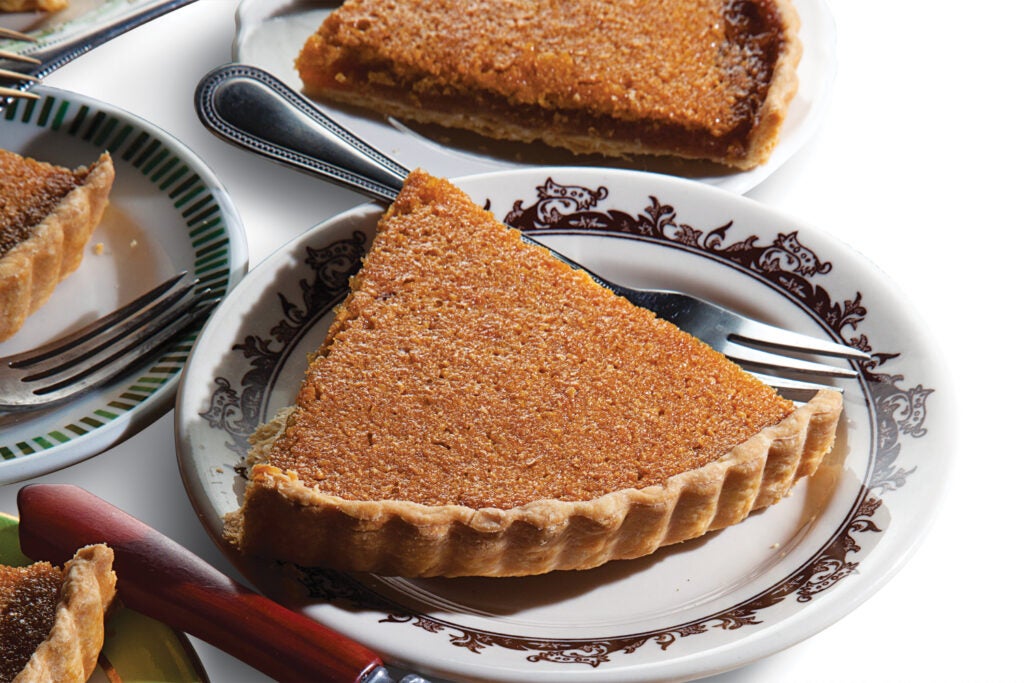 In Britain, treacle is a word applied to everything from sticky molasses to golden syrup, which is lighter in character and in color, and an essential component of our beloved treacle tart. Inside a buttery shortbread crust, a molten goo of golden syrup drowns bread crumbs and lemon zest. With little more to it than warming ginger and an egg whisked with cream to set the center, its very simplicity is its ultimate strength. —Tamasin Day-Lewis
In Britain, treacle is a word applied to everything from sticky molasses to golden syrup, which is lighter in character and in color, and an essential component of our beloved treacle tart. Inside a buttery shortbread crust, a molten goo of golden syrup drowns bread crumbs and lemon zest. With little else than an egg whisked with cream to set the center, its very simplicity is its ultimate strength. —Tamasin Day-Lewis, author of Food You Can't Say No To (Quadrille Publishing, 2012)
Treacle Tart
Inside a buttery shortbread crust, a molten goo of golden syrup is brightened by aromatic lemon zest in this Alice's tea party-worthy treacle tart.
Ingredients
1 1⁄2 cups cups flour
8 tbsp. unsalted butter, cubed and chilled
1⁄2 tsp. kosher salt
1 cup Lyle's golden syrup or molasses
6 tbsp. bread crumbs
3 tbsp. heavy cream
1 egg, lightly beaten
Zest of 1 lemon
Whipped cream, for serving
Instructions
Place flour, 6 tbsp. butter, and 1⁄4 tsp. salt in a bowl; rub flour and butter together until pea-size crumbles form. Add 1⁄4 cup ice-cold water; stir until dough forms. Transfer to a work surface; form into a flat disk. Wrap in plastic wrap; chill for 1 hour. Meanwhile, heat syrup in a 2-qt. saucepan over medium heat until loose. Remove from heat; stir in remaining butter and salt, bread crumbs, cream, egg, and zest. Set filling aside.
Heat oven to 375°. Using a rolling pin, roll dough into an 11″ circle; transfer to a 9″ fluted tart pan with a removable bottom. Trim excess dough; chill for 30 minutes. Prick bottom with a fork; cover with a sheet of parchment paper. Fill with dried beans; bake until crust is set, about 20 minutes. Remove paper and beans; bake until light brown, about 10 minutes. Pour filling into tart shell; bake until filling is just set, about 30 minutes.
See all 150 classic recipes featured in our 150th issue »