Cold Poached Cod with Tarragon Sauce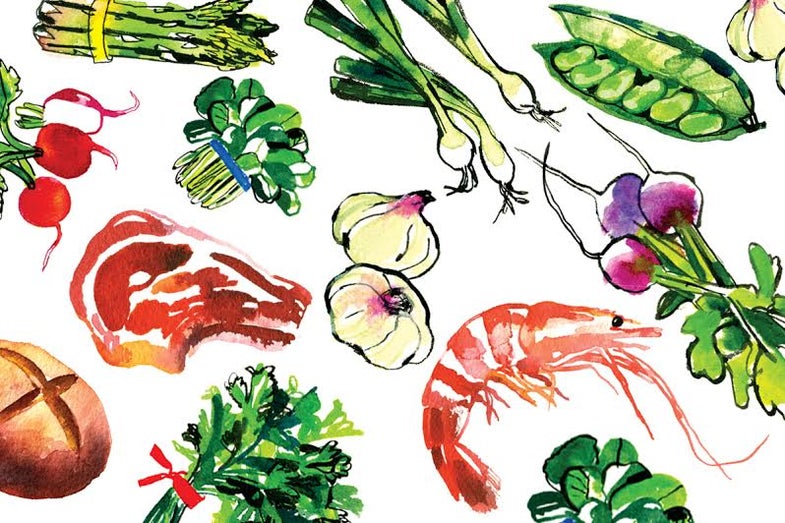 We adapted the recipe for the tarragon sauce below from Jean-Georges: Cooking at Home with a Four-Star Chef (Broadway Books, 1998) by Jean-Georges Vongerichten and Mark Bittman. The original uses basil, but we found tarragon works just as well.
Cold Poached Cod with Tarragon Sauce
The tarragon-infused sauce of this preparation enhances the delicate flavor of the fish.
Ingredients
2 eggs
1⁄3 cup extra-virgin olive oil
15 stems fresh tarragon
1-2 Tbsp. fresh lemon juice
Salt and freshly ground black pepper
2 lb. thick, center-cut cod filets
1 bottle dry white wine
Instructions
Bring a small pot of water to a boil over high heat. Pierce broad end of each egg with a pin, then gently lower eggs into boiling water. Reduce heat to medium-low and gently simmer for 6 minutes. Drain, then run eggs under cold water until cool enough to handle. Peel eggs (whites will be firm, the yolks runny) and transfer to a medium bowl.
Using the tines of a fork, mash eggs, then gradually add oil, whisking constantly. Strip and chop leaves (discard stalks) from 10 stems of the tarragon. Stir chopped tarragon and lemon juice into egg mixture. Season with salt and pepper. Cover and refrigerate sauce until cold.
Meanwhile, put fish, wine, 4 cups water, several generous pinches salt, and 4 stems of the tarragon into a large pan. Cover and bring to a simmer over high heat. Reduce heat to medium-low and poach fish until nearly cooked through, about 15 minutes. Remove from heat and allow fish to cool in poaching liquid.
Using a slotted spatula, transfer fish to a serving platter, and spoon sauce on top. Garnish with remaining stem of tarragon.