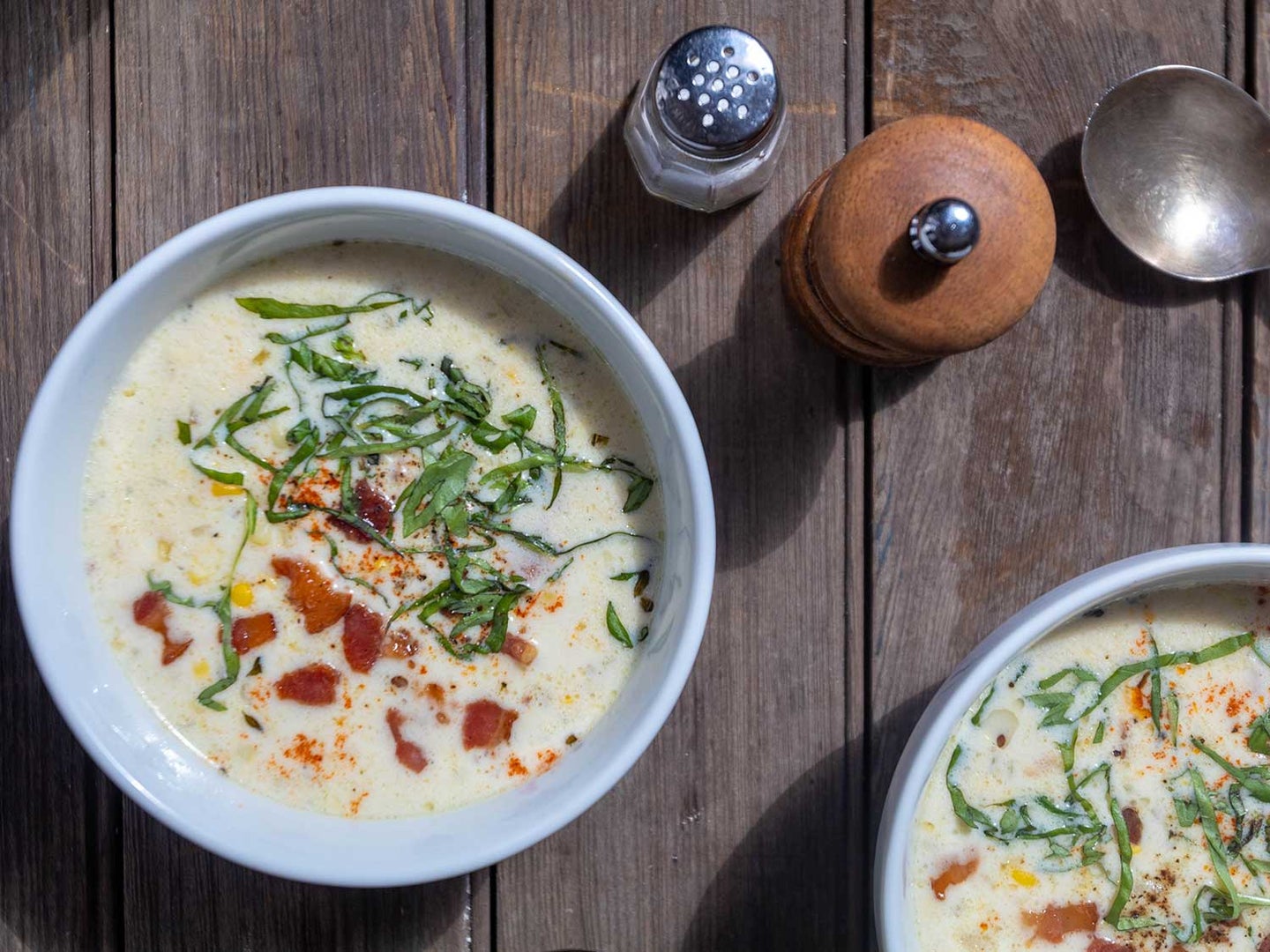 This summer chowder is thickened not with flour but by pureeing a little of the soup, which is then stirred back in.
Corn Chowder
Bacon enriches this summer chowder made with fresh corn, milk, new potatoes, and plenty of aromatics.
Time: 1 hour, 5 minutes
Ingredients
8 ears corn, shucked
8 strips bacon, chopped
4 Tbsp. unsalted butter
1 Tbsp. finely chopped fresh thyme
4 cloves garlic, finely chopped
2 ribs celery, finely chopped
1 medium yellow onion, finely chopped
1 fresh bay leaf
6 cups milk
3 medium new potatoes (about 1 ½ lb.), peeled and cut into ½-inch cubes
Kosher salt
Freshly ground black pepper
¼ cup thinly sliced fresh basil, for garnish
Instructions
Working over a large bowl, use a heavy chef's knife to slice the corn kernels off the cob, scraping the cob with the knife to extract the flavorful juices. Halve 5 of the bare corn cobs crosswise, discarding the rest. Set the corn kernels and cobs aside.
In a large pot over medium heat, add the bacon and cook, stirring occasionally, until crisp, about 12 minutes. Transfer 3 tablespoons of the bacon to a small, heatproof bowl and set aside, leaving the remaining bacon and bacon fat in the pot. Add the butter, thyme, garlic, celery, onion, and bay leaf. Cover and cook, stirring occasionally, until the onion softens, about 6 minutes. Add the reserved corn kernels and cobs, milk, and potatoes. Cover and bring to a boil, then lower the heat to maintain a simmer and cook, stirring occasionally, until the potatoes are tender, about 25 minutes.
Discard the cobs and bay leaf; transfer 1½ cups of the soup to a blender and purée, then stir the purée back into the chowder to thicken. Season with salt and pepper. Serve, garnished with reserved bacon and basil.